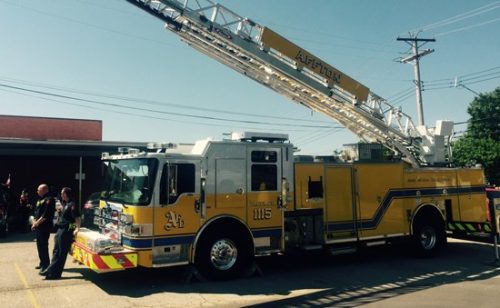 A judge ruled against Crestwood in its lawsuit against the Affton Fire Protection District last week, rejecting every argument that the city raised in its battle to stop paying the fire district for fire service for annexed residents.
Cole County Circuit Court Judge Jon Beetem ruled Dec. 12 that two state laws that require the city to keep paying the fire district indefinitely after a 1997 annexation are not unconstitutional special laws that only apply to St. Louis County, as the city argued in court in Jefferson City in a Sept. 11 hearing.
"Our initial reading is he adopted the defendants' conclusions verbatim or very nearly, so of course it reads this way," Crestwood City Administrator Kris Simpson said. 
The city will appeal the lawsuit to the Missouri Supreme Court, skipping the appellate level because it's a constitutional issue.
Considering the city lost in court on every one of its arguments, however, Affton Fire Chief Nick Fahs said he hopes Crestwood drops the case and lets both government entities get back to business as usual.
"We are elated with the judge's ruling and we're hoping that we can put this behind us and use the district's resources for what they're supposed to be and hopefully stop paying so many legal bills," Fahs said. "We were very confident from the beginning we were going to prevail."
He said he hopes the city drops it for the sake of Affton taxpayers but also for the sake of firefighters in both cities, who often work alongside each other to fight fires and respond to calls but are now on the opposite sides of a court battle.
"I just want to put it behind us because they have great firefighters over there, and these guys risk their lives together protecting properties," Fahs said. "And we don't need that kind of stress on those guys when they clock in every day and put their lives on the line."
But Simpson said that with the legal arguments already made in the case, the city has nothing to lose by taking the case to the highest court in the state compared to the millions of dollars it would continue to pay to Affton if it gives up now.
"Obviously the city's disappointed, but we remain confident that our arguments are legally valid and will ultimately prevail," Simpson said. "We look forward to the Missouri Supreme Court invalidating these unfair and unconstitutional special laws which affect only St. Louis County…. If you look at the facts on its face, it's patently unfair, and it's unfortunate that the circuit court did not seem totally receptive to our situation."
The city is objecting to the constitutionality of payments it agreed to pay Affton when it annexed an area of the 63123 ZIP code in 1997. Residents in that area initially rejected the city's offer of annexation, which the city believed was because the residents wanted to keep Affton fire services rather than switch to the Crestwood Fire Department.
The city worked to change state annexation law for St. Louis County.
Only in St. Louis County can cities annex residents who are in an existing fire district and, instead of the residents switching to the city's fire department, those residents can stay in their fire district but have their fire district taxes paid by the city.
The escalating payments under that agreement have reached $525,000 annually and climb each time Affton voters approve a tax-rate increase.
Crestwood says it can no longer afford the payments.
Beetem noted in his ruling that Crestwood could have chosen not to annex the Affton residents in the first place, so the continued annual payments are a choice of the city.
"They chose to annex this area," Fahs said. "It's been our position from the beginning that nothing has changed from the day that Crestwood went to work to change the rules in order for them to annex our area. Everybody appeared to be happy for almost 20 years or over 20 years now. When the lawsuit was filed, what changed to make this an unconstitional law?"
So far the city has spent $83,467.97 in legal fees on the case.
The city claims the laws are unconstitutional "special laws" because they apply only to St. Louis County fire districts and cities, and that they violate the Hancock Amendment because Crestwood voters don't get to vote on how much their city pays Affton. Former Mayor Gregg Roby is a plaintiff in the case as a Crestwood taxpayer.
With the judge fully adopting Affton's arguments, Simpson said, "What I felt like we have is we have the judge's decision, but we really don't have an explanation as to why he made that decision."
Similar laws applying only to St. Louis County, like rules on fines post-Ferguson, have been thrown out by courts that also said the decision wasn't retroactive to past laws like the one Crestwood is fighting.
One of the laws the city is disputing doesn't mention St. Louis County by name but says that special rules apply only to counties with a Boundary Commission, with a charter and more than 50 cities. That description applies only to St. Louis County, but Beetem said that any other county with a charter could either establish a boundary panel or incorporate more than 50 cities.
For the 50 cities, "that threshold can be met in any and every county, and is thus open-ended," Beetem wrote.
He also later noted that given the unique characteristics of St. Louis County, "there is a rational basis for applying the statute to the only county in the state with the particular needs the statute is intended to address."
As for the payments to Affton being an unconstitutional tax increase, Beetem said those are fees for services, not taxes. He compared them to the tuition payments that unaccredited school districts make to other school districts under the school-transfer law. The city voluntarily agreed to pay the fee when it annexed the area, he said. Beetem also ruled against Roby's claim of unfair taxation because Roby is not assessed taxes by Affton.
"On the day before the 1997 annexation vote, the city was not required to provide fire protection services," Beetem wrote. "It was not required to pay the district for fire protection services, nor was the city required to annex."