Jefferson Barracks serves as nerve center for Guard's flood response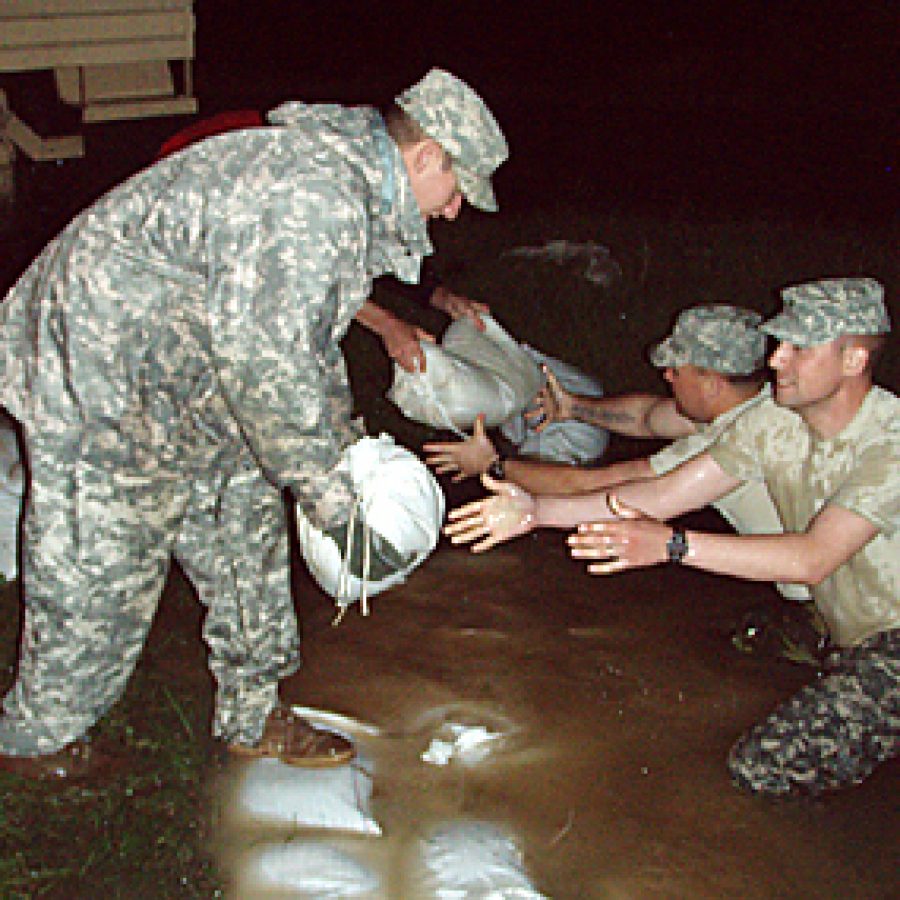 While flooding in the St. Louis area has not been severe enough to warrant intervention by the Missouri National Guard, St.
Louis is serving as a nerve center for the Guard's flood response, called Operation Rising Tide, in southeastern parts of the state.
Soldiers of the 70th Troop Command at Jefferson Barracks in South St. Louis County have been manning a flood response operations center around the clock since Gov. Jay Nixon mobilized the National Guard April 25.
As of Tuesday, the center had issued orders for more than 145 missions involving over 760 Soldiers and Airmen in eight counties.
"We've had sand-bagging operations, security missions at traffic control points; we're helping out with emergency and precautionary evacuations and we've also been doing levee patrols and levee security," said 1st Lt. Matt Knoderer of Bell City, the operations center battle captain.
Mission requests are generated at the county level and work their way through the state's command and control system.
"Official mission requests come from the county's emergency operations center and go to the State Emergency Management Agency," Knoderer explained. "It will then go to Joint Force Headquarters in Jefferson City for review, which
will then send it to us and we will issue the order to the units in the field based on the information in the request."
Knoderer said the Guard has an efficient method of tracking flood response missions.
"We have a tactical operations center in Sikeston, Task Force Mississippi, and they log all of the missions on a mission tracking board and annotate each as sourced, alerted, on-scene, completed or canceled," he said.
"Throughout the day they will send us that mission board for review and verification. It also gets sent to Joint Force Headquarters."
Knoderer points out that the new Joint Armed Forces Reserve Center at Jefferson Barracks was built and staffed for just such an emergency.
"The new facility gives us excellent resources – state of the art communications and displays," Knoderer said. "We have the latest weather and hydrology reports, we track flood stages and mission statuses. We even track media reports and Facebook postings for good situational awareness. But even with all that you have to have a great staff, which we do. These soldiers have good organizational and multi-tasking skills. In that regard we are
blessed."
Missouri National Guard members are responding quickly to changing conditions in the southeast Missouri region. Missouri counties Butler, Mississippi, New Madrid, Pemiscot, Scott and Stoddard are all engaged in the flood response efforts. Morehouse and Canalou continue to face rising waters, where residents and local authorities work together to help save those communities.
Missions in southeast Missouri continue to expand, including sandbagging, evacuation support, levee monitoring, route reconnaissance, security, traffic control, and door-to-door safety checks.
Units supporting the flood response include: 70th Troop Command, Jefferson Barracks; Whiteman Air Force Base/St. Louis; 139th Airlift Wing, St. Joseph; Headquarters and Headquarters Company, 35th Engineer Brigade, Fort Leonard Wood; 175th Military Police Battalion, of Columbia; the 1140th Engineer Battalion, Cape Girardeau; the 1221st Transportation Company, of Dexter, Portageville and Sikeston; 1140th Forward Support Company, Cape Girardeau; the 1138th Military Police Company, of West Plains and Springfield; the 1138th Engineer Company, of Farmington and Fredericktown; the 1175th Military Police Company, of St. Clair and St. Louis; the 880th Engineer Detachment, Perryville; the 220th Engineer Company, Festus; the 1438th Engineer Company, of Macon and Kirksville; 70th Mobile Public Affairs Detachment of Jefferson City; Missouri Wing Civil Air Patrol and the Joint Operations Center at Joint Force Headquarters in Jefferson City.
Missouri's Soldiers and Airmen will continue working in support of local authorities until released by the governor.