In letter to judge, Stenger says he has 'deep and constant feeling of remorse' for pay-to-play
By Gloria Lloyd
News Editor
glorialloyd@callnewspapers.com
Writing to the judge who will sentence him Friday, former St. Louis County Executive Steve Stenger said he feels a "deep and constant feeling of remorse" for orchestrating the pay-to-play scheme that rocked county government.
Stenger pleaded guilty May 3 to three federal corruption charges of bribery, theft of honest services and mail fraud. He will be sentenced Friday.
In a letter to U.S. District Judge Catherine D. Perry dated July 30 and filed with the court Aug. 4, Stenger apologized to the county, his former constituents and its officials and employees, the St. Louis Economic Development Partnership, the county Port Authority, and his family, friends and supporters, "all of whom I have disappointed, hurt and let down."
When the Affton native first ran for office as the 6th District County Councilman representing South County, his motivations were "simple and pure," he wrote. "I hoped to make life better for those in the community in which I was raised. I was honored to represent my constituents."
It was a much different picture than the bully portrayed by federal prosecutors in their initial sentencing memo. They filed another memo Tuesday after Stenger's own letters upping their request for prison time to the high end of the sentencing range.
Referencing the death of Michael Brown and the start of the unrest in Ferguson, the fifth anniversary of which will fall on his sentencing date of Aug. 9, Stenger said he took over the county in a "rather tumultuous time," but he "looked forward with optimism. I hoped that out of the turbulence and upheaval a better community would emerge, and I was honored that I might be a part of that."
But he turned to corruption instead, as he acknowledges without giving a specific time frame: "However, sometime during the run for county executive and during the endless political skirmishes and fights, in the months and years that followed, I wrongly and foolishly put representing the best interests of my constituents behind winning political fights and amassing political capital and campaign contributions. As is clear by my actions as set forth in the details of the indictment, I lost sight of why I had begun my journey in public service. I betrayed the citizens of the county, and I am sorry and remorseful."
In a letter to the judge, Stenger's wife, Allison, writes that she is pregnant with their third child, a girl due Sept. 13. Their daughter Madeline is 5 and will start kindergarten this fall, and their son Lincoln will turn 4 in November and is in preschool. They have been married just over a decade.
In the last several months since he pleaded guilty, Allison Stenger wrote, her husband "has lost a significant amount of weight and has many sleepless nights due to his overwhelming regret. He expresses to me on a daily basis how sorry he is for what he has done. He is most apologetic for how his actions have impacted the citizens of St. Louis County and how his actions have disrupted our community…. He has tried to minimize the impact on the public by immediately accepting responsibility for what he did."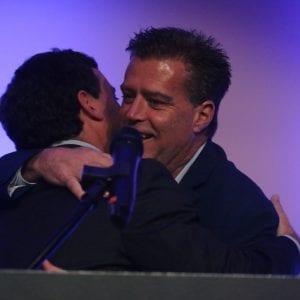 She said that when she first met Stenger, he was a "hard-working lawyer" at his law firm, where she worked. She saw how when people approached Stenger, often with their "worst problems," he was kind, patient and often took on their cases at a discounted rate if they couldn't afford an attorney. He remains friends with many of his clients today, she wrote.
She noted that Stenger also took hundreds of cases as a public defender for the federal court in St. Louis where he will be sentenced.
"He had some very challenging appointed clients over the years and handled all of his clients with diligence and patience, giving them all a great deal of time, attention and compassion," she wrote. "I have been a lawyer for close to seven years now and credit my success in part to what Steve taught me about how to treat and assist people."
Going forward, Stenger hopes to return to being a productive member of society, she noted.
All the letters to the judge filed by the defense were from Stenger or his family members, except for one longtime friend. Another attorney friend filed his letter separately and said Stenger didn't know about it.
Stenger's wife, his three siblings, sister-in-law, an uncle and a nephew emphasized how apologetic Stenger was when he confessed to them what he was being charged with, and that he has constantly expressed his regret in the last few months over his actions as county executive.
Stenger wrote, "It is difficult to articulate the depth and intensity of the constant regret and remorse I feel for my actions and the harm I have caused. I am sorry for my wrongful conduct. I have learned a great deal from my failures, and I hope others will as well. Holding a position of public trust is something to be cherished and respected by the holder, and citizens deserve nothing less than honest services from those fortunate enough to be elected officials…. I have taken the time before and after my change of plea in this matter to reflect on my wrongful conduct and failures and will continue to do so.
"I humbly ask this Honorable Court to consider my sincere and regretful apology for my actions."
Stenger's older brother Peter Stenger said he remembers when his parents brought the future county executive home after he was born.
"I love him," the older brother wrote simply.
Stenger's sister Darlene Wilhelm, six years older than him, wrote of how he stood up for other children at school who were being picked on. To put himself through college and law school, he "worked at fast food restaurants, swept floors and sang Sunday masses and weddings."
His uncle Charles Stenger, brother of his father Pete Stenger, wrote that the two are very close and that Stenger grew up in a "small home in South St. Louis, and nothing was given to Steve. He worked very hard from the time he was a young man."
Stenger's older brother remembered seeing Stenger study during law school, with yellow legal pads strewn around his room on Friday nights. He attended his younger brother's first trial and saw him win several county races: "I was so proud."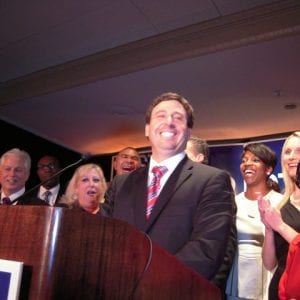 Eventually Stenger helped mentor several other young people in the family to become lawyers, including his nephew Joshua Mourning, who wrote a letter describing how Stenger hired him as a clerk and mentored him, which helped him graduate first in his undergraduate class at Washington University and in the top 5 percent of his law school class at Washington University School of Law: "I'm not entirely sure I would be where I am today without having had the benefit of Steve's love and encouragement."
Stenger never turned away a family member or friend who needed him and "has always been a compassionate, giving, kind and loving person," Wilhelm wrote.
Attorney Brian Witherspoon wrote a separate letter to Perry Aug. 7 asking for leniency for Stenger. He said that he wrote the letter because "no person is as bad as the worst thing they have ever done."
Witherspoon, whose wife, Jan Good, was a criminal defense attorney and public defender in the federal court who died of brain cancer in 2013, said Stenger was a light in his wife's life in her final days. He said that neither Stenger nor his attorneys knew that he was writing the letter to Perry about Stenger's interactions with his wife.
"In the thirty months between her diagnosis and her passing, Steve made her laugh," Witherspoon wrote. "It was no big deal to Steve. I am sure he has no recollection of any of their interactions back then, but I remember… I have no idea if he remembers talking to Jan during this time; but Jan remembered. She mentioned them to me. He intended to make her laugh, brighten her day, and he did. The courthouse conversations, the phone calls for advice helped her to laugh when she really needed to laugh… Your Honor, this is more about Steve Stenger the person more so than Steve Stenger the convicted felon… I am indebted to him for his kindness and want the Court to know of it."
Even as county executive, Stenger gave his socks to a homeless woman in Clayton who was without some of her own in cold weather and brought her hot drinks from a coffee shop, Wilhelm noted. That small act "demonstrates what I have seen throughout his life," she added.
That's why she was so surprised when she learned about his conduct in office, she wrote. "I knew how much Steve cares about his community and it was difficult for me to reconcile all of his good works and public service with what I saw with his conduct in this case. I believe now that Steve made serious mistakes and veered from his path. I also believe that he still has a desire to contribute to his community and be productive. After a lifetime of watching Steve, and particularly during these last months, I believe in him and his ability to become a better person."
Charles Stenger wrote that when his nephew told him about the federal case, it came with an apology for bringing embarrassment to the family.
"Throughout this ordeal, he has expressed a desire to in some way redeem himself and make right what he has done wrong," the uncle wrote. "… And physically, the signs of the level at which he has felt the impact of this case are apparent."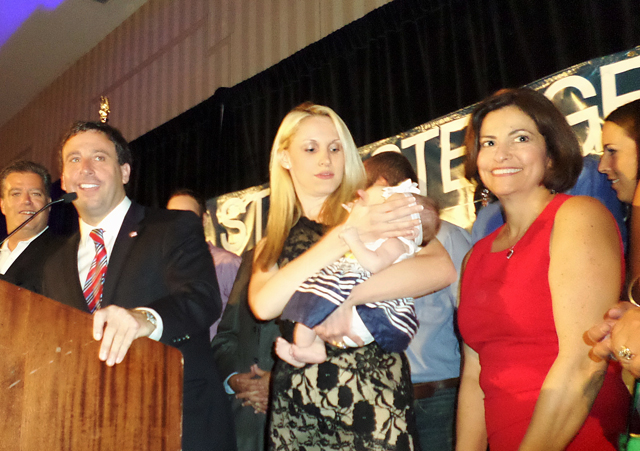 But if the judge gives his nephew the opportunity, "I believe Steve has a lot more to give."
Stenger's nephew Mourning wrote, "Not only is he sorry, but he is utterly ashamed…. Steve is clear-eyed about his failures and wants to rehabilitate himself in the eyes of his family, his community and the citizenry at large."
Peter Stenger wrote that his brother "blames no one but himself," and "has a look of deep concern on his face most of the time and looks as though he has lost considerable weight."
Pete Stenger's wife, Laura, wrote that she has known Stenger for more than 30 years and noted that he started the state's first prescription-drug registry. Her son Mitch died of a heroin overdose in 2014.
"I sleep better at night knowing that he succeeded in doing just that," she wrote.
She said she and her husband visit Stenger often: "I cannot describe the sadness and remorse that I have seen from Steve following his guilty plea…. He has expressed his sincere remorse to me personally countless times over the past two months.
"As a mother who lost her son over four years ago, I am concerned about Steve being separated from his family. Our family has experienced so much devastation."