Historical Society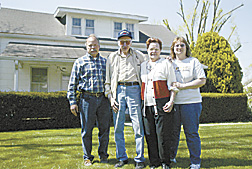 By BILL MILLIGAN
For the Call
The Sappington-Concord Historical Society is waging an eleventh-hour effort to save a log school built in 1844 from developers who plan to build new homes on Concord School Road.
Erected Sept. 21, 1844 by Jack and Sarah Sappington "for the sum of one dollar," according to the Sappington-Concord Historical Society, the building served as a school until 1872 when it was replaced by a one-room brick school.
The log school was moved to its present location at 10208 Concord School Road by John and Peter Dietrich the same year. Thus began an evolution which, by July 1959, left no outwardly visible trace of the original log structure.
Much of the metamorphosis was the work of present owner August Hoeft who purchased the home in July, 1959 and only recently sold it to Spear Construction.
"We didn't know it was a log cabin when we bought it," said Hoeft. "My mother-in-law said it was for sale. It had an acre of ground and I thought I could put a greenhouse in the back. At the time, I was selling plants at our place on Kemp Road.
"But our neighbor said he didn't want the traffic a greenhouse would bring to the neighborhood," Hoeft said.
That didn't stop Hoeft from making alterations to the place. He had four children and a huge dining room table and skill enough to completely improve and enhance the building's interior.
"Our neighbor was the one who told us it was a school at one point," said his wife Viola. "He said the original owner killed himself there in the driveway. We never paid any attention to that. We knew there was a history book published, but we weren't in it, so we figured there wasn't anything to it."
But their kids knew the walls contained massive log beams.
"I used to get into the crawl spaces in the attic and explore," said their son, Carl, a former construction company owner and present operator of the Revive Us Again Christian Retreat in Dittmer. "I used to think I would find treasure in there, but I never found any. You could go back in time crawling through there."
When the house went on the market it attracted the attention of Sandra Ankney, a member of the Sappington-Concord Historical Society.
Ankney realized the historic significance of the structure and launched an effort to save it. She quickly enlisted the help of the developer who purchased the ground, Lindbergh School District and the Historical Society.
"We're at the very beginning of a terrific opportunity to preserve a piece of history for this community," said Lindbergh Superintendent James Sandfort. "This is a one-of-a-kind building and we have to put our best effort forward."
The preservation committee will meet 7 p.m., Weds., Apr 23 in the Anne Morrow Lindbergh Room at Lindbergh High School.