Hearings to focus on whether county should sell parkland for JB Cemetery
Negotiations on sale of land underway for four years now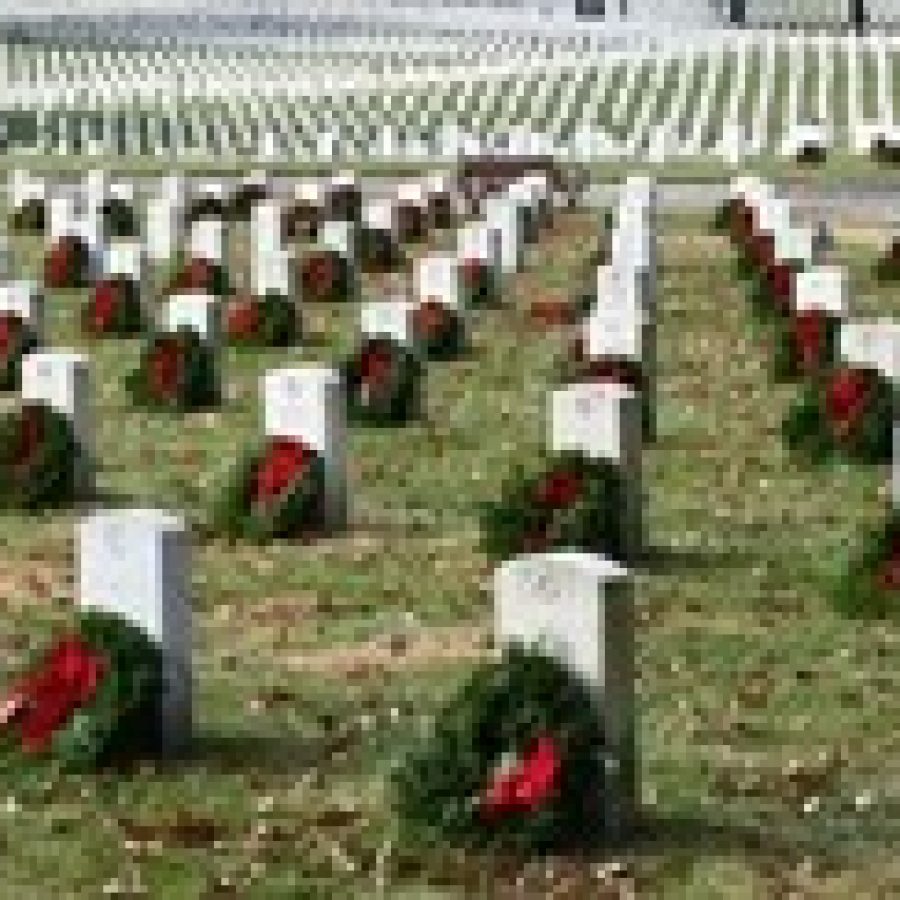 County Executive Steve Stenger rose to the county's top job last year in part on the strength of his successful 2011 fight to save county parks from closing.
But now he is asking residents if they want to part with prime south county parkland for a worthy cause — burying the nation's military veterans.
The county will hold two public hearings next week that kick off what Stenger calls an "open dialogue" on whether the county should sell half of Sylvan Springs Park to the federal government to expand Jefferson Barracks National Cemetery. The national cemetery, the fifth-busiest in the nation, could run out of new gravesites by 2025.
"We want to make sure that we hear from, really, all sides of the issue, but we do need to deal with the issue of limited space in the cemetery," Stenger told the Call, while agreeing that he knows as well as anyone that county residents love their parks. "I think (Sylvan Springs) is really the most likely option, and I think that is what the Veterans Administration is pursuing with the most enthusiasm."
To receive the greatest possible input from residents who would be most affected by the change, Stenger requested that the public hearings be held in Lemay, not in Clayton.
The hearings are set for 7 p.m. Tuesday, July 21, and Thursday, July 23, at The Pavilion at Lemay, 305 Gregg Road.
Presentations will be given at the events by both Veterans Affairs, or VA, and the county Parks and Recreation Department.
Citizens are welcome to give their input to the county at the meetings or through an online survey that can be accessed at
.
Sylvan Springs is one of the county's oldest parks — and one that county officials have considered the most beautiful — but since the federal government donated the land to the county in 1950, the 72-acre park has gone from one of the most popular parks in the county to one of the least-used.
Since the park was originally created by the U.S. Army in 1939, some residents say it is fitting that half the park, appraised at $1.3 million, could be sold to expand what the VA calls one of the "oldest and most treasured national shrines."
At the June 16 County Council meeting, Harrison Ochs, 93, of Kirkwood, used a cane to slowly make his way to the podium. When he got there, the World War II combat veteran asked why the county and VA had not come to an agreement on cemetery expansion after four years of negotiations.
"We fought a war and won it in less time than we've got a signature out of this board to transfer that ground," Ochs said. "They're bringing back remains from fellows from Cambodia — what are you going to tell their families? We can't bury them? If they die in 2028, are you going to tell the families of those boys and women that suffered all their life that we won't honor them? It's an insult."
Mike LeBlanc, a veteran from Maryland Heights, told the council that he and Ochs represent the 350,000 veterans within 100 miles of Jefferson Barracks, many of whom want to be buried there with their families.
When Ochs, LeBlanc and other veterans submitted a petition with 2,000 signatures in favor of the plan to the county two years ago, the plan got full support from former County Executive Charlie Dooley, a Vietnam veteran, but negotiations have continued for years.
"If we have to, we'll get a whole lot of veterans here and fill the place up to let you know that we mean it," Ochs added. "It's a sin to take and do these families that way."
County preservationists argue that even if the county sells Sylvan Springs, the life of the cemetery will only be extended by a decade with the new space, and at some point the VA will have to come up with a longer-term solution to keep the cemetery open anyway, while the county loses valuable park space it can never get back.
Any sale would cut away only the park's southern half, not the northern half that includes recent improvements like the skate park, Stenger said.
Sixth District Councilman Kevin O'Leary, D-Oakville, told the Call he has not yet heard much feedback on the plan from residents in his district, which includes Sylvan Springs, and he will wait to form an opinion on the issue until he hears from residents at the hearings.
"It doesn't matter what I think, it's what the folks think," he said. "Once we get more ideas from them, then I think we'll have a better idea on what we think we should do. It's going to take at least two or three more meetings just to figure out what foot goes forward. 'To be determined' would be a good way to put it."
With 180,000 burials across 331 acres, people throughout the country come to south county to bury their relatives at Jefferson Barracks. That was illustrated by Mehlville Board of Education member Lori Trakas during a presentation she gave to the school board in March where she touched on some of the differences between south and north county, what she called "A Tale of Two Counties."
"We have people from around the country that come here to visit their fallen loved ones," she said. "It's important to me to fight for our community and keep it strong — this is hallowed ground that we live near."
When Trakas and her husband, Ernie, visited Arizona several years ago, they ran into a 90-year-old woman at church whose first husband, Sgt. James Odom, was buried at Jefferson Barracks after his plane was shot down in World War II. Trakas accompanied Odom's widow, Janice Mitchell, and her family when they visited his grave for the first time the next year.
The Mehlville School District was one of the original 1950 recipients of land around Jefferson Barracks from the federal government, which it has used for schools.
In May, the Mehlville board debated whether to sell prime land it owns at Interstate 255 and Koch Road next to the John Cary Early Childhood Center after it was approached by a developer looking to build housing for low-income veterans. Former Superintendent Norm Ridder dropped the deal after board members reacted strongly against it, since not all housing would be guaranteed for veterans.
During that debate, Lemay Republican Committeeman Alan Leaderbrand suggested that instead of selling, the school district could donate the land to the federal government to expand the cemetery.
But the Missouri Department of Transportation donated the land to the school district with a clause that if the district ever tried to sell or give away the land, the property would revert to MoDOT, Mehlville board President Venki Palamand noted.