Group kicks off effort for Mehlville tax hike
Crutcher outlines 'five facts in five minutes' on finances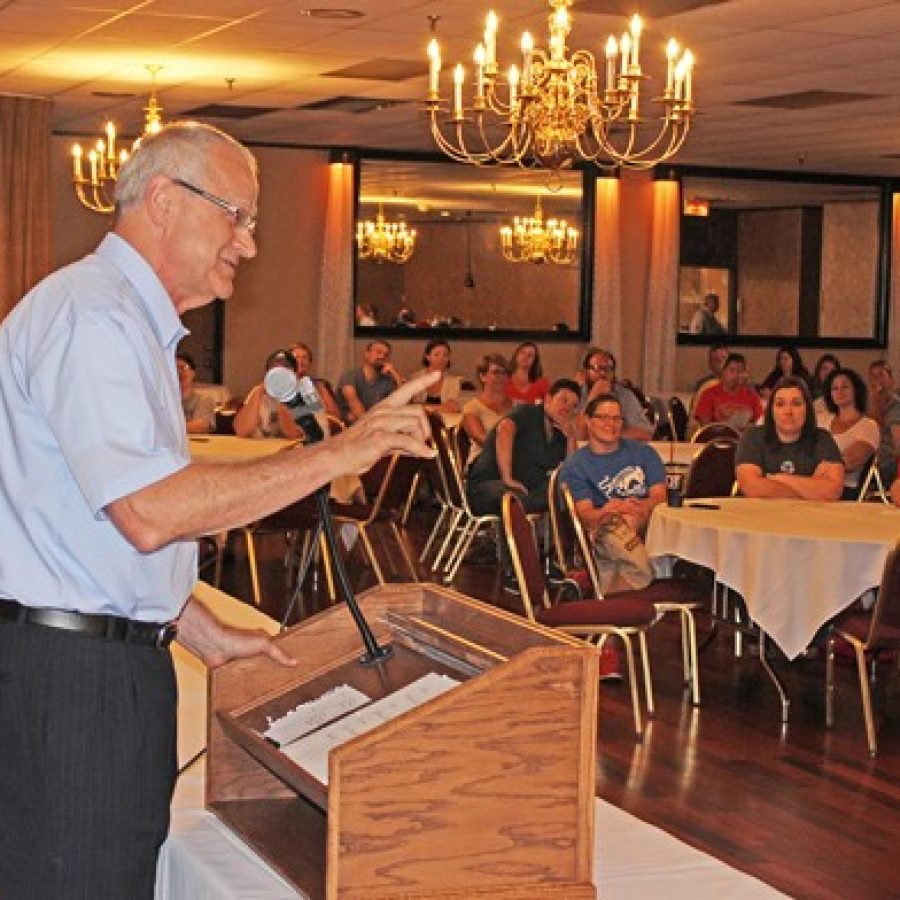 The citizen-led campaign seeking a tax-rate increase this November for the Mehlville School District officially kicked off last week, and organizers hope to unite the community around a "reasonable" tax-rate measure.
Organizers unveiled the official name of their campaign committee — the Mehlville-Oakville United Committee — at the June 29 meeting, which drew a crowd of a hundred in the middle of summer to Andre's South in Oakville. Among those attending were Board of Education President Venki Palamand, Vice President Larry Felton and board member Jean Pretto.
"Communities that advocate for children, communities that fund their schools, become desirable communities and people want to live there," said campaign organizer Kimberly Hanan-West. "Your property values are going to go up, your kids are going to get an awesome education, this is how it works.
"This is why I've been in this fight, this is why we must advocate for this district, for our kids, and for our investment in this community … It's not going to be easy, but we can do this, and I feel it more than ever in this community."
Illustrating the campaign's tagline "Protecting Our Investment, Educating Our Children," Hanan-West recounted the story of her grandparents, who were middle-class and lived on a fixed income.
Over the course of their lifetime, they saw their greatest financial investment, a house in Jennings, dwindle in value to nearly nothing as the quality of the local school district declined.
"It was tragic to watch two people invest in their property and the community bottom out around them, and they had nothing in the end," Hanan-West said. "I'm not here to say that we're going to overtax our seniors, but I am here to say that we are going to advocate for our kids, preserve this community and make sure that you have a return on investment."
Hanan-West, an Oakville resident and Parkway North High School teacher, told the Call that the committee's hope for unity across the district on behalf of the area's children inspired the committee name.
That's coupled with the success of an existing Facebook group "Oakville Residents UNITE," which initially was established in opposition to the National Church Residences senior apartment complex on Telegraph Road but more recently has become a general group for discussion about a range of topics, including the school district.
A May survey indicated that a majority of frequent voters would support a 40-cent tax-rate increase this fall. The board would have to vote to place an initiative on the ballot, and the Mehlville-Oakville United Committee plans to formally present a "reasonable" tax proposal to the board for consideration, which campaign spokesman Dan Fowler has said could be something around 49 cents but is still undetermined.
Rather than organizing at the June 29 meeting, the campaign directed everyone to an online form on its Facebook page, which was set up by a Mehlville eighth-grader, who also designed the group's "MOU" logo.
In interim Superintendent Norm Ridder's final public appearance as Mehlville superintendent before Wright City Superintendent Chris Gaines took over July 1, Ridder told the crowd that of all the districts he's led or taught in 40 years of education, Mehlville can claim bragging rights in a key area.
"I need to tell you that Mehlville has the best kids I've ever experienced," Ridder said.
With the strong students, strong families and strong teachers that Mehlville already has, Ridder said he believes that the district will get through its current financial difficulties, including a $2.6 million operational budget deficit for this year, and become the school district of choice in the region in five years if the district's leaders follow the strategic plan he set up this year.
To educate campaigners, Chief Financial Officer Marshall Crutcher presented "five facts in five minutes" about the district's finances.
First, the district needs at least 17 percent in cash reserves to make it through the year without borrowing. The higher the cash reserve, the lower the interest taxpayers will pay on bonds for capital projects.
Mehlville will end this fiscal year with 17 percent in reserve, and may not have enough for emergency expenses.
After mentioning the second fact of the $2.6 million operational deficit, Crutcher noted that based on his five-year projections, a 63-cent tax-rate increase would be needed this year to balance the $32.5 million deficit after the 2018-2019 school year if the district implements the strategic plan.
Fourth, Crutcher noted that as assessed valuation of the district declined during the Great Recession, the district's operating expenses increased at 2-percent inflation a year but its revenue only increased by less than 1 percent, which leads to deficits even if there is no wasteful spending.
Finally, Crutcher pointed to the comparative data Ridder collected on surrounding and benchmark districts, which shows that Mehlville has the lowest cost per student in all of St. Louis County and the second-lowest tax rate but has a significantly higher total assessed valuation, or more community assets, than most of the six surrounding and benchmark districts.
"To really understand the key fundamental financial aspects of the district, you don't have to be a CPA, you don't have to have attended a lot of accounting classes," Crutcher said. "How is there wasteful spending when we're on the bottom of spending per student? How can we not afford additional money if four of these six districts have less community assets than we do?"