By Gloria Lloyd
Staff Reporter
news3@callnewspapers.com
Gov. Eric Greitens ousted the state's top education official through a new State Board of Education majority last week after months of maneuvering.
But a south county resident on the board sees the move as a step backward for education in Missouri.
Greitens has never said outright why he set out to fire Education Commissioner Margie Vandeven or who he wants to replace her with, but his campaign paid for charter school advocate Ken Zeff to visit Missouri from Atlanta in August. The two served together as White House Fellows in 2005.
The state board voted 5-3 to fire Vandeven effective immediately Dec. 1, after a previous attempt Nov. 21 failed 4-4. The five votes to fire Vandeven included one from Eric Teeman, a former Raytown alderman Greitens appointed that morning. The five members who voted to fire the education chief left the meeting without taking questions about why.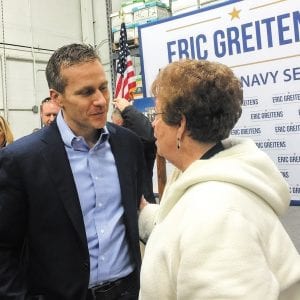 Two of the three votes to keep Vandeven came from Republicans, including Concord resident Vic Lenz, a former administrator in Lindbergh Schools and longtime president of the Lindbergh Board of Education before former Gov. Jay Nixon appointed him to the state board for a six-year term in 2013.
Lenz is "mystified" at why the governor would want to remove Vandeven, who was one of the best leaders he has ever seen at the helm of the Department of Elementary and Secondary Education. She brought teachers, superintendents and other groups together in unprecedented collaboration that resulted in the reaccreditation of all of Missouri's unaccredited schools for the first time in decades by the time of her last meeting, he noted. Vandeven beat out then-Mehlville interim Superintendent Norm Ridder for the job in December 2014.
"I've seen more cooperation and people working together for the improvement of our schools than I've ever seen in my life," Lenz said. "And I've worked in education since 1964 as a teacher and all the way through the jobs that I had at Lindbergh, president of (Missouri School Boards' Association) and then to the state board."
Greitens has so far refused to talk with or meet existing board members to discuss education, Lenz said. They've never heard what his goals are for education, or what he wants the state board to do. He's also never publicly said since taking office that his aim is more charter schools.
"You don't just start tearing a system down because you want to change the system," Lenz said. "You find out how we can work together."
The firing prompted an outcry in the educational community around the state because the state board, split evenly between political parties, has traditionally not taken its marching orders from the governor.
It is that issue which got Mehlville Superintendent Chris Gaines, normally not one to get involved in politics, upset enough to tweet in support of Vandeven. He is the president elect of the largest national superintendents' organization.
Gaines tweeted, "The @MOEducation board can maintain integrity and independence or be political puppets. If they choose the latter, it will take years, if not decades, to restore trust," alongside a meme of a television character saying "Dance for me puppets, dance!"
In a statement after Vandeven was fired, Greitens said, "Today, kids, teachers and families won." He said he supports public education and wants higher teacher salaries, lower administrative pay and money "out of the bureaucracy — and into the classroom," along with higher achievement.
However, none of the reasons Greitens cited in his statement was actually under Vandeven's control. Salaries are voted on by local school boards — something Missourians prize, Lenz said. The academic scores Greitens cited predated Vandeven, who improved them, Gaines said.
Greitens said nothing about charter schools in his reasons for firing Vandeven, but she was never viewed as their enemy: She came from a private-school teaching background, and the head of the statewide public charter school association issued a statement of support when she was hired.
And only the Legislature can expand charter schools, not the state board or the commissioner, Lenz said.
Greitens is a Republican, but he has been at odds with members of his own party in the Republican majority in the Legislature since soon after he took office in January.
Of the possibility of the Legislature approving Greitens' chosen board members when the session opens in January, Gaines said simply, "Nope."
Lenz was not the only south county resident caught up in the drama. Greitens blamed what's wrong in education on administrators who make more than $250,000 a year, which applies to only a handful in the state, including Lindbergh Superintendent Jim Simpson and Rockwood Superintendent Eric Knost.
Both lead districts that rank near the top in academic achievement in the state.
Data from the state's existing charter schools shows they have higher administrative costs than public schools, Gaines noted.
Gaines has sent multiple invitations to Greitens to visit Mehlville's new school of innovation, Mosaic Elementary, one of the only such schools in the state and the only one in the St. Louis area. But like Lenz, he has not heard back from the governor.
"He talked about bureaucrats who want to maintain the status quo," Gaines said. "I don't think we're trying to maintain the status quo here."
The future of the state board is hard to predict, Lenz said. Teeman, appointed that morning, walked in a minute before the meeting and then voted to fire Vandeven.
The current five Greitens appointees are the last ones standing of 10 members he appointed in the last few months, removing them if they wavered against firing Vandeven.
What Lenz calls the "faction" of new Greitens appointees on the board wanted to decide how to conduct the search in the same closed session in which they fired Vandeven, but board President Charlie Shields, a Republican from St. Joseph, wouldn't allow it since discussing a public process like that in closed session would violate the Sunshine Law, Lenz said.
Lenz, Shields and the other non-Greitens appointee on the board, former St. Louis County official Mike Jones, support a full search to replace Vandeven. For now, the board hired her deputy as the interim commissioner.
Lenz promised he will not stay silent if the new board members try to vote someone in as commissioner without conducting a public search.
"I'll fight anything that's not that," Lenz said. "I may lose, but I'll fight it."