Green Park man charged with murder at Oakville Walmart
A Green Park man was charged Saturday with murder in the shooting death Thursday of a chef from Andre's Banquet Center in the parking lot of the Oakville Walmart.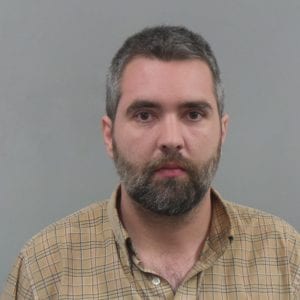 County prosecutors charged Jesse Kelley, 38, of the 10900 block of Suanis Court in Green Park, with second-degree murder, first-degree robbery and two counts of armed criminal action for shooting a man he was getting a ride with in the Oakville Walmart's parking lot Thursday night. Kelley is being held on $500,000 cash-only bond.
Police allege that Kelley robbed, shot and killed Alexander Marley, 29, of the 200 block of East Felton Avenue in Lemay, who was the executive chef at Andre's Banquet Center.
Police from the St. Louis County Police Department's South County Precinct found Marley in the driver's seat of his car with one gunshot wound to the head after a report of a possible shooting about 10:15 p.m. Thursday on the parking lot of the Walmart at 3270 Telegraph Road.
Marley died after he was taken to a local hospital.
His wallet and money were not found on him or in the car.
Witnesses reported after the shooting on social media that they saw the car run into the wall of the Walmart after the shooting.
As the car rolled back, witnesses told police they saw a man jump out of the front passenger side of the car.
Detectives said that before the shooting, Kelley was at the Shell gas station at 3294 Telegraph Road next to the Walmart approaching residents and asking for help.
Kelley's criminal history includes a stint in federal prison after pleading guilty in 2016 to arson at a warehouse in Maplewood while he lived in Fenton and, in St. Louis County, second-degree burglary charges in 2013 for which he received a suspended prison sentence in 2015. He completed his probation on those charges in December 2017.
At the time of the burglary charge, Kelley was a Crestwood resident. He had an adult abuse order and a child protection order served on him at one point by the Crestwood Police Department.
Initially, police said Marley must have been known to the suspect or suspects and was specifically targeted. But they later said that they weren't sure if the two were strangers, and the relationship, if any, between the two was unknown.
Kelley is also suspected of a kidnapping and robbery in the Central West End Thursday morning. In that incident, Kelley allegedly jumped in a 17-year-old's car, held him at gunpoint and forced him to drive to an ATM to get money. Surveillance photos released of the suspect match Kelley.
On Friday, county police released photos of a person of interest, who they described as a white man of average to below average height and a short haircut.
He was last seen wearing a red short-sleeved shirt and dark-colored pants. He had a light-colored bag strapped across his torso and was wearing dark-colored gloves.
Police in the county also asked anyone who was at that Shell station between 8:30 and 10:30 p.m. Thursday to call them as a witness. Police also ask the "numerous witnesses" who saw the shooting or events surrounding it on the Walmart parking lot to call them at (314) 615-5400.
The St. Louis County Police Department's Bureau of Crimes Against Persons is actively investigating the shooting and asks for anyone with information to call (636) 529-8210 to speak to investigators.
To remain anonymous or potentially receive a reward, police ask members of the public to contact CrimeStoppers at 1-866-371-TIPS(8477).