Gravois-Musick intersection is open again after two years of construction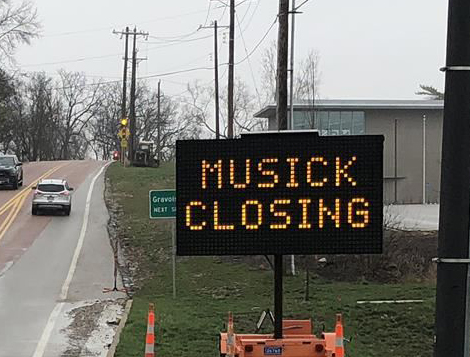 By Erin Achenbach
Staff Reporter
eachenbach@callnewspapers.com
It was plagued by complications and delays, but the Gravois and Musick intersection is completely open, eight months past its scheduled completion date.
The intersection fully opened Friday, Aug. 30, nine months after its scheduled completion date of December 2018. The project faced a series of setbacks, first when a previously unknown AT&T cable was discovered that forced the original design plans to be redrawn, and again when contractors found an unexpected subterranean concrete wall owned by Missouri American Water.
The discovery of the subterranean concrete wall, a thrust-block protecting a 20-inch water main under the intersection, required a redesign of the project, which added $166,000 on top of the already $1.2 million cost.
Missouri American Water will reimburse a percentage of the $166,000, but David Wrone, spokesman for St. Louis County's Department of Transportation, said he does not yet know what that percentage will be.
With the reopening of the intersection, there are now dedicated left and right turn lanes from Musick onto Gravois, a dedicated left turn lane from westbound Gravois onto Musick and improved site distance over the hill onto Musick by lowering it.
The original project was spurred by the opening of the Grant's View Branch of the St. Louis County Library at the intersection in 2015. The county Planning Commission would not allow the library to build a Gravois entrance without the road upgrades. The library was forced to share an entrance with the McBride & Son subdivision it is named after, Grant's View, but will eventually build its own entrance.
"Clearly this was a challenging project. It was a challenge for residents in the area…. We are very appreciative of their patience," said Wrone. "The road itself, now that it's open, with its improvements… motorists and residents alike will appreciate them."
The county Department of Transportation partially reopened the intersection at the end of June by allowing "right in" and "right out" traffic. Eastbound drivers on Gravois were able to turn right onto Musick, and northbound motorists on Musick were able to turn right onto Gravois.
Musick had been closed in some form since 2017.
It reopened in spring 2018 after closing in October 2017 at Lavinia and Meath Drive while the county replaced the 70-year-old bridge over Sappington Creek.