Gravois Kiwanis honor Terrific Kids, South County Kiwanis honor students
The Kiwanis Club of South County – St. Louis is honoring two Mehlville School District students as its Outstanding Students of the Month for May. Sophie Blick of Oakville Middle School was given the honor. Ruth Hollander of Washington Middle School was also given the honor. Both students are in the Mehlville School District. Sophie is pictured with her mother and stepfather, Sarah Blick and Chris Whitrock. Ruth is pictured with her father, Brian Hollander.
Sophie and Ruth were both honored for their outsanding academic performance and community activities. They were also honored for the service and leadership they perform at their schools and in the community.  They each received a certificate of recognition and a gift card to a local store for their achievements. The Kiwanis Club presents the award every month to deserving students in the community.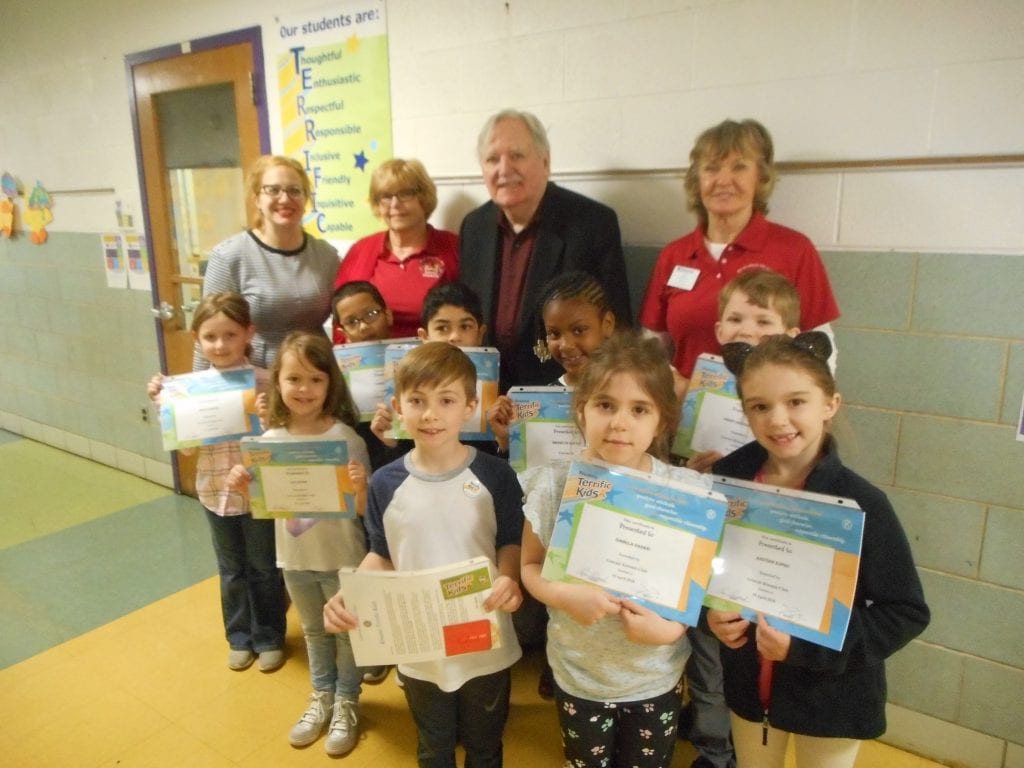 The Gravois Kiwanis Club serves the children of the world and develops youth leaders. The club is extremely happy to be able to sponsor the Terrific Kids program at Mesnier Elementary School in the Affton School District. Every month one student from each first-grade class at Mesnier Elementary School is recognized by their teacher as a "Terrific Kid" of the month.
Gravois Kiwanis Club recognizes students designated as Terrific Kids with a personalized certificate of achievement and other gifts to celebrate their accomplishment. The Terrific Kids for the month of April 2018 are pictured above. Pictured left to right:  Front row – Kyli Meyers, Clark Wagstaff, Addyson Kposic, Isabela Hasani. Row two – Insley Gregor, Gabriel Perez, Logan Laufersweiler, Brooklyn Senter, Leonel Osmanovic. Back Row – Assistant Principal-Tracy Nomensen, Ginger Crooks, Robert Praprotnik, Lori Leupold.