Governor speaks at Lindbergh High graduation ceremony
LHS Class of 2014 features 489 graduates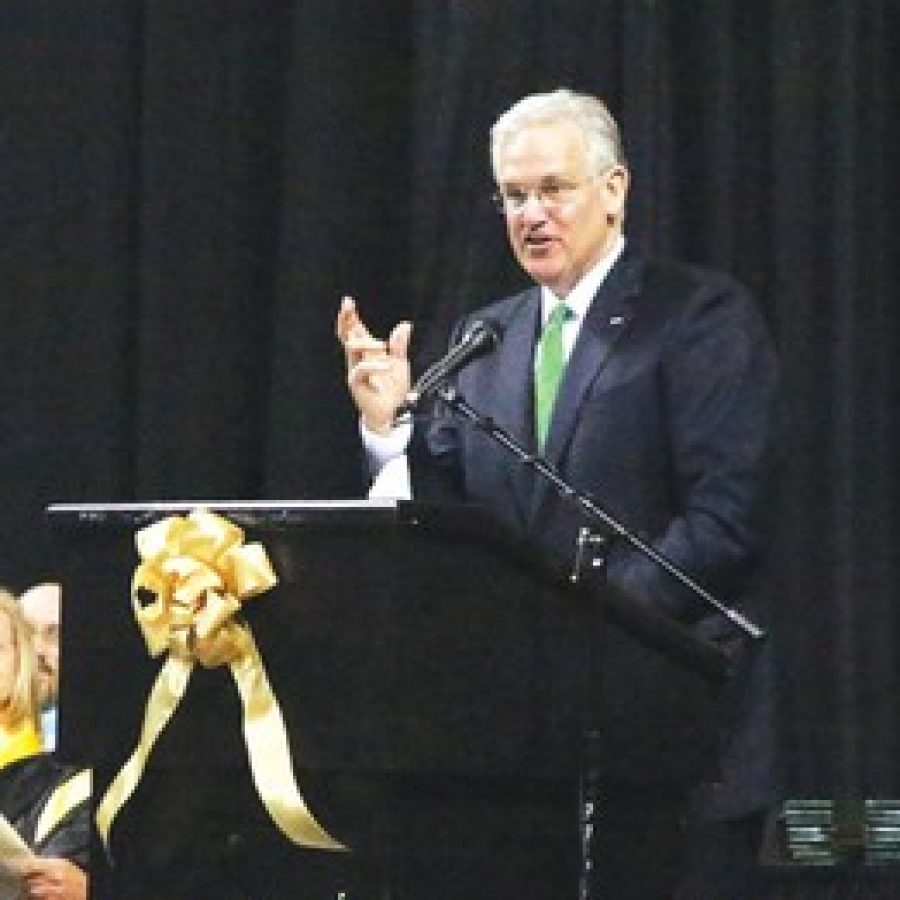 Gov. Jay Nixon congratulated Lindbergh High School graduates last week on their accomplishments and academic success, but told them in the future they will have to band together with those who don't agree with them in order to confront the world's greatest challenges.
"We live in a big community — a community made stronger by our differences and our willingness to talk about them," Nixon told the 489 graduates of the Class of 2014 at the May 27 graduation ceremony at Chaifetz Arena. "So look around this room tonight and you will know that the future of this state, this country and this world is right around the corner — thanks in no small part to the great education received here at Lindbergh and the shining promise of this great class."
Among the lofty goals that Lindbergh graduates and their generation could potentially solve, Nixon listed continually intractable problems like peace and poverty, comparing them to America's past accomplishments in writing the Bill of Rights, landing on the moon, mapping the human genome and creating the Internet.
Nixon linked the idea and importance of listening to those who disagree with you back to James Madison and the Founding Fathers, but he did not specifically refer to his own disagreements with the Missouri Legislature, just days after he announced he will veto a student transfer bill that includes provisions for vouchers for nonreligious private schools.
Speaking to the graduates of what the governor called a "wonderful district," the state's top-ranking academic district, he listed the LHS class of 2014's many accomplishments — many awards, National Merit finalists and 624 college scholarships — and congratulated them on their future plans: 92 percent of Lindbergh graduates plan to go to 80 different colleges, and 10 of them will serve in the military.
After his speech, Nixon tweeted, "With dedicated educators and strong community support, these Flyers are ready to soar."
Although he focused on the future of the district's graduates, the governor also gave ample credit to the staff at Lindbergh who inspired the students along the way to graduation.
"Years from now, you won't remember who spoke at your graduation, but you will always, always remember the teachers who inspired you, who challenged you and who became defining guideposts along your journey," Nixon said. "So please join me in thanking all of those great teachers in this wonderful district."