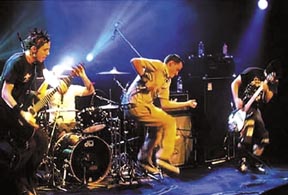 By ALAN SCULLEY
For the Call
In a pop-punk field that has become in-creasingly populated with interchangeable sound-alike bands, Good Charlotte has made a bid to break away from the pack with its recently released second CD, "The Young & the Hopeless."
Lead singer Joel Madden, who along with twin brother Benji writes the group's songs, credits Eric Valentine, the producer of "The Young & the Hopeless," with helping to expand the group's musical horizons.
Joel Madden said, "He challenged me to write different songs than just a bunch of songs that were kind of the same thing … He was like: 'Why don't you try writing some songs that you wouldn't hear on a Good Char-lotte record?'"
The pop-punk side of the band still shows through on new tunes like, "The Story of My Old Man," "Riot Girl" and "Movin' On." But the new CD is more defined by other songs that stretch that sound.
"Lifestyles of the Rich & Famous," the band's recent modern-rock hit, boasts a booming beat and catchy chorus that has more in common with the power pop of Cheap Trick than punk. "Wondering" and "Girls & Boys" also fall more into a pure-pop category with their restrained instrumentation and more measured tempos. The ballads "Emotionless" and "Say Anything" are two other obvious stylistic departures.
Good Charlotte also rises above its pop-punk peers on a lyrical level. Where most groups concern themselves mainly with songs about girls, self-esteem, alienation and other issues of the typical teen life, Good Charlotte digs deeper.
The Madden twins have had enough difficult events in their lives to give them plenty of inspiration for their heavier lyrics.
Now 23, the twins were 16 when their father abandoned the family on Christmas Eve. Their mother suffered from lupus, and the illness at times made it impossible for her to work. The family quickly fell on hard times financially and got evicted from their home. Poverty was a constant companion for the next several years.
The charred feelings Joel and Benji Madden have toward their father fueled the song "Complicated" from the first CD.
They revisit the subject with considerable candor in the song "Emotionless."
"We haven't talked to him since he left, and that song was kind of going: 'All right, I don't think it's going to happen,'" Joel Madden said. "We have to kind of come to our own kind of closure. It's kind of a song we wrote for ourselves. We needed to write that song. It's a very honest song. It's not saying we're angry, but we're not necessarily OK. It's really confusing and we kind of want our own closure, our own piece of mind, so we did that song for ourselves."
Three other songs on the CD, "The Day That I Die," "Movin' On" and "My Bloody Valentine," deal at least in part with mortality — which might seem odd coming from someone like Joel Madden, who has yet to reach his mid-20s.
"I personally definitely think about death a lot," Joel Madden said. "And I think about lost friends and I just am very, very, I know everyone's going to die and I'm one of them too. We're all going to die. And sometimes I wonder if I'll go sooner than later. You never know. But I've always obsessed over it sometimes, and those songs come from those times when I'm definitely, if I heard about a friend of mine who passed or something I just became obsessed with the thought of what's going on."
Fortunately, the career of Good Char-lotte — and for that matter, the day-to-day life of the band on tour — isn't nearly as dark as some of the lyrics on "The Young and the Hopeless." Formed in Waldorf, Md., six years ago by the Madden twins, the group, which also includes bassist Paul Thomas, guitarist Billy Martin and newly recruited drummer Chris Wilson, saw its debut CD sell nearly 400,000 copies.
"The Young And the Hopeless," which has been certified platinum, already has achieved bigger things. The songs, "Life-styles of the Rich & Famous" — a tune that pokes fun at cry-baby celebrities — and "The Anthem" have been modern-rock hits, and in April, the band snagged a Rolling Stone magazine cover story.
Joel Madden said he's keeping the group's good fortunes in perspective.
"We feel the buzz right now and we feel the hype right now, and that's what we believe it is," he said. "You know, with every new record comes the new hype, the push … You get your video and you get your album airplay and then it could go away or it could stay. That's the way it is, and we know that. So we're not buying into our own hype. We're kind of just going to keep touring and keep pushing it ourselves."
Good Charlotte headlines a 6:30 p.m. May 20 bill at the Family Arena in St. Charles. New Found Glory, MxPx and Stretch Arm-strong also perform. Tickets cost $25.