Gilder Lehrman Institute honors Blades as its 10,000th affiliate school nationwide
Professor holds Junior Historians Forum to celebrate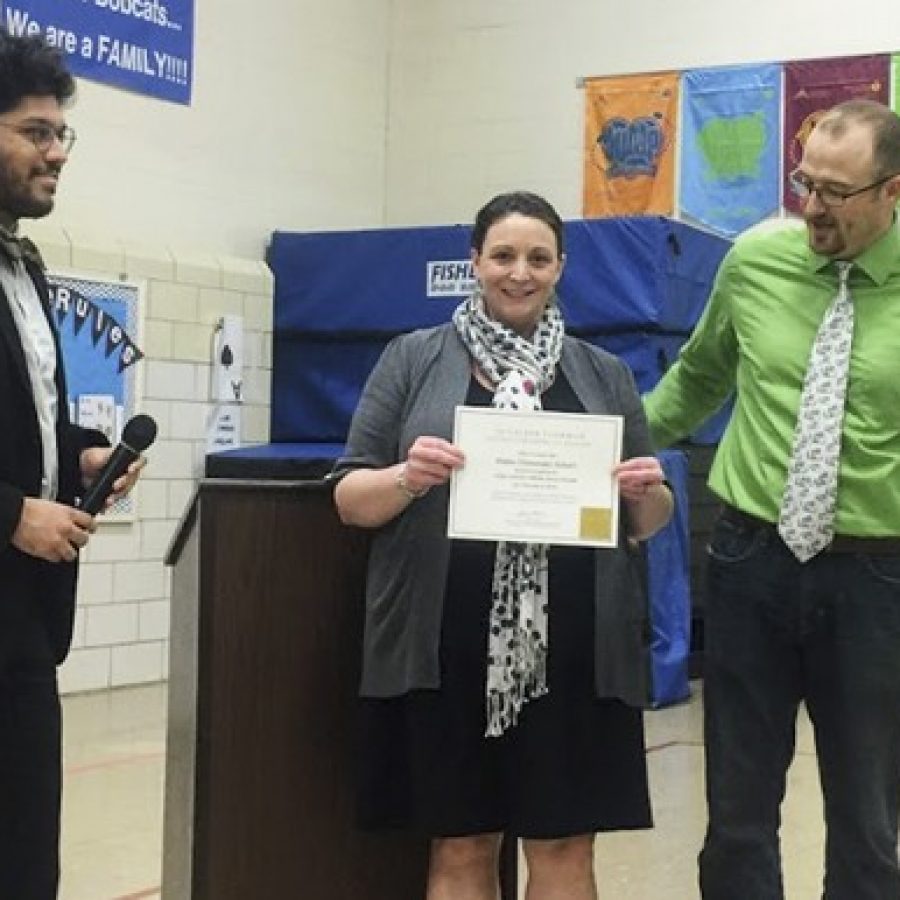 Blades Elementary School was honored Friday as the 10,000th affiliate school nationwide of the Gilder Lehrman Institute of American History, which provides free resources to improve the teaching of American history in schools.
English-Language Learner teacher Jamie Williams nominated the school in December.
As part of the celebration for the 10,000th affiliate school, the institute has invited Williams and two students to attend a gala in New York City in May.
The achievement was marked Friday with a Junior Historians Forum, with North Carolina State University Professor David Zonderman making a presentation to the students about the Revolutionary War.
Zonderman focused his presentation on the time ranging from the Revolution to Thomas Jefferson's presidency, including some of the negative campaigning from the campaign between Jefferson and John Adams for president in 1810.
When Bill, a fourth-grader, asked if such campaigning was illegal at the time, Zonderman said, "That's the kind of question a college student asks — that's really a good question."
Because Adams had signed the Alien and Sedition Acts that criminalized statements critical of the government, Jefferson's harsh criticism of him might have been technically illegal at the time, Zonderman said. But that law would likely be declared unconstitutional today, so the legality is more of a gray area.
The professor connected the political fights of Colonial days with those of today, when debates about freedom of speech, the press and how to interpret the Constitution still happen all the time.
"If you say you can't have free speech because of this, and you can't have free speech because of that, pretty soon none of us will have free speech — and that's a really bad situation," Zonderman said.
The forum ended with Zonderman asking the students to analyze actual political cartoons criticizing Jefferson and what messages the newspapers that published them were trying to get across.
Dozens of students raised their hands to give their theories on why cartoonists chose to depict Jefferson getting hugged by the devil, throwing up gold coins in front of a Frenchman while looking like a prairie dog, and partying in a tavern with slaves present.
A time of quill pens and taxes on tea can be hard to imagine for today's students, but before Zonderman's presentation, some of the students dressed in colonial outfits and gave presentations on what life was like in that era.
Carpenters are just as important as they were then, the students said, but people today have access to newer technology like whiteboards. While leaders then were the Founding Fathers, one student held up a picture of President Donald Trump to show what today's leaders look like.
The school's fourth-graders lined the gymnasium wall with posters about "The ABC's of the Revolutionary War," ending with Xavier Cathedral, Yorktown and Betty Zane, a little-known heroine who saved the day fighting against the British during the Siege of Fort Henry in what is now Wheeling, W.V
The other Gilder Lehrman affiliate schools in south county are Oakville High School, Oakville Middle School, Mehlville High School, Rogers Elementary and Forder Elementary in Mehlville; Lindbergh High School and Long Elementary in Lindbergh Schools; and Affton and Bayless high schools.