'Get your kicks riding Route 66' set to be a Moonlight Ramble-like ride
Sunset Hills officials are urging bike riders to "get your kicks biking Route 66" with a Moonlight Ramble-like night bike ride along the famous highway.
The city will be hosting its first-ever Route 66 Bike Cruise from 10 p.m. to midnight Friday, Oct. 5. Bicyclists will ride along a portion of Route 66 on Watson Road and see historic landmarks along the 10-mile route. Riders will start at Sunset Hills Plaza — the shopping center with the Home Depot — and then ride five miles down Route 66, then turn around at the old Rothman Furniture parking lot and head back to Sunset Hills.
"It's a very easy ride — everyone in this room can do it," Fribis told the Crestwood- Sunset Hills Chamber of Commerce Sept. 18.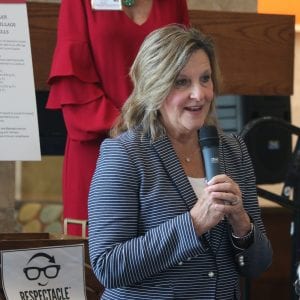 The "first, hopefully annual" event, as Ward 2 Alderman Steve Bersche put it, is envisioned as an annual ride to celebrate Sunset Hills' heritage.
The city began planning the night bike ride before the Moonlight Ramble in St. Louis city was canceled for this year.
Registration is $20 per person and $35 per couple. Two refreshments per per-son are included in the registration fee. Helmets and bike lights are mandatory.
Participants can register with the Sunset Hills Parks Department at (314) 842-725 or visit sunset-hills.com/bikecruise. Tickets are also available for purchase from participating local bike shops, cash only.
For years, Mayor Pat Fribis met with other mayors along Route 66, including those from Crestwood, Marlborough and Shrewsbury.
"We met many times trying to create some economic development along this wonderful corridor that we have," Fribis told the Crestwood-Sunset Hills Kiwanis Club Sept. 13, but most of the ideas didn't pan out.
They came up with the idea of hang-ing banners, but only Sunset Hills and Shrewsbury hung them. The other cities bowed out either because they didn't want to or due to financial concerns, Fribis said.
Another plan for businesses to buy planters with a "Historic Route 66" logo didn't happen either.
"So I came up with the idea of the bike cruise," Fribis said. "They all loved it, but no one put out any money. So Sunset Hills is doing it on our own, and it's going to be a wonderful success."
In the absence of other sponsors along the route, the city is taking the lead on security and planning.
The bike cruise was originally supposed to happen in conjunction with Sunset Hills' new joint festival with Crestwood, SunCrest Fest, which went off without a hitch Sept. 22 at Kitun Park, the cities' shared dog park by Truman Middle School.
But Crestwood officials balked due to concerns that the Crestwood Police Department couldn't handle the bike traffic, or that the blocked-off lanes on Watson Road could create safety concerns.
City officials even mentioned they might go to the Missouri Department of Transportation and ask the state agency to revoke permission for the bike ride in the Crestwood city limits.
Without Crestwood's participation, Sunset Hills moved the bike ride to another night away from SunCrest Fest.
But it's still a night ride, and city officials say it will be safe.
"It will be safe, we'll have police, we'll have cones, MoDOT has approved it," Fribis said. "It'll be a wonderful event."
Seemingly in response to Crestwood's hesitation, Bersche jokingly questioned Sunset Hills Police Chief Steve Dodge as Bersche gave his usual reports from the Police Advisory Board and the Parks and Recreation Board at the city's Aug. 11 Board of Aldermen meeting.
"Chief, just to make sure we can do this — it's going to be OK?" Bersche asked about the Route 66 event.
The Sunset Hills Police Department has everything under control with "no over-time," Dodge said."It's so easy," Bersche said.
"Now that we've established that the bike cruise will not be a huge drain of public resources, I have nothing new to report."