Gaines to serve as head of national organization in 2018
Mehlville School District triples enrollment of girls taking Project Lead the Way classes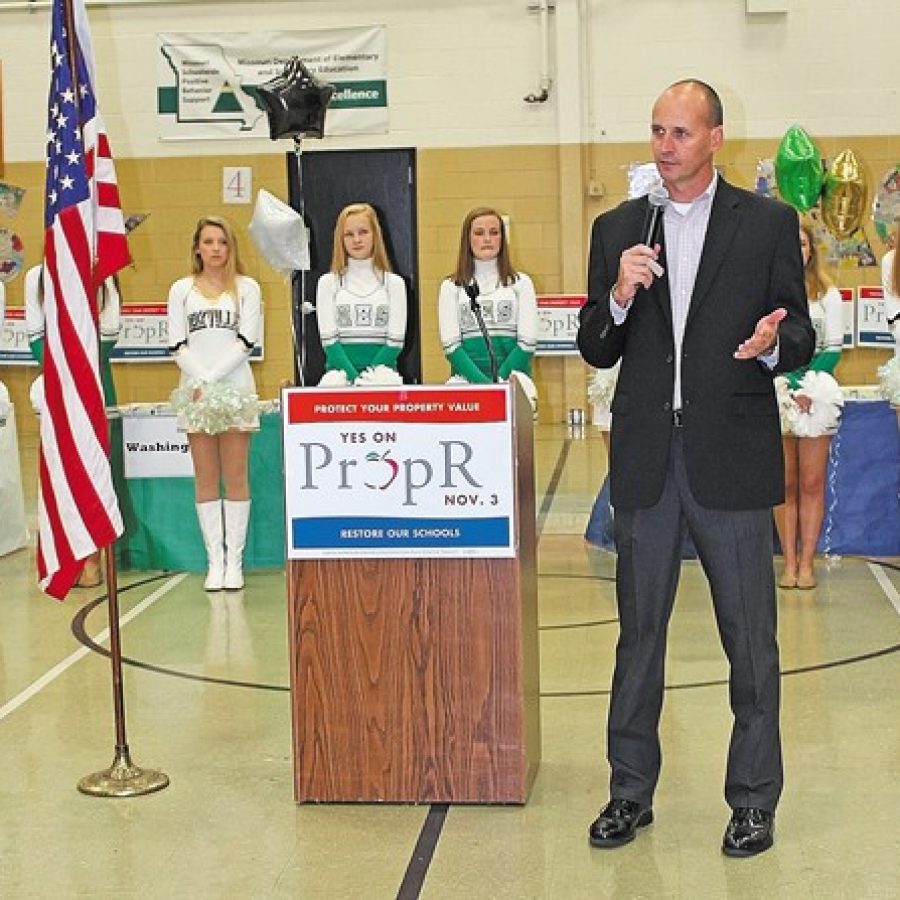 The Mehlville School District could take the national spotlight when Superintendent Chris Gaines serves as president of the largest national superintendent organization next year.
Gaines was elected unopposed as president-elect of the American Association of School Administrators, or AASA, at its National Conference on Education last month in New Orleans. Founded in 1865, the group represents more than 13,000 school administrators nationwide and in Canada.
Gaines will serve as president-elect for a year, starting July 1, then takes over as AASA president for a one-year term starting July 1, 2018.
Mehlville will be part of the national education conversation as Gaines represents superintendents at events across the country.
"It'll just bring a little bit of a heightened profile to what we've got going on," Gaines said. "I'll get to talk about us."
In a campaign video, he pledged to "tell our story of what's going on in our nation's public schools."
The AASA president is influential, potentially meeting with national leaders or testifying in Congress. The position requires travel, but many trips are "quick in and out," Gaines said.
Other districts are noticing Mehlville not just for the new school of innovation set to open this fall, Mosaic Elementary, but for other programs Mehlville can showcase due to Gaines' national platform.
Along with the election, the highlight of the conference for Mehlville came when Assistant Superintendent Tina Plummer revealed that the district tripled the number of girls who enrolled in Project Lead the Way courses in one year, using Mehlville's first summer camp focused on STEM, or science, technology, engineering and math, and STEM breakfasts.
The reveal was part of a broader presentation from Plummer on the middle-school STEM programs Mehlville is pioneering with Discovery Education this year.
"That was a cool piece of data, and when Tina talked about that, people were like wow, that's really good," Gaines said. "I had people afterward coming up to me asking about our stuff."
Although Gaines is well-known in national superintendent circles, he introduced himself to those who didn't know him at his campaign speech last July in Washington, D.C., by referencing his years as a math teacher and as superintendent of Crawford County and Wright City before starting at Mehlville in 2015.
"I was a math guy, so you do the math — I spent 16 years as a superintendent in two rural districts and now serve in the suburban St. Louis area," Gaines said. "During that time, I've been active in a number of associations, and I've enjoyed the past eight years serving AASA on the governing board and on the executive committee. But really, I'm just Zack's dad."
Washington Middle School sixth-grader Zack, 12, spent the week in D.C. with Gaines and his wife, Debbie, "checking out a little bit of the nation's history, but really he's a kind of Minecraft (computer game) junkie — he'd play all the time if we'd let him. But as parents, Debbie and I have to keep an eye on that. He's active in the Boy Scouts, and that's an important part for us," he said.
Initially, Gaines faced opposition from Baltimore County, Md. Superintendent Dallas Dance, who oversees a district of 110,000 students. But he pulled out of the race earlier this year. In his speech, he mentioned Gaines as a "friend and colleague."
Gaines was congratulated on Twitter by superintendents from across the country who wished him well.
"Excited for my friend and fellow Missouri school leader @paddlingsupt — Chris Gaines — who is the next AASA President-Elect," Springfield Superintendent John Jungmann tweeted.
Baltimore County dwarfs Mehlville, but the districts still have similarities, Gaines said in his speech. He pledged to increase consortiums that bring together superintendents to focus on what they have in common, including rural, urban, personalized and digital learning.
Gaines finished his own speech by saying, "I mentioned Zack was in Scouts, and Scouts has been a big part of my life for a long time — it was the first place I was given an opportunity to lead.
"And we always start with an oath: 'On my honor, I will do my best to do my duty to God and my country.'"