Four seek Crestwood Ward 4 aldermanic seat
Ayouaz, Kennedy respond to issues facing Crestwood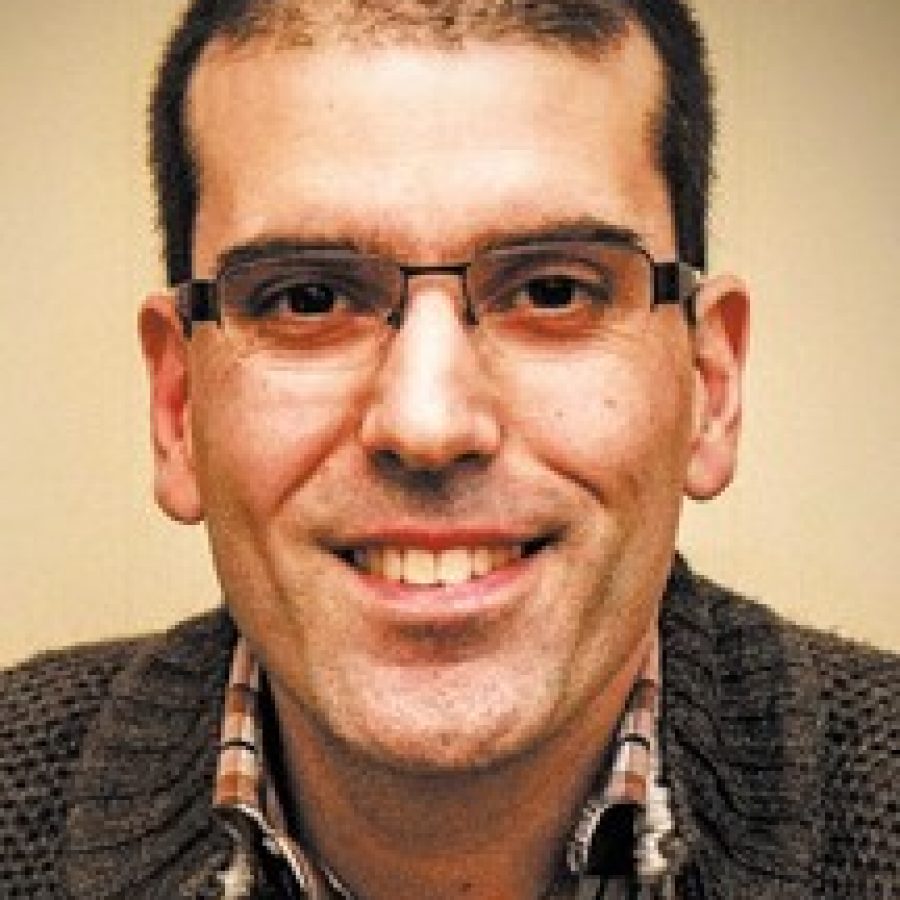 Four candidates are seeking the Crestwood Ward 4 aldermanic seat in the April 5 election.
Ismaine Ayouaz, Tony Kennedy, former Alderman Steve Nieder and Ryan Pascoe are vying for the seat currently held by Cindy Minor.
Minor, who did not file for election, was appointed to the seat last year to replace former Ward 4 Alderman Mike Tsichlis, who is now running for a seat on the Lindbergh Board of Education.closed
The aldermanic seat carries a three-year term.
This article will feature Ayouaz and Kennedy. Nieder and Pascoe will be profiled in a future story.
• "Continuing the strong and productive balance of retail and residential property use while sustaining the excellent city services in Crestwood is the priority. This mix made Crestwood unique and profitable in the past, and can do so again with planned economic revitalization. Fine city services and maintenance of the infrastructure, parks and civic buildings must remain a priority," Ayouaz said.
"Need leadership to enhance economic development. A strong and vibrant commercial base will provide the tax revenue to continue, increase and maximize services, keep residential taxes low and continue to fund the Lindbergh School District," Kennedy said.
Ayouaz, 38, 8915 Rusdon Lane, is an operations and system specialist at Washington University. He and his wife, Isabelle, have two young children.
Ayouaz, who has not held elective office in the United States, said he is seeking election "because I want to roll up my sleeves for the community and help shape the future of our city. I am civic-minded, politically engaged, active in our community and eager to serve a renewed Crestwood."
Kennedy, 54, 9000 Parkshire Court, is a senior vice president with Colliers International.
He and his wife, Angie, have five children ranging in age from 26 to 16.
Kennedy, who has not held elective office, said he is seeking election "to take an active role in making Crestwood an even better place to live, work and play. My wife, Angie, and I moved to Crestwood in 1994 and love our city. We have met such wonderful people and made great friends and so have our children. Crestwood is in a position to leap forward."
Ayouaz said, "Yes. I do agree with the direction the city is moving. The city of Crestwood is moving forward. I have stated a number of times that I am committed to working with colleagues on the board, city staff and our citizens. People who know me know that I try to be consensus builder and I believe that it is a team effort that includes the mayor, the Board
of Aldermen and city staff. I know them to have a heart for their city and for their duties as mayor, aldermen and staff. It would be a privilege to serve with them."
Kennedy said, "Yes."
Ayouaz said, "At this time, I do not see a need for a tax increase. The completion of the mall redevelopment and other new businesses on the Watson corridor will positively impact our revenue. Citizens need to take a look at their property-tax bill breakdown and evaluate the low property-tax rate we enjoy in our fine city. For a $200,000 appraised house, it is around $8 a month of property taxes paid to the city to finance our local police and fire, take care
of our streets and more. If there is a need in the future to increase taxes, the entire board would decide whether or not to place the issue before our citizens."
Kennedy said, "No."
Ayouaz said, "Yes, I do support UrbanStreet's proposal as a whole. It is the only one that we have. It is my hope every phase of the proposed plan becomes a reality. I am particularly excited about the office building, the public gathering spaces and the 13-acre park-like setting."
Kennedy said, "Yes."
Ayouaz said, "I am supportive of all the city staff who work hard to make our city greater and our community stronger. And I am committed to working with each of them. I know Ms. Stump to be an excellent attorney."
Kennedy said, "Yes."
Ayouaz said, "The city's annual budget for legal costs is warranted and in line with other communities like ours. The eight members of the Board of Aldermen review these costs monthly. We have professional attorneys who serve as aldermen and I trust each member of the current board to be good stewards of the city finances."
Kennedy did not respond to the question.
Ayouaz said, "Yes, I do. I reviewed the city Charter and the Missouri Revised Statutes and sought the advice of a competent and reputable attorney. After reviewing both, he recommended that I proceed with filing and I followed his legal advice. It is unfortunate that the Call, in the opinion of many, often stirs up perceived controversy and already has given significant coverage of Steve Nieder's opinion on this."
Kennedy said, "Yes. I have complete faith and respect of the job being done by the great people at City Hall, including (City Clerk) Helen Ingold and Lisa Stump."
Ayouaz said, "Yes, they should, and they should make sure that the city Charter and the code is always updated and in line with the constitution of the United States of America and the Constitution and the Revised statutes of the state of Missouri to avoid potential challenges or lawsuits."
Kennedy said, "Yes."
Ayouaz said, "I am committed to running an admirable campaign and will not comment on Mr. Nieder's behavior nor the Board of Aldermen's decision to allow him to complete his term on the Planning and Zoning Commission."
Kennedy did not respond to the question.
Ayouaz said, "I could not comment on an issue that was relevant eight years ago and where I do not have all of the information to make an educated comment. I am more interested in the future of Crestwood than its past."
Kennedy did not respond to the question.
Ayouaz said, "Yes, I believe in recording all meetings when it is appropriate following the strict guidelines of the Sunshine Law."
Kennedy did not respond to the question.
Ayouaz said, "TIF or Chapter 353 are financing and tax tools available for the benefit of the general community, under the Revised Statutes of the state of Missouri. Use of TIF and other tax tools decisions must be determined on a case-by-case basis, and that is how I would personally approach future opportunities."
Kennedy said, "Having the right tools in the toolbox is the best way to get the job done."
Ayouaz said, "This issue takes greater evaluation. We currently provide the citizens excellent fire protection. I would not advocate any changes without detailed evaluation, review of the costs/benefits and input from public hearings and citizens in every ward. Obviously, we must abide by the state laws."
Kennedy said, "We need to make this a priority and study ways to improve this."
Ayouaz said, "Administrator Kris Simpson has only been in his position for a couple of months. That is not enough time to properly evaluate his performance. However, he is very responsive and impressive in the way he handles matters at the Board of Aldermen meetings."
Kennedy said, "I am excited to have Kris Simpson as our administrator. Welcome, Kris!"
Ayouaz said, "I thank Mr. Sime, our previous city administrator, for his service."
Kennedy did not respond to the question.
Ayouaz said, "Absolutely not. I am not in favor of using eminent domain. I value individual property rights."
Kennedy said, "Most likely no."
Ayouaz said, "I think the staff and board are committed to transparency; I am personally committed to transparency pertaining to public matters, and also toward maintaining confidentiality in personnel matters and matters of potential litigation. Representing our citizens and the 'good name' of our city requires both transparency and (at times) confidentiality."
Kennedy did not respond to the question.
Ayouaz said, "I was the only candidate attending the whole eight-hour 2016 budget work session. I have seen the Board of Aldermen work hard to cut as much as possible in an effort to reach a balanced budget. At that time, they were not able to reach a balanced budget. But, I am personally committed to maintaining excellence in services while working hard and making difficult decisions as the current board has. I realize that tough decisions might have to be made to postpone maintenance and/or postpone equipment purchases and rolling stock purchases. I would not want to do that, but citizens will elect me to make those decisions, and I will inform them of the issues before action is taken."
Kennedy said, "Short- and long-term, fiscal responsibility is critical."
Ayouaz said, "Yes. I am absolutely happy with the effort of the city to retain quality employees. Our staff is excellent and should be recognized for their experience and dedication. The recently-implemented pay plan is one step toward this recognition. I am grateful to have dedicated city employees who work hard every day to support our city."
Kennedy corrected "employees" to "employers" and said, "We have great companies here in Crestwood and should always be looking for ways to improve to attract even more quality employers. We have a great central location and (are) easily accessible by a significant percentage of the metro area."
Ayouaz said, "Absolutely not. Having our own dedicated and excellent police and fire services is part of who we are as a community and as a city. Crestwood is among the safest cities in the county because of the fine and competent police and fire personnel who serve us every day."
Kennedy said, "No."
Ayouaz said, "I know TIF is not popular, but the county TIF commission has approved the development plan and financial assistance. I support TIF and other tax tools as appropriate tools to redevelop the former Crestwood Plaza."
Kennedy said, "I am supportive of the TIF for the Crestwood mall site."
Ayouaz did not respond to the question.
Kennedy said, "I would be very cautious about extending the district."
Ayouaz said, "A good school district is key to Crestwood's future, but is only one item in a long list of things that contributes to making Crestwood a splendid community! Therefore, the future of both entities is mutually important. Both the school district and the city of Crestwood must maintain a good working relationship with one another. It's a two-way street."
Kennedy said, "Having a fabulous school district is a key component, and we should always strive for a great relationship with our school district."
Ayouaz said, "I am pleased to say one of my children will attend Crestwood Elementary School. It is the elected school board's responsibility to manage the school district. My main priority as a Crestwood alderman will be to protect the city of Crestwood and the interests of its citizens. It is the role of Crestwood's Board of Aldermen to serve every citizen in Crestwood. However, as a Lindbergh parent, I want to see the school district to thrive and continue to be among the best school districts in the country."
Kennedy said, "Of course. We all want the best possible schools for our children."
Ayouaz did not respond to the question.
Kennedy said, "No."
Ayouaz said, "As long as there is no need of confidentiality to conduct business, I strongly support open sessions with strict guidance of the Sunshine Law."
Kennedy said, "Open session is preferred when possible."
Ayouaz said, "Crestwood is a great place to live for a myriad of reasons (list non-exhaustive):
Proximity to I-44 and I-270; desirable housing; favorable property tax rate; great parks; minutes from a wide range of services and entertainment; growing diversity, great potential, Grant's Trail, loyal and high quality City staff, strong public services (police, parks, fire, et cetera); low crime rate; quiet, well-maintained neighborhoods; good schools. I could go on and on!"
Kennedy said, "Crestwood has a great location, a wonderful school district, convenient retail, great churches, low taxes, affordable housing, great community center and beautiful parks."
Ayouaz did not respond to the question.
Kennedy said, "We need a more vibrant Watson Road with more attention to quality construction, better graphics and streetscapes and more sidewalks. A true town center."
Ayouaz said, "The Crestwood Board of Aldermen should do whatever it can to protect the interests of its citizens and continue to communicate the city's autonomy and identity."
Kennedy did not respond to the question.
Ayouaz said, "Yes."
Kennedy said, "Yes."
Ayouaz said, "The new comprehensive plan will be a guideline for growth, revitalization and, if needed, legislation. My goal for our community is to maintain our infrastructure, maintain our parks, update City Hall, beautify and revitalize the Watson corridor, attract more businesses and overall make Crestwood a great place to live as well as a great destination."
Kennedy said, "Vibrant business community generating lots of commercial property taxes and sales tax revenues. Great-looking buildings and landscaping up and down Watson Road. Keep local control of police and fire, low residential taxes, fabulous schools."
Ayouaz said, "I am totally opposed to a city/county merger and a disincorporation of Crestwood. No. In my opinion, it will bring more bureaucracy, and the citizens of Crestwood would not receive the same level of police and fire services, nor the personal, responsive support they currently receive from our staff and elected officials."
Kennedy said, "Let's keep the Crestwood police and fire protection services in Crestwood. I believe the city and county should continue to explore ways to work together to make St. Louis better."
Ayouaz said, "Continued focus on the redevelopment of the former Crestwood mall is important. This project is exciting and will benefit the region immensely.
"Providing new and extended hours of recreational services to young adults and hard-working families who come to Crestwood. Currently, Crestwood lacks recreational services for those who work five days a week."
Kennedy did not respond to the question.