For the Deftones, the music is what matters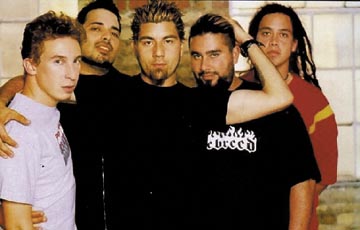 By ALAN SCULLEY
For the Call
The Deftones' 2000 CD, "White Pony" gave the Sacramento, Calif.-band a commercial breakthrough, producing a hit single in "Change (In the House of Flies)" and becoming the first million-selling re-lease in the Deftones' career.
But perhaps the bigger story — if interviews following that album are any indication — was that the "White Pony" project created considerable turmoil within the group.
In particular, singer Chino Moreno and guitarist Stephen Carpenter were said to be in pitched battle over the direction of "White Pony," with Carpenter wanting a relentless hard-rocking CD, while Moreno favored including more change-of-pace material alongside the group's familiar furious rock assault.
Moreno, who had started to learn guitar, also began writing music for some of the material, a move that according to some reports, amounted to the singer invading Carpenter's musical turf within the band. Deftones drummer Abe Cunningham, though, chuckled at how the situation was portrayed.
"If you ask me, it's the same argument that's been going on since day one. It's kind of funny," he said. "I think they (Moreno and Carpenter) made more light of it with 'White Pony,' the creative differences. There have always been creative differences in our band."
Band dynamics noted, Cunningham said life in the Deftones, if still not entirely smooth, was a bit more peaceful during the making of the group's new self-titled CD, the fourth release by the group, which besides Moreno, Carpenter and Cunning-ham, includes bassist Chi Cheng and DJ and keyboardist Frank Delgado.
"There was definitely a lot more camaraderie during this time. There's definitely more patience on everyone's part, especially theirs," Cunningham said, referring to Moreno and Carpenter. "And there are so many ideas in this band collectively that it's just about everyone being open. It's not always easy. We're pretty brutal on each other, too."
The release of the CD "Deftones" comes three years after "White Pony," and the gap between CDs tested the patience of Maverick Records and fans of the Def-tones. In fact, last fall, Maverick announced that the new CD would be released in November.
The only problem was the Deftones weren't on the same schedule, and the new CD was nowhere near done when the November release date surfaced. It's not as if Maverick didn't try to push the Deftones to meet the November release date. In fact, as Cunningham confirmed, the label gave the band a million reasons to wrap the project on time — as in a $1 million fine if the band missed the release date. The band remained defiant, providing strong evidence that the music is what really matters to the Deftones.
"… We were very angry at first. We were just livid. But you know what, they can't hold us back. They could fine us, they could do all this (stuff). They may have our name on contracts, but they can't do (squat). So that to us just made us say look, we have to do what we can do, and we'll (give them) this record when it's done. And all the while, of course, we're watching a million (bleeping) dollars go out the window. But whatever."
By all accounts, inspiration wasn't a problem. If anything, band members were churning out musical ideas at a rapid pace once recording began last summer. The CD that emerged, though, seems like a logical — and satisfying — successor to "White Pony." Like that CD, "Deftones" retains the group's signature fury as Carpenter's tense guitar riffs, Moreno's screaming vocals and Cunningham's pile-driving drumming continue to define tracks like "When Girls Tel-ephone Boys" and "Hexagram."
But like "White Pony," the new CD is far from one-dimensional. The ambient element that was featured on the previous CD with tunes like "Teenager" and "Digital Bath" re-emerges on the "Deftones" CD on "Lucky You" — which has an eerie techno feel — and "Anniversary of an Un-interesting Event" — a molten ballad that features Moreno on piano.
Having completed the new CD, Cunningham said the band is energized and eager to keep growing musically.
"There are so many different sides, things that we're just now getting more comfortable with exploring," he said. "There are many more areas we want to explore and who knows what might pop out at the time. We'll see when we get there."
The Deftones play Friday, July 25, at the Edward Jones Dome as part of the "Summer Sanitarium" show. Other bands on the bill include headliner Metallica, Limp Bizkit, Linkin Park and Mudvayne. Showtime is 3 p.m. Tickets cost $75.