Football Panthers set sights on victory
Panthers kick off '10 season with victory over Northwest.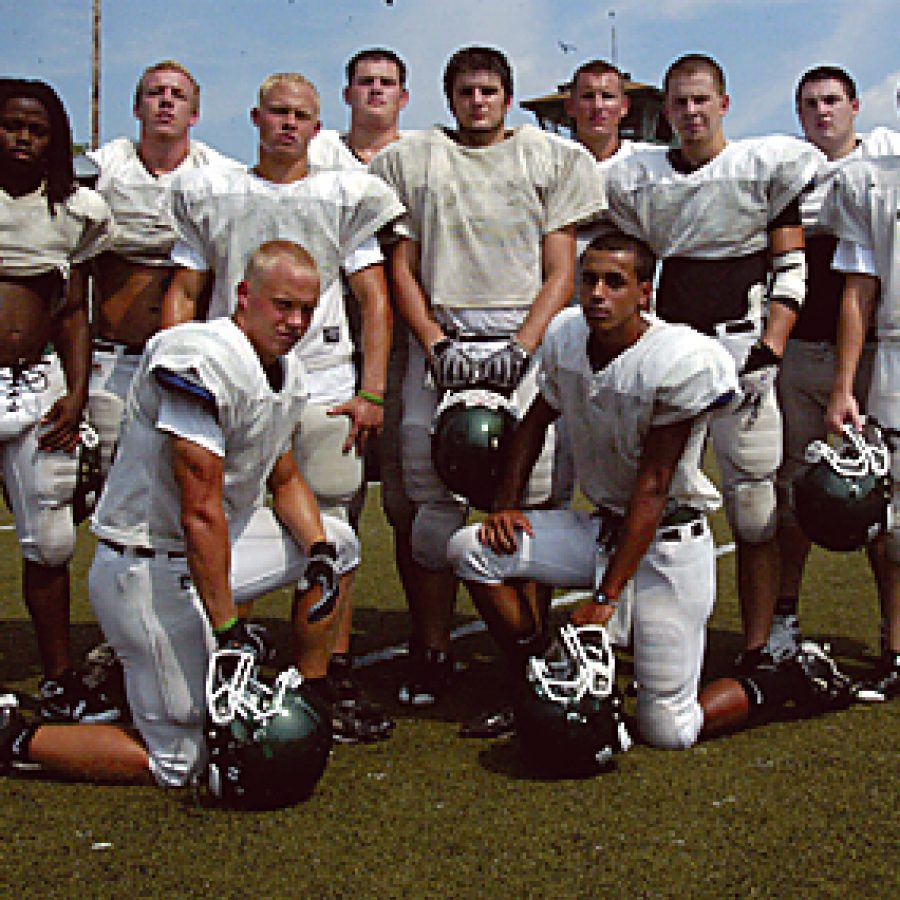 The Mehlville Panthers football team defeated Northwest 42-12 Friday night to win its first game since Halloween 2008.
"I'm looking forward to seeing our guys play in a game," head coach Eric Meyer said before the start of the season. "When you get out here and beat each other up a little bit, and the kids work hard, you want to see them beat up someone else a little bit."
Friday night's victory is a step in the right direction as the Panthers are looking to forget last year's 0-10 season.
"We haven't had that bad of a season since I don't know. With (former MHS) Coach (Gary) Heyde, he's pretty consistent at winning eight or nine games. It's something that we weren't used to, and we really didn't like," Meyer said.
Strong leadership might put it out of sight.
"We've got good leadership. Our quarterback is doing a great job. Our seniors are working hard. We're starting to get tougher with each practice, and we encourage and pick each other up," Meyer said.
Panthers coaches have been able to move along quickly in practice with a rejuvenated squad.
"There's more excitement out there. We don't have to work as hard to get them jumped up and ready to go," Meyer said.
Quarterback Zach Hayes, a 6-foot-2-inch senior, returns under center, and will give the Panthers different ways to attack.
Junior backup quarterback Jeff White is doing the same in practice.
"I'd like to say we're better at running the ball, but then our quarterbacks keep hitting everybody. I think we'll be pretty balanced, and try to keep people off balance as much as we can," Meyer said.
Whether the Panthers go to the ground or to the air, senior offensive and defensive linemen Foster Heres and Cory Simmons will key the blocking.
The Panthers could have an advantage on opponents by running the ball. They can wear defenders out by pounding the ball on the ground with any of seven reliable running backs.
Seniors Dan Parrott, Troy Parrott and Remington Grigsby will get the bulk of the carries. If opponents focus on stopping the run, the Panthers won't worry.
"We don't mind running the ball seven, eight times a game, and we don't mind throwing the ball 20 to 30 times a game," Meyer said.
Meyer is confident about Mehlville's defense and special teams, too.
"We expect our special teams to be good. We have depth in positions. A lot of guys have ability out there. We drill it one or two sessions every practice. It's an emphasis," Meyer said.
Defensively, Heres and Simmons will anchor the front line. The Parrotts also will play both ways, along with junior Mike Sulya, who returns to his starting wide receiver and defensive back positions.
Senior Pat Mudd, one of Mehlville's leading tacklers a year ago, has pleased Meyer in practice.
Another defender returning is senior cornerback Steven Powell.
Junior Brandon Zufall might never see the sideline as the Panthers believe he can start on offense, defense and special teams.
Mehlville Varsity Football
Sept. 3 Eureka A 7 p.m.
Sept. 10 Lafayette H 7 p.m.
Sept. 17 Oakville H 7 p.m.
Sept. 24 Fox A 7 p.m.
Oct. 1 Marquette H 7 p.m.
Oct. 8 Parkway South A 7 p.m.
Oct. 15 SLUH A 7 p.m.
Oct. 22 Lindbergh H 7 p.m.
Oct. 29 De Smet A 7 p.m.