Football Panthers fall to Northwest 15-14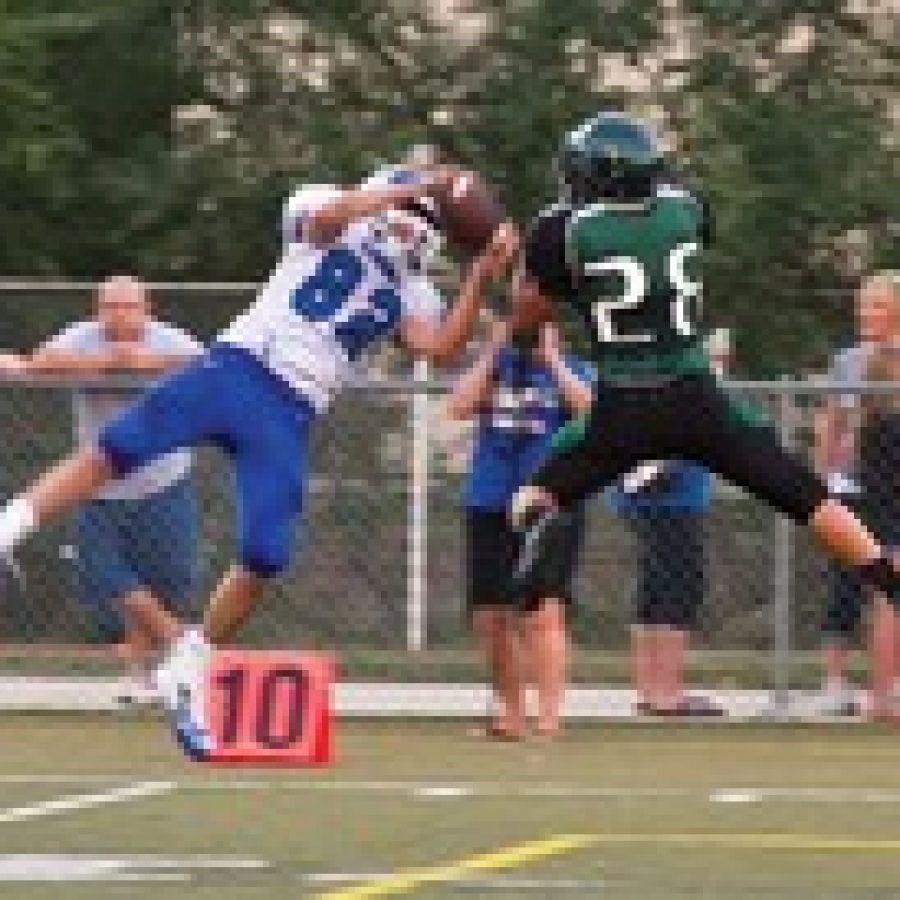 The Mehlville Senior High School football Panthers had a season-opening home win stolen from them Friday night during the last two minutes of the fourth quarter when they fell 15-14 to Northwest.
In a game filled with penalties and a tough start to the first half, the Panthers trailed the Lions, but came out in the second half revved when Mike Mik scored on the opening drive to tie the contest at seven with 8:13 left in the third quarter.
In the fourth quarter, Chris Simmons helped the Panthers take the lead 14-7 with only 6:48 remaining, but they couldn't hold on to the win.
The Lions ran one into the end zone with 1:46 remaining on the clock and and completed a 2-point conversion to put the final nail in the coffin for Mehlville.
It wasn't quite over, though. The Panthers took the ball and nearly fell to a three and out when quarterback Brendan Moore tossed a long one for a first down just shy of the 50-yard line to keep Mehlville's hopes alive. But the Lions picked off a long throw on the very next play to end the game for the Panthers.
Mehlville head coach Kent Heinemann told the Call that he takes the blame for the loss.
"We were sloppy and came out a little flat, got down early, you know," he said. "Emotions kind of got the best of us. This is on me. I don't think we were prepared enough and that's on me."
One bright spot from the game was the way the Panthers were able to run the ball with some success, according to Heinemann.
"We ran the ball decent through the tackles. We fought through some adversity, but I like the way we ran the ball." he said. "If we converted a few more first downs, I think we have a different ball game."
Another plus was the play of Moore, who has been a big part of the Panther's offense since he was a sophomore, but suffered a broken arm and missed most of last season.
Moore had 58 yards rushing, converting two very big first downs for the Panthers.
"He's a good player. He kept us in the ball game," Heinemann said of his quarterback.
Mehlville will have to make leaps and bounds this week to get ready to take on Fort Zumwalt North, which opened its season with a commanding 28-6 win over St. Charles West. The Panthers will face Fort Zumwalt North at 7 p.m. Friday on the road.
Heinemann said the Panthers can make the needed adjustments over the week and plan to put this one behind them after they take what they can from it.
"We can take a game like this and use it as motivation. We're going to come out in practice Monday and we're going to clean this stuff up," he said. "These are easy things to fix and we're going to learn from that and we'll be ready next week."