Flyers soar over Oakville 39-7 in season opener
Flyers face Zumwalt South; Tigers will tackle Marquette,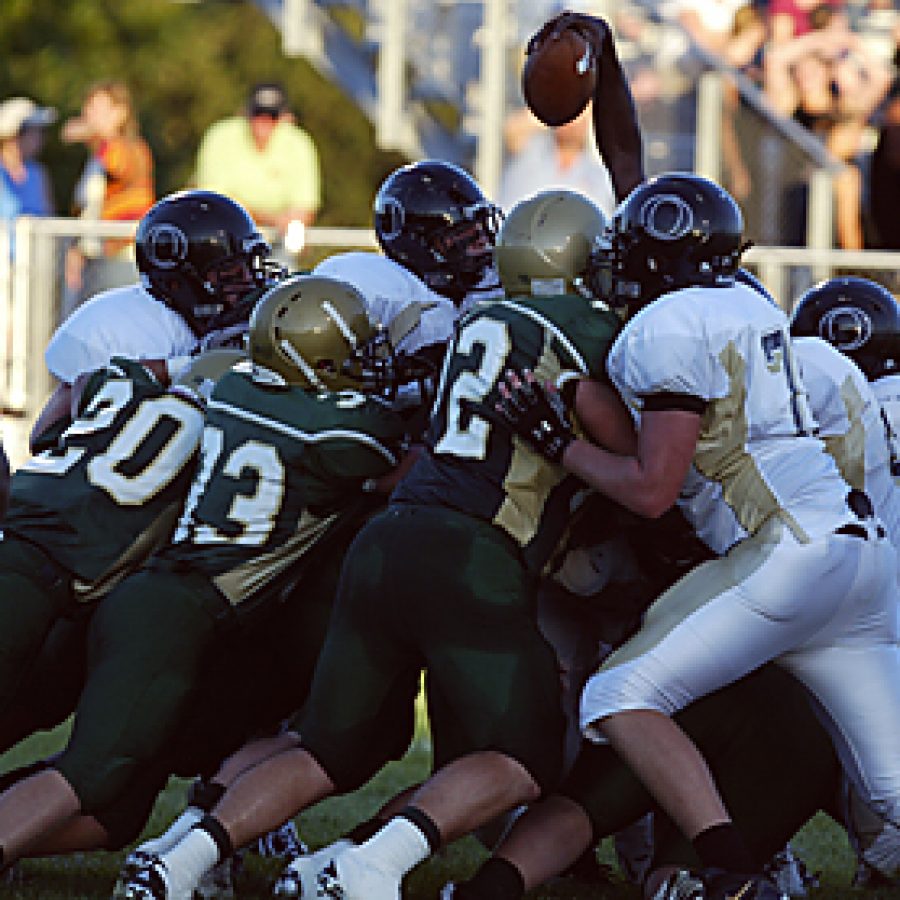 The Lindbergh High School football Flyers didn't pay the price for four early turnovers in their 39-7 win over the Oakville Tigers Friday.
The Flyers' offense let their defense erase their mistakes until they warmed up and built a 14-0 halftime lead.
"I was worried at that point, but I guess the guys just had a little bit of jitters with the first game of the year, but once that went out, things started going our way a little more," Lindbergh head coach Tom Beauchamp said.
Lindbergh's defense stood up Oakville at the goal line after their first fumble.
"We had an opportunity at the very beginning, and things didn't happen for us," Oakville head coach Arlee Connors said. "When you play against a good team, you have to capitalize. That was a downer for our guys, and I don't know if we ever recovered."
It gave all the momentum to Lindbergh.
"That was huge. Just to see everyone come together like that, and taking the guy down as one big team was awesome," Lindbergh senior lineman Tom Million said.
Flyers junior quarterback Peter Simpson threw his second interception and committed Lindbergh's fourth turn-over with 10 minutes remaining in the first half.
The game remained scoreless, however, until Simpson's classmate Grant Krueger raced 32 yards down the sideline with 7:04 left in the second quarter to give the Flyers a 6-0 lead.
Simpson connected with senior wide receiver Will Spitzfaden on a 24-yard touchdown pass on Lindbergh's next drive. The same connection worked on the two-point conversion attempt that gave Lindbergh a 14-point edge.
"It was good to get the first one out of the way because last year I only had one," Spitzfaden said.
Senior running back Tim Hamm-Bey's 48-yard run on the possession's first play set up the score. Lindbergh's running game loosened Oakville's defense as five of Simpson's 18 pass attempts went for more than 15 yards.
"I think they complement each other. If you're one-dimensional, they can always shut you down. When you have two dimensions, then it becomes a little different," Beauchamp said.
The Flyers' defense gave up just 92 yards in its fourth consecutive win over the Tigers. They forced Oakville to punt 12 times.
"We've been preparing all week, getting our D-line stacked, and we rotate in and out a lot. Overall, everything was clicking," Million said.
Oakville narrowed the gap to 14-7 when first-year junior quarterback Javon Henderson found twin brother Jaron Henderson on a high 40-yard touchdown pass in the middle of the third quarter.
"(Javon's) brand new to the position. He was just trying to do a little too much. We'll settle him down, and he'll get it together. We're going to stay with him," Connors said.
Oakville slipped up defensively on Lindbergh's next four possessions, giving up touchdown runs by Krueger, Simpson, Hamm-Bey and junior Jordan Goodman.
Lindbergh collected 342 yards of offense, and its 39 points were the most since their 2008 opener against Fort Zumwalt South.
The Flyers travel to Lafayette (0-1) for a 7 p.m. game on Friday, and will welcome back last season's top receiver, senior Adam Schremp, back from an ankle injury.
The Tigers hope to get their second-straight win over Marquette at 7 p.m. Friday at home.
Click
for additional photos.