Flash flood warning issued for Crestwood, Affton, Mehlville, east St. Louis County and Illinois
Even as some South County residents wait for their electricity to be restored after powerful storms Monday, the National Weather Service of St. Louis said flash floods are likely Wednesday in areas of St. Louis County including Crestwood, Affton and Mehlville, along with the areas of Illinois closest to South County. The warning will last through 4:14 p.m. Wednesday.
The flash-flood warning was issued for parts of eastern St. Louis County, all of St. Louis city and southwestern Madison County and northwestern St. Clair County in Illinois.
As of 10:18 a.m., Doppler radar showed thunderstorms producing heavy rain across the warned area, with up to 2 inches of rain falling in one hour.
Weather officials specifically singled out Crestwood as a center of the flooding, along with the city of St. Louis, Webster Groves, Florissant, University City, Hazelwood, Ferguson, Clayton, Jennings, Overland and Bellefontaine Neighbors, plus Dupo, Illinois. The area affected is a near square with Florissant as the top left corner, Glen Carbon at the top right, Oakville as the left lower edge and Belleville as the right lower edge, as seen in the graphic from the National Weather Service below.
Illinois cities across the river from South County, including Columbia and Waterloo, are in a flash-flood warning through 5:15 p.m., for a total area of 52,000 in that part of Illinois.
A Twitter user posted a video of cars already encountering flood waters at Delmar and Vandeventer in St. Louis city.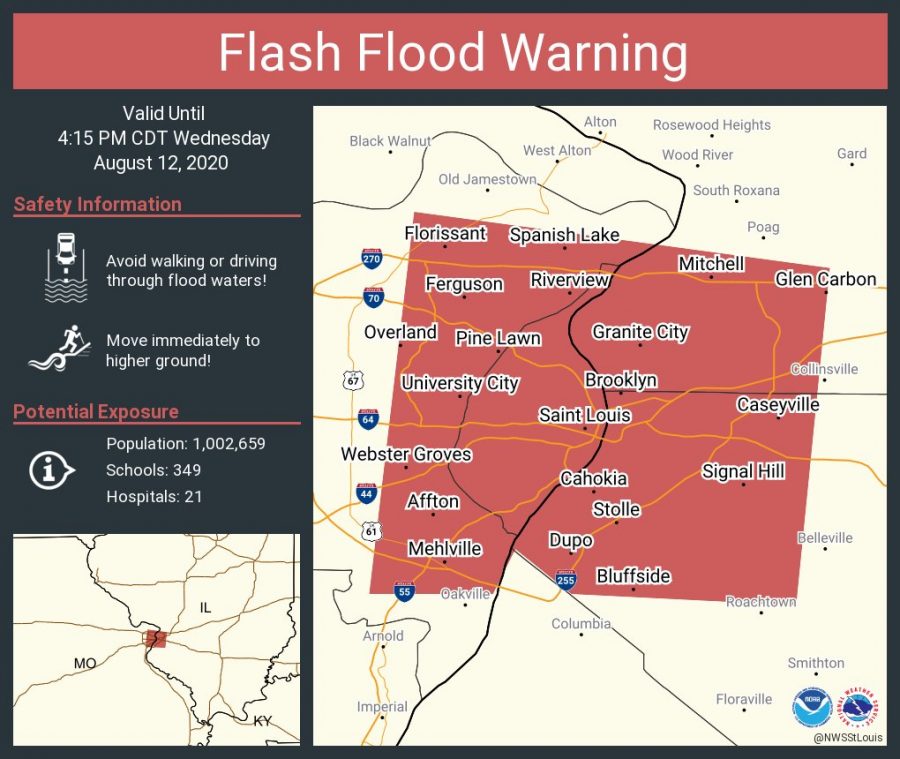 Other cities in Illinois affected with a warning through 3:45 p.m. include Belleville, Granite City, East St. Louis, Collinsville, Edwardsville, Fairview Heights, Cahokia, Swansea and Glen Carbon.
Specific sites affected by flooding include the Scott Joplin Historic Site in St. Louis and Horseshoe Lake State Park in Collinsville.
In those areas, excessive runoff from heavy rainfall will flood small creeks and streams, urban areas, highways, streets and underpasses as well as other drainage areas and low-lying spots.
Officials warn anyone encountering flooded roads to "turn around, don't drown" and move to higher ground if possible. Most flood deaths occur inside vehicles. No one should try to walk or drive through flooded waters.