Missouri Treasurer Scott Fitzpatrick, a Republican, will be seeking to maintain his position as the overseer of the state's finances against Democratic challenger and former state representative Vicki Lorenz Englund in the general election Tuesday, Nov. 3.
Fitzpatrick was appointed to the position of treasurer by Gov. Mike Parson in December 2018, after former Treasurer Eric Schmitt became state attorney general after the election of Josh Hawley to the U.S. Senate in November 2018.
Englund announced that she would run for the treasurer's office in an official campaign kickoff last October. South County resident Englund formerly served as the state representative of the 94th District in the state House of Representatives from 2013 to 2015, and the 85th District from 2009 to 2011, prior to redistricting.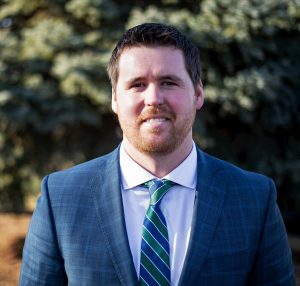 Fitzpatrick, who lives in Cassville with his wife, Mallory, and twin boys Luke and Carson, had been a representative in the Missouri House representing the 158th District, which includes Cassville and the Table Rock Lake communities of Shell Knob and Eagle Rock. He served as representative from 2012 until 2019, before his appointment to treasurer by Parson.
"I enjoy the office. … I was budget chairman as representative and I was a business owner. I started a business in high school and had some frustrating experiences with the government which encouraged me to get involved," said Fitzpatrick in an interview with The Call on why he was seeking to maintain the office. "(As representative) I was really focused on state finances and state budgets. When the governor had the opportunity to appoint someone, they saw the qualifications and gave me the opportunity to be treasurer."
While representative, he served as chairman of the Budget Committee and also served on the Joint Committee of Legislative Research and Public Assistance.
"As budget chairman … I was the sole person responsible in deciding how the state would spend its money and how much money would be spent. I spent almost all my time working on state budget and finance issues. I am a legislative member of the board of the employee retirement system. I still serve in that role," said Fitzpatrick. "I think my legislative experience running the budget for the House, turning a budget out of balance and turning it into a $500 million surplus and still fully funding elementary and secondary education … was a good segue into my role as treasurer."
As treasurer, Fitzpatrick serves as the state's chief financial officer, managing state revenue and investments, while also overseeing Missouri FIRST, backing for low-interest loans for small businesses and farms; MO ABLE, a tax-free savings plan for Missourians with disabilities; and MOST, the state's 529 education plan, which helps family save for the costs of education, whether it's elementary through secondary school or college.
The office also oversees the return of unclaimed property each year from financial institutions, businesses and government agencies in the form of safe deposit boxes and cash. Currently, the office holds more than $1 billion in unclaimed assets, with the typical unclaimed property returned averaging $300.
"Since I've been treasurer, we've done quite a bit. … I'm a big proponent of transparency and local government transparency. People can see how the state is spending money, and I want the same thing for local governments," Fitzpatrick said.
That includes promoting MO ABLE: "My kids have special needs, and that's something that's important to me. … We've grown the program by about 85 percent since I've been in office."
Looking toward the future, if Fitzpatrick wins he hopes to see legislation passed that allows individuals to contribute to a state fund in exchange for a tax credit that can be used to fund scholarships for students in the state to attend better school districts.
"Our role in the education space gives us a voice in education policy and our role in state finance segues into that," said Fitzpatrick. "The lack of equitable opportunity in education is … (a) moral failing. People are stuck in districts that are not good for them."
Like other campaigns this year, Fitzpatrick has faced challenges brought on by COVID-19, both in campaigning and in the regular work the treasurer's office does.
"It's obviously limited opportunities to interact with voters. Things that would typically happen in an election year have been canceled … and have changed the way to speak with voters. We've been doing a lot of social media, and some small in-person events that are few and far between," he said. "It also … increased the workload at the treasurer's office. We've taken a large role in overseeing the (federal coronavirus) CARES Act funding, which is not a typical duty of the office, on top of the other challenges in the middle of COVID."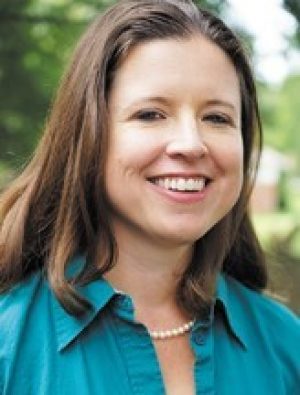 In his limited conversations with voters, the treasurer says that most Missourians want someone who can be an "independent watchdog" over the state's money, although he knows that a lot of Missourians aren't entirely aware of what the office does beyond returning unclaimed property.
"Most of the work the treasurer does is not necessarily partisan, but you are a watchdog over taxpayer money. We have to hold people accountable. … I think that my time as budget chairman has given me respect from people from both parties," Fitzpatrick said. "I think people want someone … who is honest and has integrity. Someone who knows what they're doing. I'm able to share my knowledge of pensions and the state budget … and give them a high degree of confidence."
Englund served as treasurer during her time on the Lindbergh Board of Education from 2011 to 2017. While serving as representative, Englund sponsored legislation in 2013 that made it easier to return unclaimed military medals to their owner or family, which is part of the unclaimed property overseen by the treasurer. The bill passed and as of last year, over 100 medals have been returned.
Currently all but one of the five statewide elected officials in Missouri are Republicans, with Auditor Nicole Galloway as the only exception. Galloway is running for governor against Parson.
The office of treasurer has historically been traded back and forth between Republicans and Democrats. Fitzpatrick's predecessor, Schmitt, was a Republican who was elected to the role in 2017. He had previously served as a state senator representing the 15th District representing Sunset Hills and West County.
But Englund said Democrats will provide better service to taxpayers.
"There's just a lot of things we can be doing a better job of, being a better steward of that taxpayers' money, and that's really what it gets down to. … We (Democrats) want … to help the most people that we can," Englund said. "That's sort of why I've looked at the treasurer's office, because I have the experience. I already know what the treasurer's office is about."
Englund pointed out that few of the people who currently hold statewide office were elected to their positions. After former Gov. Eric Greitens resigned in May 2018, Lt. Gov. Parson, a Republican, ascended to governor and appointed Senator Mike Kehoe to replace him. Appointed after the death of former Auditor Tom Schweich in 2015, Galloway was elected in 2018.
"Did you know that only one of the five statewide officials have been elected to the office that they hold? Twenty percent. I mean, are you kidding me," Englund said. "We have an opportunity. I bring that up not to say that our state is in disarray — it is. And you know this … You know that the values that we stand for are not being held up to the state level. But we need to let people know that there is a way to run this state correctly. And ethically. And to hold everyone to a high standard of being there for people."