Fern de Greeff, benefactor of St. Anthony's Hospice House, dies at age 100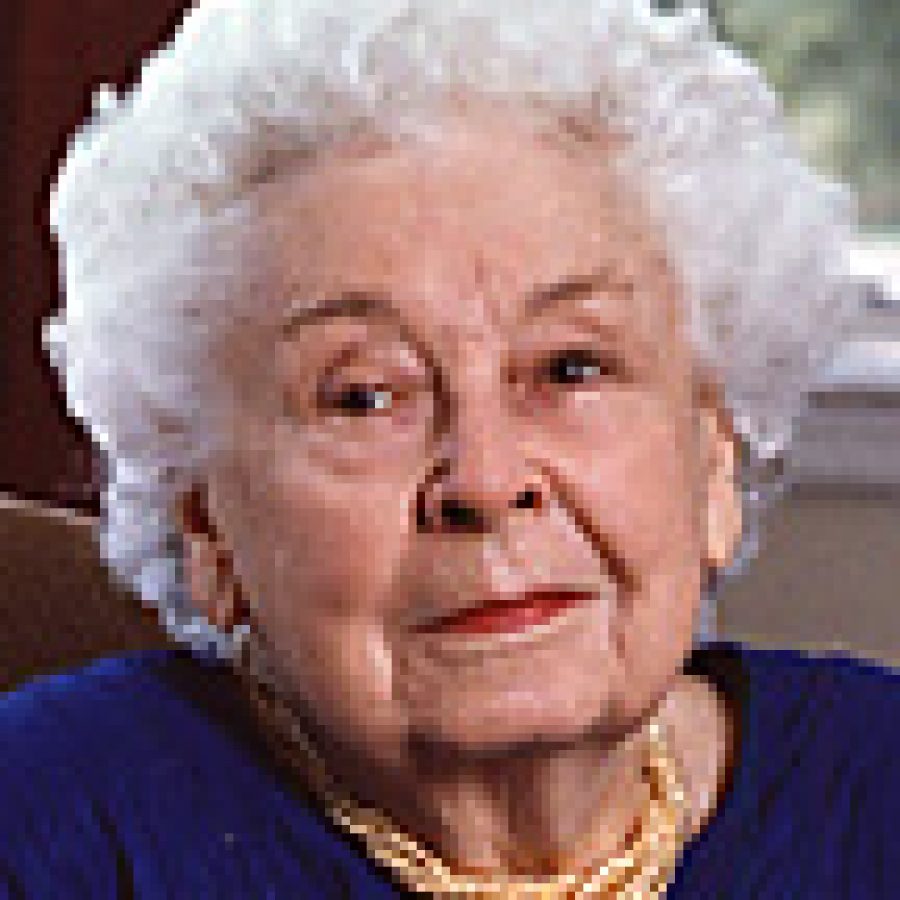 Fern de Greeff, who, along with her late husband, Russell was the major benefactor behind St. Anthony's Medical Center's Fern & Russell F. de Greeff Hospice House, died Jan. 10 at the age of 100.
Mrs. de Greeff died in her own home in south county under the care of St. Anthony's Hospice program.
Mrs. de Greeff led a generous life of service to her family, her community and her country. She and her husband shared 63 years of marriage before his death on June 6, 1998. During those six decades, the couple assumed responsibility for the care of eight elderly family members and served as guardian of her father's cousin for 34 years.
They served their country during World War II — Rus as an Army tech sergeant and Fern as the civilian personnel counselor, which included resolving problems between military personnel and civilian employees, at Fort Warren, Wyo.
In their later years, they extended their compassion and generosity to the St. Louis community through their philanthropic efforts, according to a news release.
Mrs. de Greeff graduated from Roosevelt High School before her 16th birthday and until her death was the school's oldest living graduate. She was one of the first and largest donors to the Roosevelt Scholarship Awards program. The de Greeffs also were major contributors for the Doisy Research Center at St. Louis University and a park on its campus, so students there would have a place of peace and joy to relax.
When Russell was diagnosed with terminal cancer and admitted to St. Anthony's in 1998, the de Greeffs made the decision to endow a freestanding hospice house to care for terminally ill individuals who had no one to care for them in their homes.
"Life had been generous to us and, as we grew older, we began thinking about giving back to society some of our blessings," Mrs. de Greeff said in a 2007 interview. "Although Rus was very, very sick, when I asked him about endowing the hospice house, he answered: 'Let's do it.'"
The house, which opened in 1999, provides premier end-of-life care to patients.
It is "home" to those who have no one to care for them during their final weeks or months of life.
Hospice House has been the recipient of numerous awards and a best practice study of scores of national and international delegations of health care professionals.
Mrs. de Greeff continued to take an active role in projects at Hospice House into her 100th year. In the 2007 interview, she said she was pleased with the success of Hospice House, which doubled in size in 2006 to allow care for 20 patients.
The de Greeff Hospice House is the only free-standing hospice facility in the area.
"I am thrilled about the success of Hospice House — you can't imagine how rewarding it is," de Greeff said. "The staff is equally dedicated to helping both the patients and their grieving families. I have a strong feeling that no one should ever die without someone there holding their hand."
Mrs. de Greeff's lifelong dedication to improving the lives of others was recognized by numerous organizations throughout the community. In 2004, she received the St. Louis County Chamber of Commerce Humanitarian Award. In 2005, St. Louis County proclaimed Feb. 23 as "Fern de Greeff Day." In 2006, she received the Lifetime Achievement Award from the Missouri Hospice and Palliative Care Association.
In addition, she received the prestigious Medal of Honor from the Daughters of the American Revolution in 2007, along with the DAR Missouri state award for Outstanding Women in American History, honoring women who have made America a better place to live.