Ferguson protesters arrive here, joined by Mehlville High students
Protest by Mehlville students leads to 'teachable moment'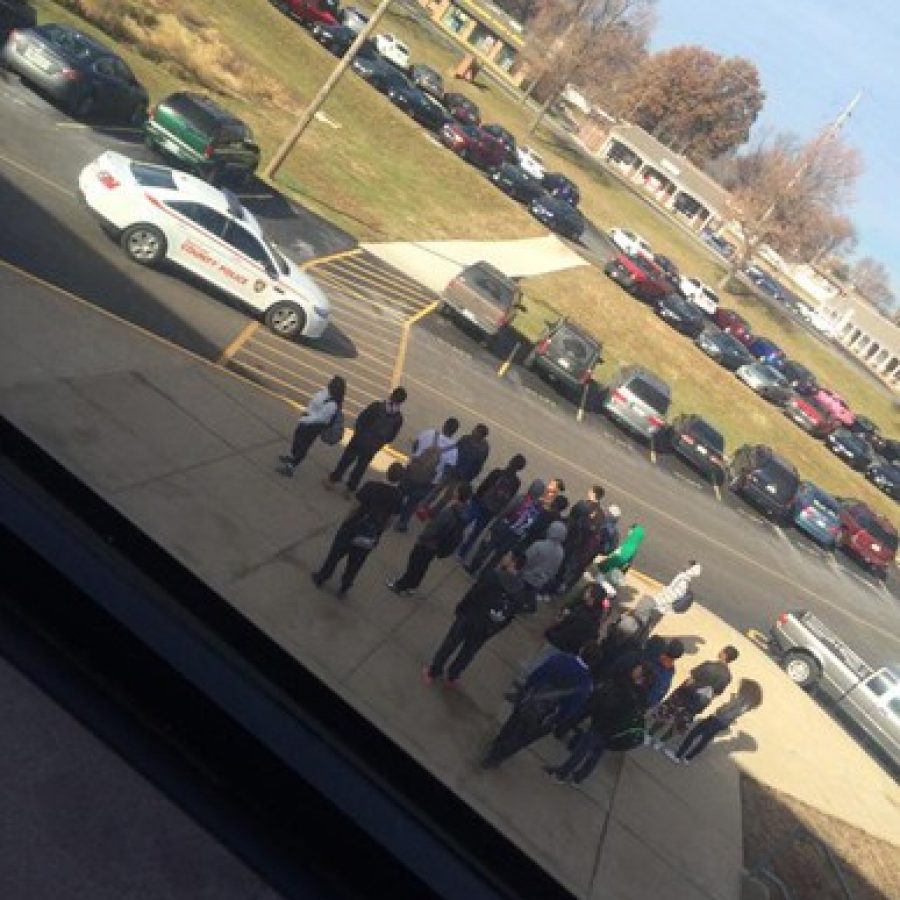 After protesting in every other region of St. Louis city and county in the months since Michael Brown was killed, Ferguson activists finally made it to south county, then were joined by students at Mehlville Senior High School.
Protesters from as far away as Seattle cheered Thanksgiving weekend as they shut down the South County Center mall, the nearby Target and the Oakville Wal-Mart and briefly blocked traffic at the interstate entrance ramp across from the mall by lying across Lemay Ferry Road for a "die-in."
Chanting "South county, shut it down. South city, shut it down. All malls, shut it down" and "We shut (expletive) down," roughly 100 protesters marched through Macy's, Sears and any other mall shops that did not immediately close their night gates when the protesters arrived Nov. 29, the afternoon after Black Friday.
The protest inside the mall culminated in a die-in at Starbucks — where some coffee drinkers still sat at tables — and then another 4.5-minute die-in as protesters lay next to the mall across the intersection of Interstate 270 and Lemay Ferry, blocking traffic four ways.
On the heels of months of protests against Darren Wilson, the then-Ferguson police officer who killed Brown in an Aug. 9 shooting, activists organized a Black Friday "buycott" in honor of Brown.
Wilson says the shooting was in self-defense, but protesters view it as excessive force.
Although similar events at other malls led to arrests, no one was arrested in south county.
Some of the protesters who had also shut down the Galleria, Chesterfield Mall and West County Center noted on Twitter that police in south county were much nicer than their counterparts in other areas of the county.
St. Louis County Police Department Capt. James Schneider, commander of the South County Precinct, oversaw the response to the mall protest.
The next night, roughly 75 protesters moved from south city to the Oakville Wal-Mart, where they were greeted by a line of waiting police from the South County Precinct. Wal-Mart managers immediately closed down the store after the protest began.
The protesters were led by Bishop Derrick Robinson, head of the Kingdom Destiny International church of Tuscaloosa, Ala.
Robinson had been arrested earlier in the day for participating in a protest outside the Edward Jones Dome during the St. Louis Rams game, where the Rams' receiving line made headlines when they came out with their hands up in support of the protesters.
Accompanied by drummers, the activists entered Wal-Mart chanting, "Hands up, don't shoot." When they left the store 20 minutes later, the group chanted, "We came, we saw, we shut (expletive) down!"
The protesters then headed to Target at 4250 Rusty Road, where they debuted a new chant — "White silence is violence!"
The protesters also conducted a die-in for Brown in front of the store's electronics section.
The group was greeted by fewer police at Target — which is overseen by the Affton Southwest Precinct, not the South County Precinct — than in Oakville.
They also had more interaction with the customers there, including a woman who thanked them for coming and a woman who exchanged words with some of the protesters and was given a police escort out of the building when she was ready to leave.
After a New York grand jury declined last week to indict a police officer caught on video using a chokehold to subdue Staten Island man Eric Garner, who subsequently died, protests expanded to also focus on protesting Garner's death.
At the same time, the large St. Louis Bosnian community held its own marches and street blockades in south city to protest the murder of Zemir Begic.
Begic, 32, was attacked and killed in Bevo Mill in the early morning hours of Nov. 30 by four teenagers with hammers, one of whom is still at large.
In what St. Louis County Police spokesman Shawn McGuire said was a coincidence, the body of another Bosnian man, Denis Nasic, was discovered in Cliff Cave Park in Oakville later the same day of Begic's murder.
So the march for justice on Gravois in south city also honored Nasic, 24, whose death is not considered suspicious.
In response to concerns from the Bosnian community that Bevo Mill is ignored by police, St. Louis Police Chief Sam Dotson promised to increase patrols in Bevo Mill and hire a third Bosnian police officer.
He also said the attack was not motivated by racial hatred against Bosnian immigrants, but a second attack against a Bosnian woman Friday was labeled a hate crime by St. Louis police.
The woman was badly injured in the attack, but not killed.
Although many Bosnian immigrants originally settled in south city, south county now has the highest population of Bosnians in St. Louis.
On Dec. 3, roughly 75 Mehlville High students, including some Bosnian students, joined students across the nation who have protested, gathering in the school commons during lunch to protest the deaths of Brown, Garner and Begic.
"I want everybody to know we're doing this for the right reason: We're doing this for Mike Brown," a student said, and the students chanted, "Hands up, don't shoot."
Some students held signs, including, "All lives matter."
Rumors spread after the protest that led to a blog post titled "Mehlville Mayhem," but those rumors were entirely false, Mehlville Director of Communications and Public Relations John Wolff told the Call.
"Half of that headline was right — it was at Mehlville," Wolff noted. "Mayhem, not so much."
Contrary to various rumors flying, the protest was peaceful and there were no fights, no discipline, no damage, no disrupted classes, no police officers accosted, no students who walked off campus and no lockdown, Wolff said.
The school resource officer and one other police officer were present during the protest, but did not have to take any type of action.
In an email sent to parents that night, Mehlville High Principal Denise Swanger said students told her they have no issues with the school's environment, but want to join the larger conversation their peers around the country are having on civil rights.
"Dr. Swanger had a discussion yesterday with students on what positive lessons they can take from it, and what's the best way to be heard?" Wolff said. "It really is a teachable moment."