Expectations high for Flyers this year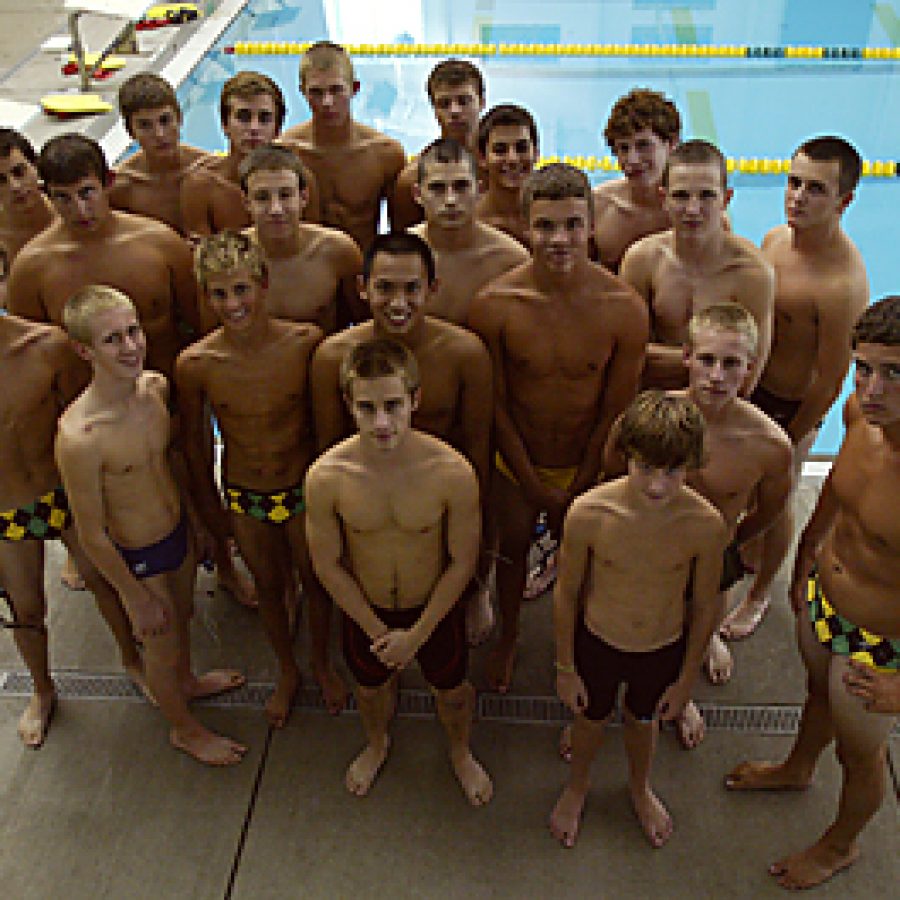 Expectations are high for the Lindbergh High boys' swimming and diving team.
The Flyers know they have talent that can compete at the state championships. Their excitement, though, is coming from how much talent they can potentially qualify for the state championships.
"We think we have a pretty good foundation group, and we think we'll have a pretty good dual meet team. We just have to see what that gives us for state," Lindbergh head coach Tim Lombardo said.
The Flyers placed 34th at last year's state championship after scoring 12 points. They qualified in seven events, but scored in just three.
"We think we'll make a pretty good jump this year. Our goal is to be top 10 at state, and we didn't do that last year," Lombardo said.
Senior Joe Baumgartner placed in two freestyle events, and 2010 graduate Jim Tyra placed in diving.
Lindbergh probably can't count on scoring in diving at this year's state competition.
"We have one freshman diver," Lombardo said. "Losing Jimmy Tyra is big. We go from a top 16 kid in the state to one freshman, so we might need to work on that area."
They lack depth elsewhere, too.
"We need to find some depth in the stroke events, non-freestyle. If we're going to really score some points at state, we need to find some guys for those events," Lombardo said.
Seniors Kevin Bock and Alec Macko may be the answers to chase down the points in the butterfly, breaststroke and backstroke. Lindbergh's depth is in free-style events and relays.
"We might lack depth, but we have one kid who can be really successful at the state level, and that's Joe Baumgartner, and we have a small group that can help the team total at state," Lombardo said.
Lombardo said Baumgartner has the ability to be a state champion if his season goes as well as it should. Senior Keith Fabick also wants to return to the state meet.
"He's really versatile. He's a 100(-yard) and 200(-yard) freestyle guy. He's one of those guys that might be able to score individually and should help us out in relays," Lombardo said.
Junior Ryan Mayer qualified last year, and Lombardo said he should again this year. Mayer swims the distance events and relays. Brandon Graham, a junior, swam on a state-qualifying relay last season.
Versatile sophomores Jordan Mayer, Ryan's brother, and Christian Knupfer give the Flyers the depth they need to be a top team in the state.
"There are high expectations from my-self and from the kids," Lombardo said of his 13th year as coach.
Lindbergh Swimming
Sept. 2 Kirkwood A 4:15 p.m.
Sept. 8 Oakville A 4:30 p.m.
Sept. 11 Springfield Invitational A 10 a.m.
Sept. 14 Ladue H 4:15 p.m.
Sept. 24 Flyer Quad H 4 p.m.
Sept. 28 Marquette H 4:15 p.m.
Sept. 29-30 Summit Invitational A TBA
Oct. 5 Mehlville A 4:15 p.m.
Oct. 9 Cape Rock Inv. A 10 a.m.
Oct. 12 Lafayette H 4:15 p.m.
Oct. 16 Flyer Invitational H 9 a.m.
Oct. 19 Eureka A 4:15 p.m.
Oct. 26 Parkway South A 4:15 p.m.