Eureka Wildcats prevail over Oakville Tigers 46-6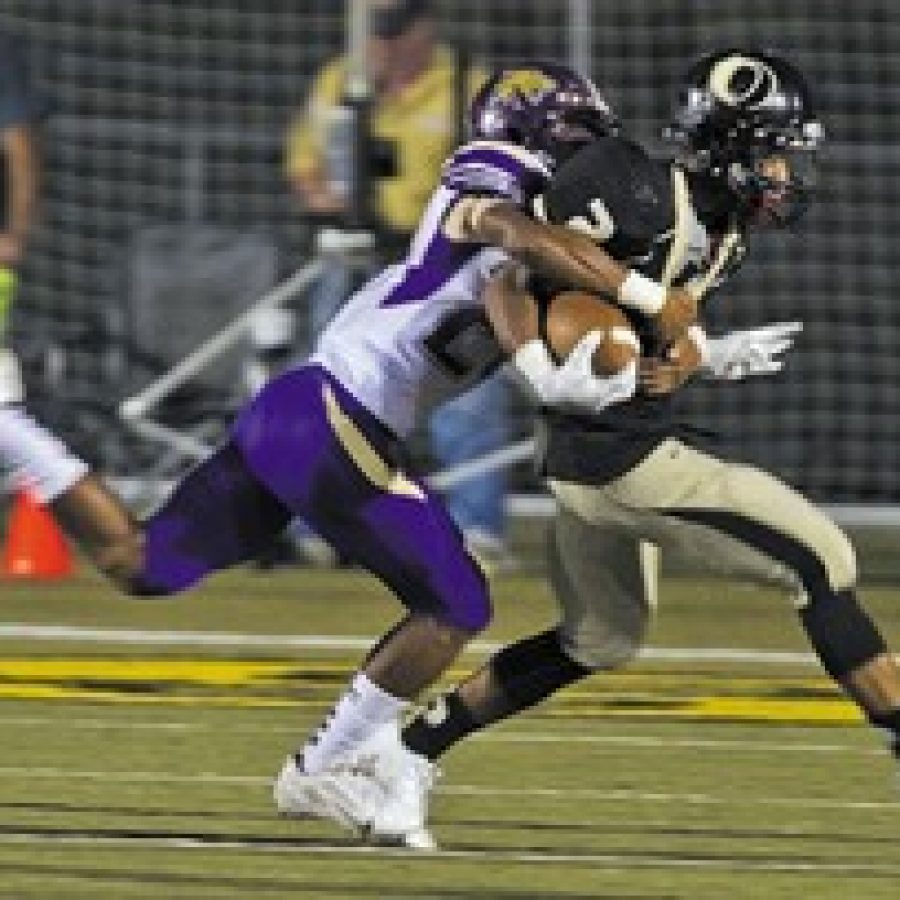 The Oakville Senior High School varsity football team received a workout Friday night when the Tigers played former conference rival Eureka.
The Tigers fell 46-6 to the Wildcats, dropping their first two games of the season.
Despite the early stumble, Oakville head coach Arlee Conners believes his team has turned the corner now that some things are starting to fall into place.
Starting quarterback Carvon Robinson missed the first game and a half of the season due to a disciplinary issue, but made his debut in the second half against the Wildcats, recording one touchdown.
In Robinson's absence, the Tigers used backup quarterback Arsante´ Conners. Arsante´ Conners playing quarterback was a hindrance for the Tigers because he wasn't playing his normal position — receiver — according to the coach. Last year, Arsante´ Conners was one of the Tigers' more productive receivers.
Arlee Conners told the Call that his offense played the best it could given the quarterback situation, but made too many mistakes overall.
"They did the best they could have, you know, we would have been better with him (Robinson)," the coach said. "But, you know, we had to ride with those guys who we were focused on tonight, and I thought we had some opportunities to make some plays.
"But then going into the second quarter, the score was only 7-0 and then we had some bad plays and all kinds of elementary stuff happening out there. I think our effort could definitely have been better. We gave up some plays that we know we're better than. It was just one of those games where everything that could go wrong, did go wrong."
Asked whether Robinson was 100-percent game ready after missing the first game and a half of the season, Arlee Conners said, "Being out as long as he was, I would have to say no. But it's one of those situations where there's only so much time we had to get him ready … I think we'll be better off (this) week.
"Going forward, we'll get him at quarterback and get Arsante´ back out at receiver. I think that tandem is what we've been missing these two games, really."
Besides the quarterback situation being resolved, Arlee Conners said his team has some details to work out, but he is confident in his players' ability do so.
"He's a very elusive kid," the coach said of Robinson. "He's a guy that understands our offense and understands what he's doing out there … He can make some big plays for us and, unfortunately, we've only been able to use him for a half so far in two games.
"But we feel like we can definitely correct some things that we're doing bad out there and then really capitalize on some of the things we're doing good. That's the focus. That's where we're at right now."
Oakville fans can be optimistic in knowing that the potential for a winning season is there, but players need to pay attention to detail and execute their assignments to the best of their ability, according to Arlee Conners.
"Don't get me wrong. They (the Eureka Wildcats) are a good team, and when you play a good team, you have to play your best and we didn't. We just made too many mistakes …," he said.
"That's what I tried to explain to the guys … There were times when we didn't do what we were supposed to do and it cost us. We played against a good team. They're going to do their thing. They're going to do it right, so you have to do your thing also and we didn't."