Erby resigning County Council seat to take job working under Page
Hazel Erby is resigning from the St. Louis County Council to take a job working for County Executive Sam Page.
Page announced Thursday that he appointed 1st District Councilwoman Erby, D-University City, to the newly created county government position of director of diversity, equity and inclusion, and she will oversee and staff the new county office.
Erby will start her new role Monday, May 13. She will be paid $121,000, compared to the $20,000 a year that council members make in their part-time roles.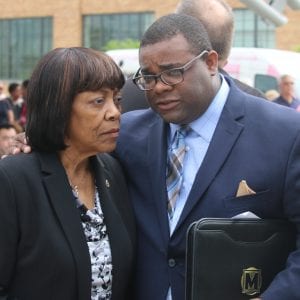 The council chose Page to serve as county executive over Erby April 29, following former County Executive Steve Stenger's sudden resignation after a federal indictment on corruption charges.
"Councilwoman Erby has led county government in pursuing equal opportunity for all of our residents," Page said in a news release. "She and I have worked as a team for years, and I'm elated our partnership will continue."
Taking the job in Page's administration means Erby, currently the longest-serving council member, has to resign the council seat she's held for 15 years since council members cannot hold other government jobs. A special election will have to be held to replace her, possibly in August alongside the special election for Page's former 2nd District seat.
For now, the council will have only five members, three Republicans and two Democrats.
Erby was just re-elected to another four-year term in November. She won the seat in a special election following the vacancy created when then-1st District Councilman Charlie Dooley, D-Northwoods, took the job of county executive after the late County Executive Buzz Westfall died in October 2003.
Erby pushed back against Page last week
Erby signing up to serve under Page is a striking turn of events from last week, when she seemingly launched a bid at a contentious emergency meeting to compete against him to become county executive, with the backing of many North County elected officials. The vote to select Page was 5-1-1, with Erby voting no and Page abstaining.
On the advice of then-County Counselor Peter Krane, who he asked to resign the next day, Page called the meeting without 24 hours' notice and without taking public comments. The council had a regularly scheduled meeting set for the next day.
With a crowd filling the council chambers that was largely supportive of her, Erby objected to the last-minute nature of the meeting and the fact the council was taking the vote without listening to people who wanted to speak about who should be county executive.
She told reporters after the meeting to stay "woke" when it comes to county government and hinted at the behind-the-scenes shuffling that led to the vote for Page, alluding that other council members had made promises to her too.
But in the days following the vote, Erby and Page both made conciliatory public comments about each other. Page called her his "closest friend" on the council. And at the council meeting Tuesday, Erby was all smiles and said she had been invited to the "ninth floor" — Clayton shorthand for the county executive's office — more by Page in a week than by Stenger in the last four years.
The councilwoman said in the announcement of her new position that her recent disagreements with council members when they elected Page county executive would not carry over to her new role.
She said, "My husband reminded me that Hillary Clinton put aside her disagreements to serve successfully with President Barack Obama. I intend to do the same for County Executive Page."
After Stenger's administration hired former 5th District Councilman Pat Dolan, D-Richmond Heights, for an $87,000 position in the Parks Department earlier this year, Erby tweeted, "Wow! A $67k per year pay increase! And…in the midst of a hiring/pay freeze and county departments being forced to lay off employees. It pays to have friends in high places! Oh well, it's all for disadvantaged kids, right?!! Smh."
Current diversity officer also stays
The county has had a series of diversity officers in the last three administrations.
First, Dooley hired his aide Bill Ray as the county's first diversity officer, just before Dooley was defeated by Stenger in the August 2014 Democratic primary.
And Stenger named Jack L. Thomas Jr. as the "first chief diversity officer for St. Louis County government" in June 2018 after a nationwide search.
Stenger told The Call that he was counting Thomas as the first diversity officer for the county because he has specific experience and training for the position, while Ray did not.
Thomas is still employed with the county, and he will work side-by-side with Erby in two separate offices for now, a Page spokeswoman said. Page will decide later whether the two offices will be merged into one.
Her new position will include overseeing the implementation of many of the policies she championed while on the council, according to the news release.
Erby said the new position would allow her to concentrate her full attention and energy on issues of diversity, equity and inclusion. She also looks forward to carrying on the partnership she and Page forged that built a bipartisan coalition on the council.
"My new job will empower me to focus on issues that are vital to St. Louis County," Erby said in the release. "The fact that Sam and I worked so well together on the council during one of the county's most challenging periods is bound to make this effort more effective."
Adolphus Pruitt, president of the St. Louis NAACP, praised the choice of Erby to lead the new county office.
"Diversity, equity and inclusion are values at the core of who Hazel is," Pruitt said. "She is the perfect person to lead the county's efforts to advance these issues in a more focused way."