Election of Hilmer, Stegman to fire district board No. 1 of top 10 stories of 2005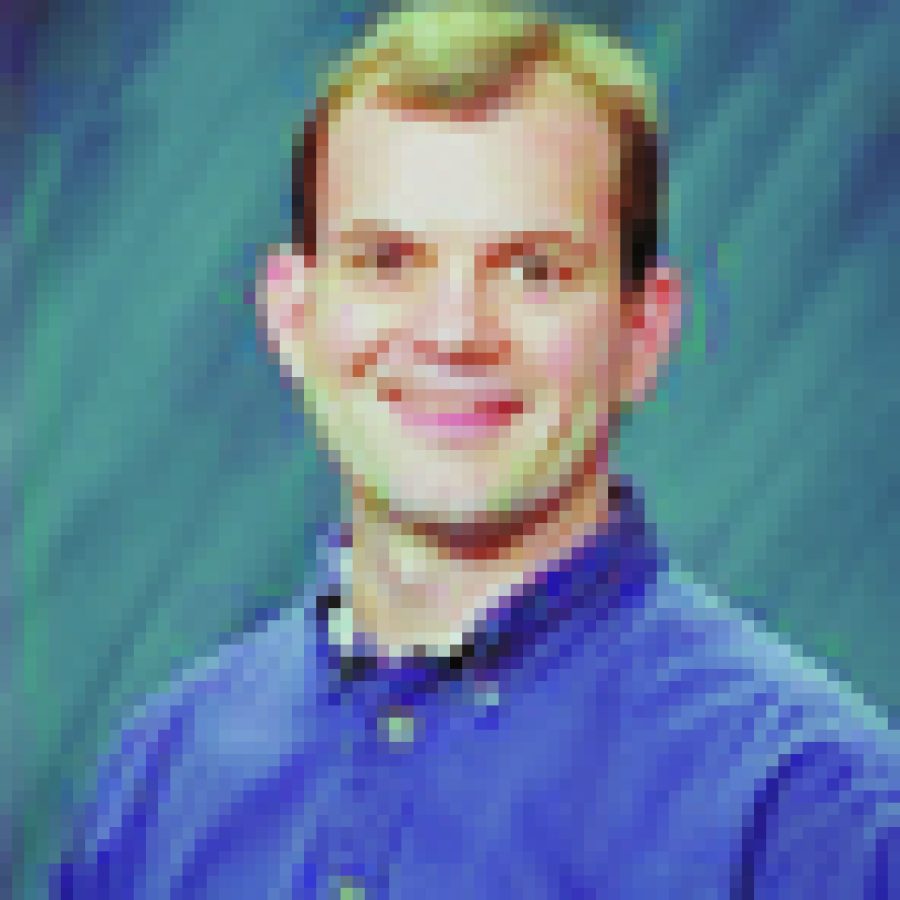 News analysis
By MIKE ANTHONY
Executive Editor
While south county voters repeatedly have indicated their desire for accountability from their elected and appointed officials, it's also true that they haven't always received that accountability.
But with the election of Aaron Hilmer and Bonnie Stegman to the Mehlville Fire Protection District's Board of Directors last April, many south county residents be-lieve they have found the responsive leadership they want. Hilmer and Stegman's overwhelming margin of victory and the actions they have taken since then leave little doubt that their election is the top news story of 2005 in south county.
Running on a platform of rolling back a 33-cent tax-rate increase approved in No-vember 2004, Hilmer and Stegman ousted two incumbents — Chairman Tom O'Dris-coll and Secretary David Gralike.
The election offered a rare opportunity for voters to re-vamp the three-member board. Normally, only one board seat is up for election, but last year, two of three seats were up for grabs. Hilmer garnered 52 percent of the vote to defeat O'Driscoll, who had served two six-year terms on the board and received roughly 37 percent of the vote. A third candidate, Steven Mueller, garnered about 11 percent. Hilmer captured a six-year seat on the board.
In the race for a four-year seat, roughly 62 percent of voters favored Stegman, who defeated Gralike by more than 3,000 votes.
Gralike was appointed in August 2003 to fill a vacancy created by the death of board member and former Chief Joe Gaterman. The seat normally carries a six-year term.
O'Driscoll, meanwhile, hadn't faced a challenger in his previous two elections, automatically earning a seat.
Residents may agree or disagree with Hilmer and Steg-man's actions since April, but there's no denying the im-pact the two have had.
The Call's other top stories for 2005 include:
No. 2 — Novus proposes redevelopment of Sunset Man-or. The Sunset Hills Tax Increment Finance Commission will consider the Novus Development Co.'s proposed Main-Street at Sunset project early this year.
Novus is proposing to construct MainStreet at Sunset, a $165.2 million lifestyle shopping center at Interstate 44, Watson Road and South Lindbergh Boulevard. The Board of Aldermen voted unanimously in December to refer the development back to the city's TIF Commission, which will consider changes made to the proposal after a public hearing conducted last March.
With one city representative absent last April, the TIF Commission voted 6-5 to recommend rejection of Novus' proposal. However, the Board of Aldermen in May approved Novus' request for $42 million in tax-increment-financing, or TIF, assistance and $20 million in transportation development district, or TDD, reimbursements to help fund the shopping center. The project would raze 254 homes and several businesses in the Sunset Manor subdivision.
Closings on the more than 200 homes were scheduled to begin Aug. 22. But Novus learned Aug. 18 its lender had withdrawn its funding for the development and the closings were delayed until a new lender could be secured.
Since then, Novus has continued searching for financing, but has been unable to find a new lender.
Opponents said they have been telling city officials that Novus did not have the necessary financing since the pro-cess began, and the redevelopment project has sparked sev-eral lawsuits. Stay tuned for more on this in 2006.
No. 3 — Mehlville again scores 73 on state's Annual Performance Report. The Mehlville School District re-ceived 73 points — out of a possible 100 — on its Annual Performance Report for the second consecutive year.
The state issues an Annual Performance Report for each school district in the state, detailing how each district met Missouri School Improvement Plan performance measures and Missouri Assessment Program standards.
Mehlville did not meet standards in three areas based on tests administered last spring — MAP grades six through eight and the reading index in grade three and grade seven. The three areas are the same ones that Mehlville did not meet standards the previous year. The prior two years, Mehlville had earned a perfect score of 100.
No. 4 — Karl Frank Jr., Ken Leach elected to Mehl-ville Board of Education. The Mehlville Board of Educa-tion has two new faces as Secretary Marea Kluth-Hoppe lost a bid for her second term and Vice President Matthew Chellis did not seek election to a third term.
In April, voters chose newcomers Karl Frank Jr. and Ken Leach along with incumbent Cindy Christopher to help lead the district for the next three years. Frank wants district accountability. Leach wants stronger performance on state-mandated assessment tests.
No. 5 — State Supreme Court won't hear Fred Web-er's suit against Diehl. The Missouri Supreme Court will not hear Fred Weber Inc.'s $5 million libel and defamation lawsuit against Oakville resident Tom Diehl.
"It pretty much is the last nail in the coffin except for the Hail Mary chance that the U.S. Supreme Court would hear this case. The odds are very small," Phil Prewitt, an attorney for Diehl, told the Call in June.
An attorney for Weber would not say if the company planned a federal appeal, but Weber's most recent court motions have cited federal court decisions, rather than merely Missouri law.
"We haven't even looked at that. We haven't decided one way or another," said Thomas Wehrle of Gallop, Johnson & Neuman.
Weber sued Diehl in February 2004 for his association with fliers naming the company "trash terrorists." Diehl and many other Oakville residents opposed Weber's efforts to construct a trash-transfer station in the company's south quarry near Baumgartner Road. Calling the fliers fact-less, malicious name-calling, Weber sued Diehl for libel, slander, defamation and business conspiracy. Besides seeking $5 million in punitive damages, the lawsuit sought at least $25,000 in actual damages.
No. 6 — Crestwood working to resolve financial woes. Crestwood officials are continuing their efforts to solve the city's well-publicized financial woes.
Aldermen in December took no action on the city's 2006 budget nor Mayor Roy Robinson's proposal to place a 20-cent tax-rate increase on the April 4 ballot. During a roughly five-hour meeting Dec. 13, aldermen delayed passage of the 2006 budget after Robinson said he wanted to remove $345,000 from the proposed capital improvements budget — $95,000 for a new police radio system and $250,000 for street maintenance.
A tax-rate increase is needed, according to Robinson, so the city can begin reducing the debt it has incurred.
The board voted 5-1 Nov. 1 to adopt an ordinance borrowing up to $3.5 million from Southwest Bank. Board Pres-ident Tim Trueblood of Ward 2 was opposed. The $3.5 million the city is borrowing includes a $1.5 million line of credit and a $2 million promissory note. As collateral for the $3.5 million from Southwest Bank, the titles to City Hall and the city garage on Pardee Lane have been pledged.
No. 7 — Mehlville Board of Education increases Prop-osition P budget — again. The increasing cost of the Mehlville School District's Proposition P was last year's No. 2 story and 2003's No. 1 story as the Board of Educa-tion continues to revise upward the budget of the districtwide building improvement program's budget.
The board voted 5-2 in December to increase the Propo-sition P budget by $210,000 to more than $89.1 million.
The board's action increases the cost of the Proposition P budget to $89,137,440 — a roughly 30.3 percent in-crease — more than $20.7 million over the nearly $68.4 million building improvement program envisioned in 2000. District voters in November 2000 approved Propo-sition P, a nearly $68.4 million bond issue funded by a 49-cent tax-rate increase.
No. 8 — Roy Robinson elected Crestwood mayor. Roy Robinson defeated Mayor Tom Fagan in the April 5 election with nearly 54 percent of the vote.
In the same election, voters overwhelmingly rejected Prop-osition 1, which would have given the city the authority to issue up to $6 million in bonds.
No. 9 — Lindbergh Prop 4 projects completed on time, on budget. Lindbergh School District officials announced in October that districtwide building improvements funded by the Proposition 4 bond issue have been completed on time and on budget.
Karl Guyer, executive director of planning and development, told the Board of Education Oct. 11 that construction was substantially complete. All that remained was a few punch lists of items that the district wanted contractors to address before the district issued the final payment.
District voters approved Proposition 4 in April 2003. A four-sevenths supermajority was required for approval.
The $14.1 million bond issue was designed to address safety issues at all district schools. The measure increased the district's debt-service tax rate by 10 cents per $100 of assessed valuation.
Pat Lanane, assistant superintendent for finance, told the Call in October that although the district had not yet determined the final total cost of the project, he expected the district would have a contingency of about $12,000.
While Lindbergh officials enjoyed success with Prop-osition 4, a proposed 65-cent tax-rate increase was defeated by voters in April.
No. 10 — Crestwood Charter Commission proposes three amendments. Crestwood Charter Commission members have proposed three amendments to the City Charter. Mayor Roy Robinson wants a fourth to be placed before voters. The board has yet to act on the Charter Com-mission's recommendations, so stay tuned.