ELECTION 2017: Nine seek four Lindbergh school board seats
First in a series: Questionnaires from candidates Alonzo, Bird, Englund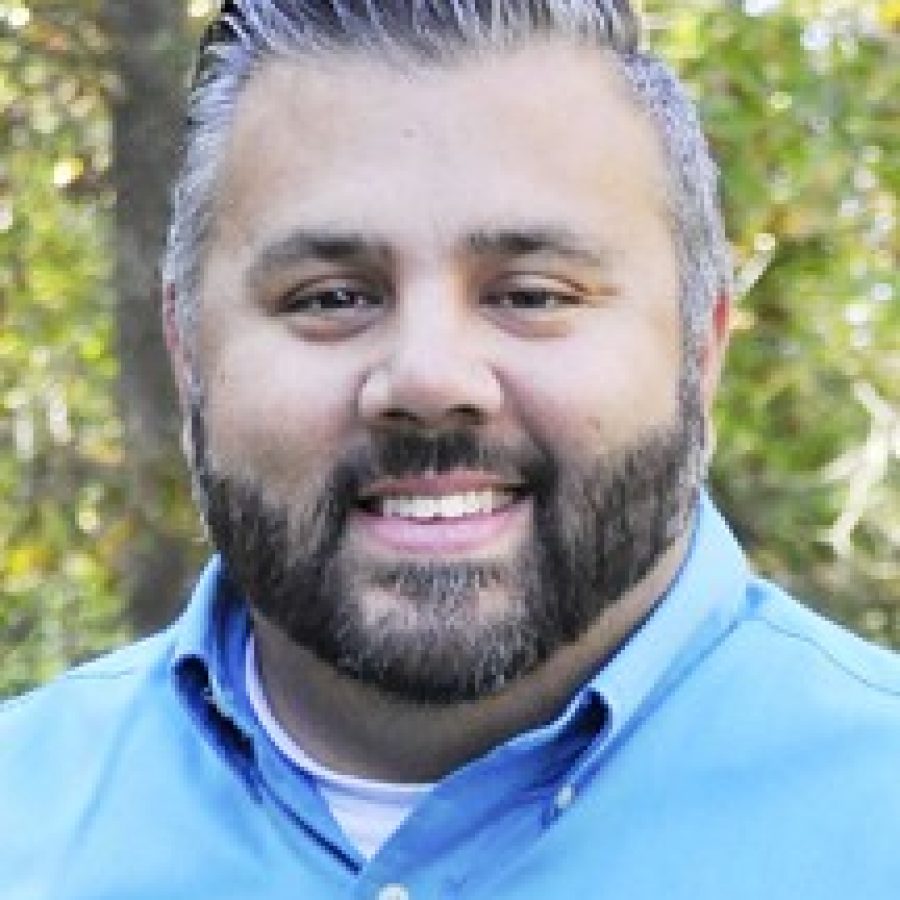 Four candidates backed by the Lindbergh National Education Association are seeking election to four seats on the Lindbergh Schools Board of Education in the April 4 election, challenging two incumbents and three other candidates.
Three three-year seats are up for election that are currently held by board President Kathleen "Kathy" Kienstra, Vice President Don Bee and Treasurer Vicki Lorenz Eng-lund. Kienstra and Englund are seeking re-election. Also seeking election to the three-year seats are union-endorsed candidates Matt Alonzo, Cathy Carlock Lorenz and Christy Watz, along with Jennifer Bird and Daniel Sampson. Bee is not seeking re-election.
Union-endorsed candidate Mike Shamia and Martha Duchild are vying for a one-year seat held by Gary Ujka, who is not seeking election.
This article will profile Alonzo, Bird and Englund. The other candidates will be featured in upcoming issues of the Call.
Asked to identify the most important issue in the race, the candidates responded:
• "Uniting the district, community and teachers is the single most important issue in this race. Lindbergh's longstanding tradition of being one of the area's top districts is in danger because of the ongoing contract dispute between the administration and teachers. We must heal broken relationships and work together to make our district stronger than ever," Alonzo said.
• "I believe growth is and will continue to be the single most important issue in this race. The Lindbergh district has a large population of older residents. Current housing trends show more families with school-aged children moving into the district, resulting in an immediate need for more classrooms. From the redistricting committee, we can already see that the new Dressel Elementary is at capacity and it isn't even open yet," Bird said.
• "Growth: We are a victim of our own success. Because we have such an affordable housing stock and the highest achieving school district in the state, we need room to grow. Proposition G was brought to the Lindbergh school board by the community as the best way to move forward.
"We are currently spending Proposition G money on several projects, including our sixth elementary school, Dressel Elementary, which is scheduled to open this fall," Englund said.
Alonzo, 39, 1 Larkin Lane, Concord, is a Parkway School District teacher. He and his wife, Tracy, have three children.
Alonzo, who has not held elective office, said he is seeking election to the school board "as a parent and educator. I have taught in the Parkway district for 14 years, which has shown me the importance of having an administration who supports their teachers and students. If elected, I will use my experience in public education to help Lindbergh maintain its high standard of education, while promoting a healthier and respectful relationship between our excellent teachers and administration."
Bird, 49, 9244 Laurel Hill Drive, Cresttwood, is employed in sales at Kendall Mechanical. She has one child.
Bird, who has served as the Gravois Township Republican committeewoman since 2012, said she is seeking election to the school board "to maintain and advance Lindbergh School District's high level of academic achievement and practice fiscal prudence."
Englund, 42, 9636 Guehring Drive, Green Park, is a commercial real-estate agent and the owner of a small online business. She has two children and is married to Byron DeLear.
Englund, a former Democratic state representative, said she is seeking re-election because "as a Lindbergh graduate and a parent of two children in the district, I am most concerned that the excellent education Lindbergh is known for is sustainable. I have served on the Lindbergh school board for the past six years and Lindbergh has been No. 1 in the state in academic achievement for almost that entire time.
"This is a critical time in Lindbergh's history. We are growing at a rapid pace and it is crucial we make the right decisions about how to balance our building-space challenges with the other needs of the district."
The candidates gave the following responses to a Call questionnaire:
Alonzo said, "From conversations with teachers, I know the decision to work contract-only was difficult. No teacher wants to prevent a student from getting additional help or watch after-­school activities get canceled. Teachers do not clock in and out.
"They often work countless hours beyond the school day, grading papers, creating innovative lessons, growing their skills and knowledge, responding to emails and even supporting students at extracurricular events. This decision should indicate how invalidated and underappreciated our teachers feel. Unfortunately, the administration and Board of Education forced teachers into a corner, leaving them with no other choice but to work contract-only."
Bird said, "The teachers are free to choose to do so, but this seems to shift the focus from students to money, regardless of Lindbergh's excellent work environment and other intangible benefits."
Englund said, "I do not agree with the teachers' decision to work to contract. I found it difficult to understand exactly what they were trying to accomplish. There are several items they listed, such as creation of a Salary Schedule Committee, improved communication, more open dialogue and discussion of planning time across school levels. We agreed to these items. We did not agree to raises, capping reserves or a mediation process. I feel like we met them halfway, but they were looking for more.
"Again, we should still move forward on showing our teachers more respect."
Alonzo said, "I have not been satisfied with the leadership of our current superintendent, Jim Simpson. On multiple occasions I have witnessed him making comments that belittle and undermine our students and staff.
"When the superintendent says we are at war with teachers over salary, that sends a powerful and disappointing message. To think of oneself at war with an employee group over anything is disappointing."
Bird said, "Yes, absolutely."
Englund said, "I am satisfied with the leadership of Dr. Jim Simpson. Dr. Simpson has shown himself to be a true professional and is a huge reason why we have declined rates of student behavioral issues, higher attendance rates and overall higher achievement."
Alonzo said, "Regardless of how individual board members feel on this issue, the case for teacher salaries has been well-documented in our community. As a board member, I think we should place this issue before our voters, and I'll honor the decision that our community makes at the ballot box."
Bird said, "No."
Englund said, "I believe the public should definitely have a say in whether or not they want to increase their taxes to pay for teacher raises. I would only support putting this on the ballot after conducting a survey first to see if there is enough support in the community for such a measure. It hurts our district in the long run to put tax increases on the ballot if they are only going to fail and also creates taxpayer fatigue if we go to them for more money over and over again."
Alonzo said, "Lindbergh has made the appropriate efforts to adapt to growing school enrollment by building its sixth elementary school at Dressel. However, this boom in enrollment at the elementary level will soon make its way to the high school. It would benefit the district to begin making capital improvements to the high school beyond the creation of classrooms that will come from the relocation of the administrative offices."
Bird said, "The Lindbergh BOE must protect reserves and maintain fiscal prudence to keep our bond rating high so that when new classrooms and/or buildings are needed, we will have the ability to borrow at a low cost to our residents."
Englund said, "We must continue to be financially responsible and not overspend in order to keep our district healthy enough to adapt to increased enrollment."
Alonzo said, "Collective bargaining, when utilized in such a manner where there is good faith effort on the part of both sides to reach agreement, can be an effective and efficient way to solve disputes. When you negotiate salary and benefits, it creates a narrow focus on conversations with teachers and really doesn't give them a voice in the negotiations process to address other issues. This continued stance on collective bargaining by the board has created the perception in our community that teachers only care about money.
"Honestly, both sides have fallen into that trap. Keep in mind, a teacher's working conditions are a student's learning conditions, and I don't understand why the board wouldn't want to include those conversations in the collective bargaining process. I think Dr. Simpson scared the Board of Education from the very first year of his tenure having them believe that LNEA wanted the power to run the district. Nothing could be further from the truth. For example, if you bargained class size, you wouldn't have to agree on an exact number of students per class, but you could bargain and agree to a class size philosophy that would provide administration flexibility to fill classes, yet, take teacher concerns into account as well."
Bird said, "Yes."
Englund said, "Collective bargaining is a process that is in place to encourage collaboration on what is important for teachers and the district. As a board member, we do our best to find balance when oftentimes there is not enough money in our budget to make everyone happy. School governance issues are just that, the responsibility of the governors of the district, the board."
Alonzo said, "I have no reason to believe that the district and school board have not faithfully adhered to the letter of this law. As a board member, I would absolutely follow the Sunshine Law and be as transparent as possible with our community."
Bird said, "I believe the district complies with the law and I will encourage our district to maintain an environment of openness and transparency."
Englund said, "Not only has the board adhered to the letter of the Sunshine Law, but we have stayed true to the spirit of the law as well. It is ever-present in my mind what we can speak about and what we cannot discuss in closed session."
Alonzo said, "As an educator, I believe that it is our responsibility to provide students with all information about the topics we teach in our classrooms. However, with topics such as sex education, I support a parent's decision to exclude their child for portions of the curriculum that are in direct conflict with their family beliefs."
Bird said, "Lindbergh does an excellent job of communicating with parents regarding sex education and addressing any concerns parents may have. I believe an opt-in clause also allows for addressing any concerns of parents who may have an objection to sex education being taught in school. Also, I believe in presenting information and not pushing an agenda and believe this to be Lindbergh's practice."
Englund said, "Yes, I believe medically accurate sex education and pregnancy prevention should be taught in our schools."
Alonzo said, "With all the information made available to students on the internet, I personally feel that it is important that students have access to safe materials on all topics, including gay, lesbian and transgender lifestyles. I would encourage administration to listen to community feedback about these issues and honor parents' requests to exclude their children from accessing these materials if they feel it conflicts with their family values."
Bird said, "I do not object to Lindbergh offering access to information so long as parents are aware that the information is available, can opt-out and that it is educational and not agenda-driven."
Englund said, "As more and more of our students are coming from mixed and blended families, I think it is important to have information about gay and lesbian lifestyles available in school libraries."
Alonzo said, "Yes. I support the district's Performance ­Based Teacher Evaluation program."
Bird said, "Yes. It is based on commonly accepted state-based teacher evaluation criteria."
Englund said, "I support the Lindbergh School District's current teacher evaluation program. As a member of the board, I have seen it work well in practice."
Alonzo said, "The success Lindbergh has seen over the last seven years is directly related to the hard work of its students, parents and teachers. To maintain this rating, the district must do everything it can to promote student growth and parent involvement, while retaining highly qualified teachers and attracting new and innovative teachers to the district."
Bird said, "Lindbergh must remain fiscally prudent to protect our bond rating for our future needs, especially concerning growth. If we do not protect our finances, we will not be able to offer our solid, high level academic programs."
Englund said, "To keep our No. 1 status, we must maintain the rigor of our class instruction, continue teacher training, keep up-to-date on testing measures and technology, provide our students with a well-rounded experience and continue to thank our parents for their work at home which contributes immensely to our student success."
Alonzo said, "Yes."
Bird said, "Yes."
Englund said, "I voted in favor of Proposition G. It was the right decision at the right time and our Lindbergh community supported it overwhelmingly."
Alonzo said, "Yes."
Bird said, "No."
Englund said, "I voted in favor of Proposition L because I understood the needs of the district, how the funds would be spent, and am confident in how Lindbergh has handled its money in the past. I will continue to ensure that Proposition L funds are spent wisely and pledge to work diligently to make sure taxpayer dollars are spent responsibly."
Alonzo said, "I don't strongly identify with any political party."
Bird said, "Republican. Howeve,r I must emphasize that this race is about students and academic achievement, not politics, so party affiliation will make no difference in my position on the board."
Englund said, "As a former member of the Missouri Legislature, I am part of a group of moderate, fiscally conservative Democrats."
Alonzo said, "Politics is not a motivating factor in running for school board and my political views will not get in the way of making good decisions for the district. I will keep an open mind about all the issues and always put the needs of the students first."
Bird said, "The main purpose of the board is to develop and oversee policies that positively affect students. The first question that must be asked and answered for every decision made by the board must be, 'How will this decision impact students?' There is no place for politics or political affiliation to enter any such decision."
Englund said, "Lindbergh has historically done a good job of keeping politics out of board decisions. I will continue to ensure that stays part of Lindbergh's best practices for a successful school board."
Alonzo said, "Our current fund balance is very healthy, at 30.76 percent, according to DESE (Department of Elementary and Secondary Education). So I think we have more than enough saved to continue to operate if an emergency arises. Generally speaking, I think Lindbergh should keep enough reserves in their fund balance to maintain adequate cash flow, provide funds for emergency — unplanned — expenses, and to address any unforeseen reductions in revenue. However, since Lindbergh is not adding any money to the fund balance currently, we should use this money only in extreme circumstances and not for recurring expenses."
Bird said, "The state-mandated 3 percent has worked well for the district, although given growth statistics and experience, I would like to see at least 4 percent in reserves."
Englund said, "We currently have sufficient reserves that we have had to draw from over the last few years. When property values increase, we should put more money into the reserves to get them back to normal levels. I do not believe we should mandate a particular percentage of reserves because it binds the hands of future board members to be able to adjust to the ever-changing needs of the district."
Alonzo said, "As a board member, I'm happy to speak with the media about comments and/or votes I make in open session."
Bird said, "I believe board members are free to speak to the press. However, I believe the board president would be the person to speak on behalf of the board."
Englund said, "When we vote on issues as a board, the president of the Board should speak to the media about the policy. This is to prevent 'sour grapes' from overwhelming a board policy that has already been passed. Individual board members will always have the right to speak their minds and it is my hope such discussion is done at a professional level that does not damage the district overall. It must also be made clear that individual members only speak for themselves, they never speak for the board."
Alonzo said, "Charter schools serve as an alternative option to the traditional public school system, such as Lindbergh. Some students choose to attend charter schools because the district they live in is failing, while others are looking for an alternative school that may specialize in the performing arts. Since enrollment in a charter school is by lottery, it is vital that the Lindbergh School District remain competitive so that all students have access to quality education without the hope of being chosen for a charter school."
Bird said, "High-performing districts like Lindbergh offer the best opportunity to students and remove any need for charter schools. I believe charter schools are a symptom of a much-larger problem. When public schools fail students, charter schools can be seen as a viable alternative to worried parents. They, too, must be funded so if public schools wish to protect their interests, the focus should be shifted back to serving students' academic needs first."
Englund said, "I have yet to hear how charter schools do not damage public schools. Charter schools can only take the 'cream of the crop' students, and selectively get rid of lower-achieving students, all to boost their bottom line. Charter schools cannot meet the needs of children with special needs, which tend to be the kids who cost more, on average, to educate."
Alonzo said, "I'm opposed to school vouchers and believe them to be harmful to public schools, including Lindbergh."
Bird said, "Much like charter schools, the voucher system is a symptom of a growing number of public schools failing students and parents seeking a viable alternative. With the voucher system, parents would have greater choice and many see it as a way out of their geographical trap. Again, those failing public schools must focus on students' academic needs first to remove any need for an alternative to their services."
Englund said, "I am concerned that vouchers, much like the issue of open enrollment, only help a small number of children and do much more damage to the children that are left behind at the failing school. My hope is to improve all failing schools so a child's worst-case scenario is still a quality education."
Alonzo said, "The greatest challenge, and opportunity, facing the district in the coming school year will be planning for the future. The rapid population growth may lead to building a seventh elementary school, as well as much-needed capital improvements to the high school. We will soon begin the search for a superintendent. Additionally, we need to change the way we address teacher concerns, and negotiate the best possible contract for them, while remaining fiscally responsible.
"Finally, we must take a hard look at district finances. This includes being honest and transparent with our community as to how and where our funds are being spent. If we have to ask our community for support on a bond issue and/or a tax increase, we shouldn't shy away from that. Our community is very reasonable, and if we are transparent with our needs and show them our budget shortfalls, I'm confident on their ability to decide what's best for our district. I will work hard to help make short and long term plans for the district which will include making a good-faith effort to negotiate a three-year contract with the teachers, redefining the role and compensation for the superintendent, and overall, finding ways to reduce unnecessary spending."
Bird said, "Both growth and fiscal prudence are and will continue to be challenging for the district. We have been and will continue to experience growth as our aging population is replaced with families with school-aged children. To successfully address growth while maintaining our high level of academic excellence and low class sizes, we must stretch every dollar. Also, fiscal prudence will help us protect our bond rating which keeps costs low for taxpayers when we find ourselves in need of new classrooms and buildings."
Englund said, "Short term — we have growth challenges at the elementary schools, which will start to be relieved with the opening of Dressel. Long term — we will have the same challenges when these kids get to the high school."
Alonzo said, "More time students have in the classroom is a direct benefit to them. I'd work as a board member to look into this possibility, but I fear that the cost might be too great at this time."
Bird said, "No."
Englund said, "I do not believe Lindbergh's school year needs to be extended. I would, however, like to see more funding from the state for summer school and virtual learning."
Alonzo said, "For operations purposes, I'd look at our current budget to see if we can't find savings that we can put towards capital projects. The next thing I'd look into is a no-­tax-rate-increase bond issue to address these needs."
Bird said, "I would seek a review of our needs and wants to be sure we have those definitions accurately placed. By prioritizing our wanted items, we could determine where to make cuts. I also would seek corporate and foundation donations, as well as grant opportunities before going directly to taxpayers."
Englund said, "The Lindbergh School District has been managed in a fiscally responsible way. It is very disappointing that while we are in the era of growth and declining budgets, the Crestwood Mall Development TIF will take away even more revenue from the district. I support TIF for commercial developments, but not for residential developments, of which this project includes both."
Alonzo said, "I don't think there is much left to cut in Lindbergh's budget, but it's healthy to look at the budget on an annual basis and try to find savings or a more efficient way to manage our assets. Regardless, I would try to limit cuts that directly impact the classroom."
Bird said, "Prioritizing a list of non-essential items would be a good way to determine where to make cuts, if necessary. Also, renegotiation is sometimes a viable alternative to making actual cuts. We should carefully review our contracts, for example, janitorial supplies, to be sure we are getting the absolute best possible pricing because saving money can help us avoid having to make cuts."
Englund said, "I would propose an incentive program for teachers, administrators and students. There could be an award for the most inventive, cost-saving measure. I think by drawing in the ideas of the people who use district resources the most, we could come up with some true savings for the district. Our ultimate, common goal would be to keep any cuts out of the classroom, because we need to keep all the tools we have to make sure our children succeed."
Alonzo said, "The board should make itself more accessible to the public. Mehlville schools conduct listening sessions quarterly so that members of their community can ask board members questions or address concerns. I'd like to see that in Lindbergh."
Bird said, "As a resident observer, I believe the board operates smoothly and in an open, approachable manner. At this time, I see no glaring need to change the board's manner of operation but that doesn't mean there won't be such a need in the future."
Englund said, "There are times when individual board members speak on behalf of our board about controversial issues. This is not the way to run a board and it goes against professional guidelines on how to run effective boards."
Alonzo said, "I am endorsed by the Lindbergh NEA."
Bird said, "No, I have only been endorsed by individuals."
Englund said, "No."
Alonzo said, "I think this issue is best handled by school principal(s), who I expect have the ability to relate to all students and families in a positive manner. Above all else, every child should feel safe in school. Creating a formal policy about these issues can divide a community, and I'd be skeptical of doing that."
Bird said, "No. Bathrooms and locker rooms are for the genetically determined gender. Unisex bathrooms are available and I find that an acceptable option."
Englund said, "The Lindbergh community has always supported our students and I believe we should continue to do so. Transgendered students should be welcomed with open arms, just as any child we are charged with educating."
Alonzo said, "The tax incentive given to the owner of the former Crestwood Plaza mall site has made it possible to begin the redevelopment of that area. This is good for the community, but I fear that the tax incentive will be harmful for the district in that we are not getting full revenue from that project."
Bird said, "No. This directly and negatively impacts Lindbergh Schools by taking dollars away from the district."
Englund said, "It is very disappointing that while we are in the era of growth and declining budgets, the Crestwood mall development TIF will take away even more revenue from the district. I support TIF for commercial developments but not for residential developments, of which this project includes both."
Alonzo said, "TIFs are a necessary evil at times and they should only be used as a last resort. They can promote development, such as Crestwood mall, that eventually will provide some tax revenue to Lindbergh, as opposed no revenue for a vacant plot of land. However, the Crestwood mall deal shouldn't be our new normal, and I'd encourage local governments to pursue other options besides TIFs."
Bird said, "I'm generally opposed to TIF because it is often improperly and over-used, taking money away from local schools. It places a burden on the schools and, ultimately the parents and taxpayers who support them for the benefit of private business."
Englund said, "TIF is a very important economic development tool that should only be used in blighted areas for commercial development. Retail sales is the only way a TIF can make its money back. TIF was not intended to be used for residential development. The Crestwood TIF, if done correctly on only a commercial development, does have the power to be great for the district. It is the residential part that will be harmful to the district."
Alonzo said, "While this may seem like a good option, this isn't good policy. If you deficit spend for salaries, years down the road you'll have to cut salary again when reserves get depleted. Reserves should only be used for capital projects or one-time expenses."
Bird said, "No, absolutely not."
Englund said, "The district should absolutely not deficit spend for any recurring expenses such as salary increases."
Alonzo said, "No."
Bird said, "No."
Englund said, "No."
Alonzo said, "Honestly, I don't think the process had much of a chance at succeeding because the relationship between these two groups has been strained for years. Since members of the Board of Education often look to the superintendent for guidance, this is as much Dr. Simpson's fault as their own. There are some good people on our school board, but the bargaining process has been adversarial since Dr. Simpson's first year in Lindbergh and it's only gotten worse … I would propose that both groups take a shared responsibility in the process, such as meeting deadlines. I'd encourage our new superintendent to view the teachers as partners, rather than adversaries, as we move forward. I think the community will be amazed at how much work we can achieve together once that happens."
Bird said, "Yes."
Englund said, "There was not enough money in the budget for a substantial teacher raise last year. We have continued to give teachers a small raise every year I have been on the School Board. No matter how much negotiation takes place, there is still not enough money in the budget to meet the teachers demands. Could the district have been more sympathetic and caring in our communication? Absolutely. I wish that part would have been better, but the money still would not have been there."
Alonzo said, "No."
Bird said, "No."
Englund said, "No."
Alonzo said, "I'd look for someone who has experience in leadership role(s) in a suburban school district the size of Lindbergh and in a county the size of St. Louis. The next superintendent should be adept at managing a tight budget, be knowledgeable of state law and requirements of our public schools, and be willing to listen to the needs of our community, staff and students in shaping district policy. I would also expect the next superintendent to maintain Lindbergh's excellent track record of academic achievement, which has been the cornerstone of our district for decades. I'd like to see the next superintendent be more accessible to our community, which includes attending our district events and interacting with parents and students. Ideally, this person can form positive relationships with others and make connections."
Bird said, "I will seek a superintendent committed to students and maintenance of our district's history of high academic achievement first and foremost. Additionally, I will seek a superintendent who practices fiscal prudence and sustainable spending with a proven track record of leadership, conflict resolution skills. Finally, the new superintendent must have a clear understanding of and adherence to state educational standards."
Englund said, "As a school board member, the selection of the next superintendent is the most important decision we will make. Our next superintendent needs to be very professional and understand the district's financial constraints. He/she also needs to start the rebuilding process between the district and teachers so that mutual respect can begin to grow again."