Eckrich marks one-year anniversary; fiscal accuracy remains his top goal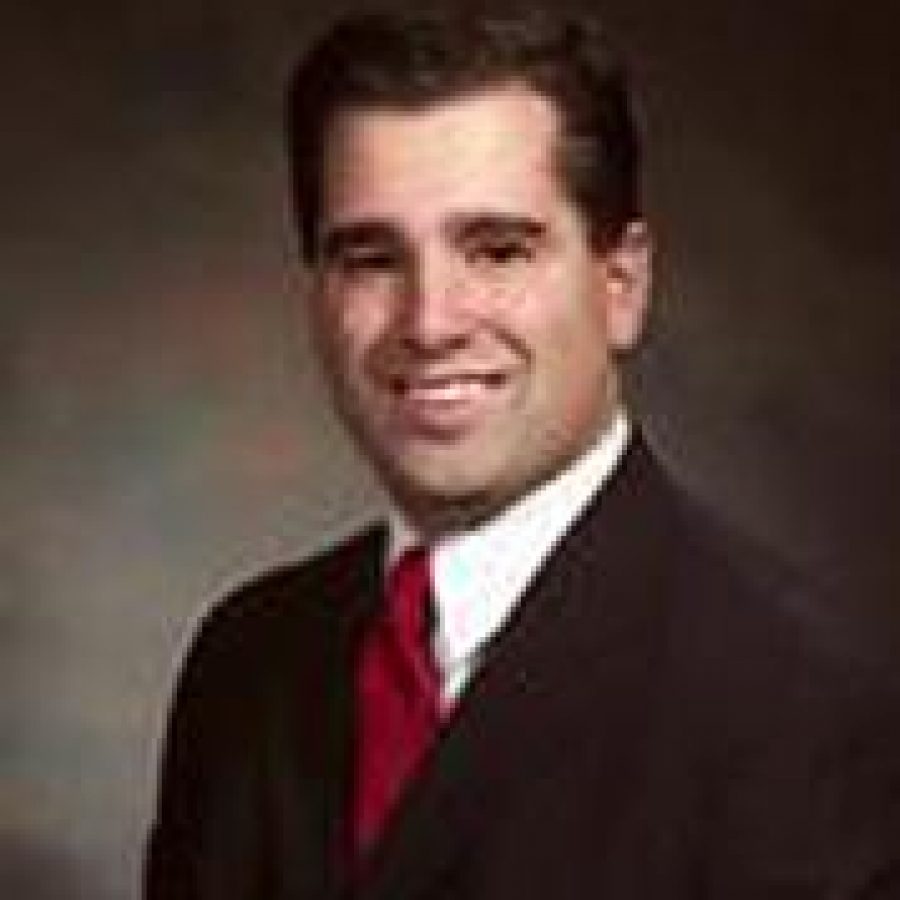 Jim Eckrich enjoys problem-solving and achieving positive results in his community.
But that community is Crestwood, and as Eckrich hits a milestone this week as one of its top officials, one could legitimately argue he's had his work cut out for him.
Tuesday marked Eckrich's one-year anniversary as Crestwood's city administrator. This year is also his 10th as a city employee.
Eckrich, 35, first went to work for Crestwood in March 1999 as a civil engineer after spending three years at St. Louis County Water. He was promoted to public works director in 2003 and then to public services director two years later, when the public works and parks and recreation departments merged.
He threw his name in the hat for city administrator in spring 2008 when then-incumbent Frank Myers resigned to take the same post in Glendale.
Eckrich was Mayor Roy Robinson's top pick for the job, ahead of more than 30 other applicants.
His jump from department head to overseer of all city departments was somewhat of a double-edged sword. On the plus side, Eckrich already knew most of his co-workers.
"That certainly made it easier," he said of the transition.
The challenge, though, was getting a firm grip on Crestwood's financial situation.
Eckrich said he knew about creating and managing budgets as head of the public works and public services departments; he just wasn't completely sure what happened once he submitted them to the city administrator.
Further complicating Eckrich's transition was cloudy information about the city's finances his predecessors left behind. He decided to make fiscal accuracy his office's top priority.
"Prior to my taking this position there was a … variety of information coming out that in some ways showed the city was doing well and in some ways showed the city to be doing poorly," Eckrich said, "and I really wanted to work to make sure the information we put out was accurate and painted an accurate picture of where we were with the city."
He said the public and Board of Aldermen would ultimately decide if he and his staff were following through on that vow, but added he believed his office had made progress.
"I think an important thing we did was hire a finance officer (Douglas Brewer, hired in May 2008 and promoted to chief financial officer in September) that has an accounting background. And then I've taken it upon myself to learn as much about the city's finances as well," Eckrich said.
"So when Douglas makes reports, I review them and we bounce ideas off each other and we review each other's information, and we work together as a team to ensure the information coming out is accurate. I think it's helped both of us have some level of comfortability with what we produce."
The bottom line, as it turned out, was Crestwood's expenditures were exceeding its revenues, Eckrich said, and those revenues had been on the decline for some time.
Since Eckrich took office a year ago, the city's prime sales-tax revenue source, Crestwood Court, has continued to lose business.
Dozens of the mall's retail spaces are vacant, and only one anchor store, Sears, remains open after Macy's closed its doors in April, taking with it hundreds of thousands of dollars in expected sales-tax revenues for Crestwood.
Another anchor store, Dillard's, closed in 2007.
In late 2008, Crestwood Court teamed up with the Regional Arts Commission and began leasing some of the mall's empty spaces as part of ArtSpace, a community for local artists, musicians and performing artists.
The mall's owners, Centrum Properties and Angelo, Gordon and Co., also intend to redevelop Crestwood Court into a "lifestyle center," possibly combining retail, residential and entertainment space.
Officials from Jones Lang LaSalle, the mall's management firm, said in January the owners hoped to unveil a redevelopment plan in six months and break ground in one to two years.
Eckrich said the mall's owners have hired architects and engineers for the project, but he hasn't heard any recent update on the plan itself or its timeline.
"You know, the loss of Macy's was disappointing to all of us … A lot of things have gone on in the regional economy, the national economy and the world economy. So I think it's easy to understand why things haven't progressed at the rate we would've liked," he said. "However, I remain optimistic that a redevelopment will occur there that the city and the region will be pleased with."
Still, Eckrich admitted the situation was frustrating because the city has little control over what happens to Crestwood Court — a reality he wasn't sure everyone understood.
"There are certain things you depend on that you have little control over," he said. "The city doesn't own the mall — I think some people don't understand that. People come to us with ideas of what they'd like to see in the mall. Well, we can't make those happen.
"There are leases, there are property owners, there are other companies involved. Trying to address things that you don't have control over, I think that's probably one of the more difficult things about the job," the city administrator said.
The mall's fate notwithstanding, Eckrich had to find a way to absorb the sales-tax revenue drop and still keep the city afloat in the short- and long-term.
In February, he presented to the Board of Aldermen a five-year plan to reduce city expenditures so they would match projected revenues.
All of the city's major funds — general, capital improvements and park and stormwater — would see significant cuts from 2010-'13 with an annual average expenditure reduction of about $2.28 million.
"The way you do that is you look at what's happened to the city over the previous three to five years, and then make some assumptions and then project what you think the revenues are going to be over the next five years. Match that to what our previous five-year plans were and what our needs are, and make a determination of how to proceed," Eckrich said.
The board approved the plan and agreed to revisit it each budget year to make necessary adjustments.
"I'm proud of that accomplishment," Eckrich said. "We have a five-year plan now … which matches the revenues we think are going to be available over the next five years. I think that's a big step for us. Let's not plan for what we can't do, let's plan for what we can do and see what those differences are.
"Hopefully within that time period, we see the economy turn around and the commercial corridor improve, and the city will become a thriving city once again."
Eckrich said accuracy would remain his No. 1 goal along with keeping city expenditures well below revenues and overseeing the Crestwood Court project.
He encouraged Crestwood residents to contact him — "I return all of my phone calls" — with questions or comments, as well as talk to their respective aldermen, attend board meetings and provide input through the city's advisory boards.
And as he continues his efforts to achieve positive results for Crestwood, Eckrich said of past and future accomplishments, "I don't really want these things to be touted as my successes. They ought to be the city's successes.
"And the reason they are the city's successes is that the mayor and the board have made these priorities in the city. I've enjoyed my experiences with the mayor and the board over the past year, and I hope to continue it for a long time."