Dooley goes out with a bang, not a whimper at last meeting
County executive says he lost primary because of crime lab probe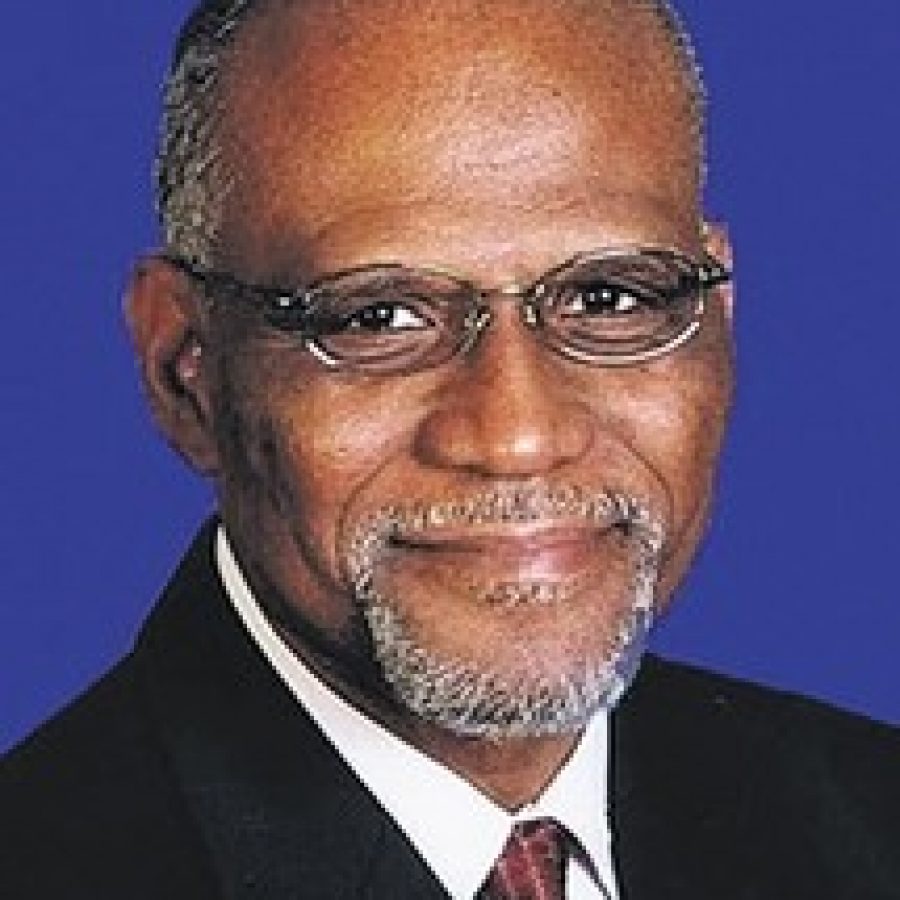 Outgoing County Executive Charlie Dooley went out swinging in what might have been his final time addressing the media last week, blaming his primary loss on racial fears he said were stoked by Prosecuting Attorney Robert McCulloch over county crime lab corruption allegations.
Dooley was defeated in the August primary by 6th District County Councilman Steve Stenger, D-Affton, who will be sworn in as county executive Thursday, Jan. 1.
Just before his final County Council meeting after 11 years as county executive, Dooley released a letter from U.S. Attorney Richard Callahan on Dec. 16.
In the letter, Callahan said a yearlong FBI probe cleared Dooley and other current and former county officials of any criminal charges related to the awarding of a $3.7 million subcontract at the new St. Louis County Police Department crime laboratory to one of Dooley's appointees on the Board of Police Commissioners.
"I lost the election because of that," Dooley said, contending McCulloch orchestrated the federal investigation and "played the race card" so Stenger would win the Aug. 5 primary against Dooley — St. Louis County's first African-American county executive.
Once a Dooley supporter, McCulloch switched allegiance to become Stenger's most prominent backer last year, appearing in television ads for Stenger all summer accusing Dooley of corruption.
"Let's be clear about it: In the St. Louis metropolitan area, we know what's happened in the last couple years. If you say an African-American elected official is alleged to have done some wrongdoing and 75 percent of the population is not African-American, what do you think is going to happen?" Dooley said. "What happened is what is going to happen. I lost all of the non-African-American townships in this county, which I've never done before."
Referencing the publicity surrounding McCulloch's handling of the grand jury that investigated the Michael Brown and Darren Wilson case in Ferguson, Dooley said all of America knows now that McCulloch is "a liar."
"Let me say this: This whole entire nation saw what Bob McCulloch did," Dooley said. "He's a liar, and the truth is not in him anywhere."
McCulloch's office declined to comment on Dooley's accusations. Although critics related to the Ferguson case have accused him of racial bias in his decisions not to charge police officers who kill African-Americans, McCulloch has denied any racial bias and has always been re-elected overwhelmingly by county voters.
A key theme of Stenger's campaign was that the county was under multiple FBI investigations launched over the past year, a charge that Dooley always denied. Another probe examined a St. Louis County Department of Health employee's $3.5 million embezzlement, before finding he acted alone.
The multimillion-dollar crime lab subcontract under investigation went to then-Police Board Chairman Gregory Sansone. Sansone's fledgling company, SM Mechanical, won a bid from the primary contractor hired by the county, ICS Construction, for the ventilation, heating and air-conditioning work on the complicated project, even though SM Mechanical had little experience in the heating and air-conditioning work involved.
Sansone resigned from the police board in August 2013, after then-county Police Chief Tim Fitch asked Callahan for a federal investigation into the subcontract.
The council has since changed the County Charter to specifically outline that subcontracts that go to a county official or employee are banned. At the time, however, County Counselor Pat Redington reviewed the subcontract and ruled that only a direct contract awarded by the county itself would be a violation of the charter.
To Dooley, there was no corruption, and it all adds up to a concerted, racist effort by Stenger's backers.
"You get the white trade unions saying things that (weren't) true, you have the white sitting prosecutor that had never done this before alleging corruption, the police chief indicated the allegations about me that (were) unfounded," Dooley said. "There wasn't any wrongdoing at all."
Stenger disagreed that the subcontract had no ethical ramifications and said race did not factor into his campaign.
"Certainly my running against Charlie was not motivated by race," Stenger said. "I was, frankly, motivated by a lack of accountability in county government and a lack of transparency."
He will be sworn into office at noon Jan. 1, the 20th anniversary of Dooley's entry into county government as the first African-American elected to the County Council, where the longtime Northwoods mayor and alderman was elected from the 1st District now represented by Chairwoman Hazel Erby, D-University City.
With both Dooley, 67, and the longest-serving council member, 7th District Councilman Greg Quinn, R-Ballwin, departing elective office after serving for decades, last week's meeting was the last council meeting with a significant contingent of county officials from the era that dates back to the days of former County Executive Buzz Westfall, who served from 1990 and died in office in 2003.
Quinn and Dooley thanked each other for their service, with Quinn noting that he enjoyed serving alongside Dooley and also mentioning — in the only allusion anyone made to some of the tension on the council over the past year — that at times Dooley had been a "worthy opponent."
Dooley's sole ally left on the council at the end of his tenure, Erby, nearly cried as she gave an emotional farewell to Dooley.
Dooley ended his and Quinn's last meeting by wishing everyone well: "To the rest of the board, I wish you all well. Godspeed. Happy holidays."
Once Dooley stepped outside the doors of the Council Chambers and in front of the waiting television cameras, however, it was a different story. About Stenger and the other council members who had been so concerned about the Sansone contract that they issued a resolution in support of Fitch after he made the request to the FBI, Dooley said, "He knew it was a lie. They all knew it was a lie. Everybody on that council knew it was a lie."
Asked whether he would change anything he did during his tenure as county executive, Dooley fell back on his longstanding habit of talking about himself in the third person.
"I am good with Charlie Dooley," Dooley said. "I like where I stand on this thing, and I have no regrets."