Crime wave seems to hit Crestwood with robberies, injuries to officer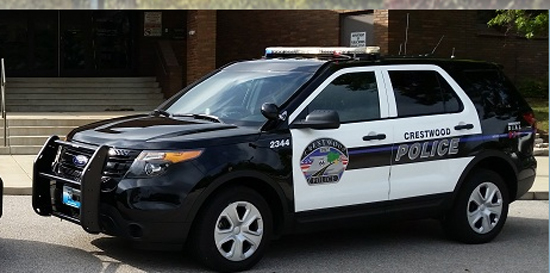 A series of crimes and incidents since last week in Crestwood may not be out of the ordinary for the city historically, but seems like a crime wave compared to the typical level of crime in the city in recent years.
Since last week, the city has seen a smash-and-grab robbery at its only jewelry store and police allege a Fenton man drove head-on into a police car, sending the officer to the hospital. But what first appeared to be armed robberies at the Circle K and Savers thrift shop turned out to be other incidents entirely, police said.
The latest crimes come on the heels of the burglary of the Southern Armory gun store and an attempted carjacking of two cars at Kohl's last month.
Such high-profile crimes may be rare in Crestwood, but they are not unprecedented, especially around Christmas.
"It happens sometimes, no matter where you are," Chief Frank Arnoldy said.
The latest mini-crime wave started Dec. 11 when surveillance cameras captured a trio of thieves smashing windows and stealing jewelry from Crestwood Coin & Jewelers, 10021 Watson Road. The quick in-and-out burglary targeting high-dollar items seemed to echo the Nov. 27 smash-and-grab robbery at the Southern Armory down the street.
Both cases are still open, and the thieves have not yet been identified. The jewelry thieves drove away in a black Dodge Challenger, but police have not yet determined if the case is related to the carjacking of a black Dodge Challenger down the street at the Sunset Hills Toys "R" Us a week earlier.
The burglary was "short and sweet," with the thieves in and out within minutes, Arnoldy noted.
Jewelry store owner Tom Starburn told reporters that it would cost more to repair the physical damage to the store than to replace the actual jewelry that was grabbed in the theft.
"Tom, the jeweler, doesn't leave the good jewelry out," Arnoldy said. "I believe the quote was, 'They did more damage than what they took.'"
The Crestwood Police Officers' Association posted on its Facebook page, "Tom is a good man, and his employees are phenomenal. We are perpetually shorthanded due to officers leaving, but our members will continue to work diligently to solve this crime."
Crestwood officer hit head-on by fleeing suspect
A Crestwood police officer was injured Sunday morning when a Fenton man allegedly drove his car into the officer's car head-on to avoid arrest on several outstanding warrants. The man was being followed by a different Crestwood officer.
Robert Poucher, 52, of the 700 block of Lakeview Ridge Drive in Fenton, was charged this week with first-degree felony assault with a circumstance of a special victim for allegedly driving head-on into the Crestwood patrol car on Old Sappington Road north of Lodge Pole.
Another officer was behind Poucher at the time attempting to pull him over, according to a probable-cause statement.
"It is our belief that the suspect thought he was being pursued, and upon seeing a police car coming toward him in the opposite lane of traffic, directed his vehicle for a head-on collision with our officer," the Police Department posted on its Facebook page.
The officer was taken to the hospital, treated and released and is recovering under a doctor's care, but police would not provide any other details of his condition other than to say his injuries were "non-life threatening."
The incident, which Arnoldy called "weird," started near the Steak 'N Shake at Elm and Watson roads. An officer followed Poucher, then lost him but found him again in a subdivision. Poucher was driving erratically, the police union posted to its Facebook page.
"The guy saw him coming up behind him and took off," Arnoldy said.
Seeing the second officer approaching from the other direction, Poucher apparently believed that the second officer was going to try to pull him over too, which allegedly led him to drive into that car, police said.
The engine of the police car caught on fire after the crash.
Poucher was taken into custody at the scene. His mugshot was not immediately available. He has been arrested several other times in the last two years for various offenses.
By driving into oncoming traffic to hit the officer's car, the suspect was "attempting to kill or cause serious physical injury" to the officer, according to court records.
Because of the special victim, if Poucher is convicted and sentenced to prison, he would not be eligible for parole until 85 percent of the sentence is served.
"The Crestwood Police Department appreciates all your kindness and support," the department posted. "Please keep our injured officer in your thoughts and prayers for a full and speedy recovery."
The Crestwood Police Officers' Association also posted about the head-on crash.
"Our officer sustained injuries, but was released from the hospital earlier, and with time, will be OK," the union wrote. "This is our reality every day, and we know the residents of our fine community are realizing this as well. Please keep our member in your prayers. We hope he heals up fully and quickly."
'Armed robberies' not actually armed robberies, police say
A pair of incidents reported as armed robberies this week turned out not to be what they first seemed, Arnoldy said.
An alleged armed robbery at one of the Circle K gas stations along Watson Road is being investigated by the FBI and seems to not be an armed robbery as originally believed, Arnoldy said. No charges have been filed in that case.
In a separate incident, onlookers and employees at the Savers thrift store, 9618 Watson Road, called in an armed robbery in progress at 1:25 p.m. Tuesday, but police found that it was instead an incident of what Arnoldy called "parking lot rage."
Two men were arguing in the Savers parking lot, and one of the men waved a gun at the second man and threatened to shoot him, witnesses said. Police found the first man — the one who allegedly brandished the gun — leaving the parking lot when they arrived, and that man cooperated at the scene. They are still looking for the second man, who had already left.
"It got seen and looked like a robbery," Arnoldy said.
Police found the man who allegedly waved the gun had four guns in his possession. That man was taken into custody, and the city has forwarded the case to county prosecutors for what will likely be an assault charge, Arnoldy said. Charges had not yet been filed at press time.
"Due to our officers' fast response and diligent actions, this incident was taken control of and no additional subjects were placed in danger," Arnoldy said in a news release.
"Great response by our excellent officers," Ward 2 Alderman Mary Stadter wrote on the department's Facebook page.