Crestwood Ward 2 voters to decide between Schlink, Tureblood April 8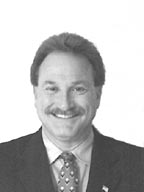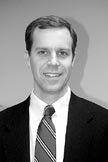 By MIKE ANTHONY
Executive Editor
Managing the city's finances and experienced representation are the most important issues facing Crestwood's Ward 2.
That's according to the two candidates who are seeking election to the Ward 2 Board of Aldermen seat in the April 8 election. Jeffrey Schlink is challenging incumbent Tim Trueblood, who has represented Ward 2 for the past 10 years.
The Ward 2 seat is the only contested Crestwood race in the upcoming election as Ward 1 Alderman Richard LaBore, Ward 3 Alderman Don Maddox and Ward 4 Al-derman Tom Fagan are unopposed in their re-election bids.
In addition, Ward 3 voters will elect a second alderman to fill the term that ex-pires in April 2004. That seat previously was held by Jim Robertson, who was elected mayor last April, and currently is held by "Bernie" Alexander, who was ap-pointed by the mayor and board.
Alexander is unopposed in her bid for the seat.
Asked to identify the most important issue in the Ward 2 race, Schlink said, "De-creasing tax revenue and level or increasing expenses. Our residents don't want to pay more directly in taxes. There comes a time when you can no longer continue with the path that has carried you until now. A city cannot continue to be the old dinosaur that is destined for larger problems. We need to take a serious look at the manner in which we manage our city and our residents tax revenue. That also should include taking a serious look at expenses. We should take a close look at every expense every few years to evaluate if that expense is still necessary and determine if it is still benefiting the residents of Crestwood. Our city is betting its future on tax revenue and we need to ensure our residents that we don't take on too much risk with their money."
Trueblood said, "I believe the single most important, if not the most critical issue of this race, is Ward 2 having an alderman represent them who has the experience needed to solve our issues, as well as the vision needed to direct our ward's future. As an example: Ward 2 is a mature part of Crest-wood, therefore its alderman must have the ability to work with City Hall and the other members of the board to provide the ward with continued improvements in its streets and parks, while striving to minimize the impact of the commercial district to our neighborhoods. A true balancing act as we need the commercial district to grow but must watch how it impacts the residents who live on its border."
Schlink, 34, 1128 Capri Drive, is manager of supervisory systems at Edward Jones. He and his wife, Kim, have four children.
Schlink, who ran unsuccessfully against Alderman Gary Vincent for a Ward 2 seat in 2001, said he is seeking election "be-cause I want to have a positive impact on our city. I believe the best way to have a positive impact is being elected alderman. This is a position that I respect and am seeking with great interest.
"I believe that I am the best representative for Ward 2 and look forward to hearing from and working with my neighbors. I have the time to commit to our ward and the dedication to serve our residents the way they would like to be represented. I live in the heart of Ward 2 and feel that residents are already starting to communicate their issues to me. I look forward to the opportunity if elected," he added.
Another issue cited by Schlink as "a big concern" is the the Watson Road corridor.
"It is directly tied to the single most im-portant issue since it is our primary source of revenue. We need to ensure our residents that we will make informed decisions that are able to increase shopping opportunities and not impede on their interests," he said. "That mall is very good for our city. It is a great place to shop and it provides us with great tax revenue. I hope and expect that the mall's management continue to upgrade and develop the mall so that it continues to be a viable business and source of critical tax revenue."
Trueblood, 54, 943 Gillespie Blvd., is an account executive with Con-Way Central Express. He and his wife, Karen, have four children.
Trueblood, who has served as a Ward 2 alderman since 1993, said he is seeking re-election "to continue to serve and represent my neighbors in Ward 2 at our City Hall on issues that are most important to them."
Another issue cited by Trueblood is holding the line on city spending. "Crestwood must hold the line on its spending in the general fund in order to get back to our solid financial position of approximately five years ago," he said. "The smartest way and the one I believe the majority of Ward 2 agrees with is for the city to work smarter, cut unneeded spending to become lean, demand the best performance from all who deal with the city and to be open to our citizens input on how to improve."
Schlink and Trueblood gave the following answers to a Call questionnaire:
What is your position on the use of tax-increment financing – TIF?
Schlink said, "I wish that the state had been more specific with the laws associated with TIFs. These laws have been abused and have received a tremendous amount of bad publicity. Unfortunately, even if you disagree with their use, you need to also understand their competitive advantage. If we choose not to consider a TIF, but a TIF is strongly supported by our neighboring cities, we are at a competitive disadvantage.
"We have some very large areas of development that could require assistance. We cannot continue to allow a development project to drive down Highway 44 and continue past Crestwood. We need to have an exit sign that says we will consider TIF to continue to grow Crestwood. We should not approve every TIF, but we will consider the advantages and disadvantages to the residents. Every TIF situation must be re-viewed individually. It should not be the so-lution for every problem," Schlink added.
Trueblood said, "TIFs can be misused as can any policy. Each TIF proposal must be reviewed on its own merits."
Do you agree with the direction the city is moving under the leadership of Mayor Jim Robertson?
Schlink said, "It has been short in terms of political careers – as mayor. I do agree with the mayor on a number of issues, es-pecially the right and ability for Crestwood residents to have access to city meetings and minutes. Our city is not on the brink of a defining period. We are in a defining period. These next few years will set the tone for many years. It was easier to manage the city when times were good. Tax revenue was increasing, Sam's was coming on line – all was well. Now is when we see what we are made of. Now we need to have elected officials that can and will ask hard questions in these lean times that benefit our residents. My family and I are reviewing our finances and so should our city."
Trueblood said, "I agree with and strongly support the direction our city is moving under the leadership of Mayor Jim Robert-son."
Do you agree with the manner in which the redevelopment of the site at the northwest corner of Watson and Sappington roads has been handled?
Schlink said, "Painfully long period of time since it was difficult with the various owners and interested parties. It was good that all interested parties were able to com-municate their opinions. As with most people, I was frustrated with the amount of time that was monopolized by this project and the lack of visual progress for the residents. That is why I'm glad to finally see progress. It was nice to see the buildings removed. I believe that the demolition work has been quick. Now that the weather is improving, I think we are all ex-pecting to see work being completed."
Trueblood said, "Not entirely. I was against the use of TIF for this property as it rewarded the former property owners who allowed their property to become obsolete and in disrepair. I would have preferred the city had enforced the laws we have on our books requiring the owners to keep up the property to code standards. If they would not do so in violation of the law, then the city could have taken whatever legal steps needed to bring up to code or to remove the property from its owners."
The Board of Aldermen has discussed an occupancy program for residential rental properties. What are your thoughts about such a proposal?
Schlink said, "When my family first moved to Crestwood, we rented. I was told by the neighbors that the owner transformed an unkempt, overgrown ugly property into a home. I was fortunate that he was a good landlord and cared about the property. I don't think all renters in Crest-wood have the same story that I do. And as a resident of Crestwood I take care of my property and work to improve and up-grade. A rental owner does not live in the house and does not have the same pride of ownership. Sometimes the renters don't have the pride of renting and they don't take care of the property. I believe that there should be minimum standards for rental property in the city so that the in-vestment of our residents is not diminished by rental property that is not maintained well. A renter deserves basic care of a residence just like we do as owners."
Trueblood said, "Occupancy programs for rental properties may appear to be the best way to improve the nonresident-owned homes in Crestwood. But until a draft of the proposal is given to me for re-view, I am unwilling to give it my unqualified support."
What is your "vision" for the city of Crestwood?
Schlink said, "Provide necessary services for our citizens while maintaining relatively low property taxes. We must revive our city. We need to provide shops and restaurants that meet our needs. We need to maintain our streets and sidewalks. We need to leverage our great location and great schools. We have a great city and it needs to show."
Trueblood said, "My vision for the City is one with having housing stock available for all age groups, i.e., cradle to grave, where families never have to move from Crestwood to find the home size/style they need."