Crestwood Planning continues to look at impervious cover in residential lots
Amendment will only apply to new additions to a lot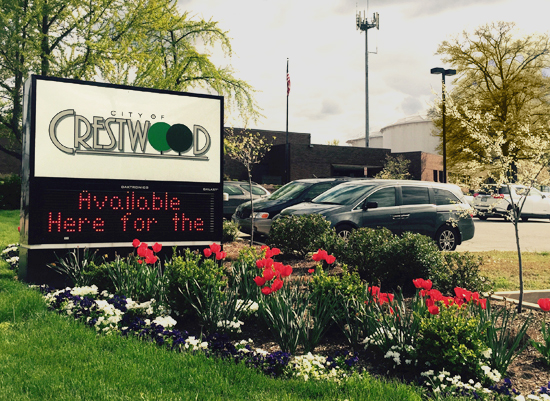 Crestwood may be increasing the percent of impervious cover residential lots can have after a discussion on Oct. 6.
In past meetings, the Planning and Zoning Commission has been making headway on amending what "impervious cover" means in city code — the amendment would include everything that is "impervious" on the lot, like pools or decks, not just building footprints. 
The change is meant to address stormwater concerns at a residential level, where there is no restriction on someone covering their whole lot with their house and pushing the water to the neighbor's yard.
In September the commission asked City Planner John Cruz to put together a sample of houses from each residential zone to see how much the average house could be impacted. 
The current permitted lot coverage percentage is 30 and of the 34 houses randomly chosen by Cruz, 13 would be pushed over the threshold with the new impervious cover definition. Cruz said the lots most likely to be impacted are ones with large pools, driveways, decks or porches and small lots. 
In the random sample, R-3 residential lots were impacted the most with around 17 percent new coverage added. On average the random sample saw an increase of 16 percent to push the new average coverage to about 29 percent.
Commissioner Greg Zipfel said having so many houses from the sample go over 30 percent feels like it could cause unnecessary hardship.
"To me that seems excessive. Whether that means we ought to consider increasing the coverage or what," Zipfel said.
Chairman Robert Sweeney agreed with Zipfel's concern and asked Cruz to change the new coverage percent to 40 when the commission votes on the amendment. In that case, only two of the sample homes would go over the new percent.
"I applaud this approach, something has to be done about our stormwater, but in addition to that, we have a community that's going to be 75 years old next year, a lot of well-established, uniquely sized lots," Sweeney said. "I would be OK with moving forward but I would want the percentage to be 40 percent."
If passed, the amendment would only apply to new additions to a lot — someone whose lot gets pushed over the threshold would have nothing to worry about. Cruz said if someone is pushed over and wants to make a change that would not increase percent, they would likely need approval from the Board of Adjustment.
The commission tabled the discussion until its next meeting.