Crestwood gun store robbery still unsolved, linked to spree of thefts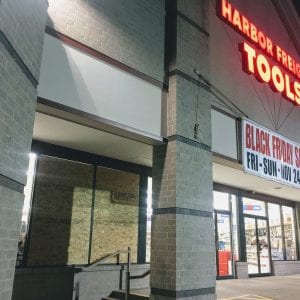 A heist at a Crestwood gun store Monday remains unsolved a day later, with few leads.
Thieves broke into Southern Armory, 9901 Watson Road, around 2:30 a.m. Monday and sped away with an undetermined number of guns after firing at and missing a witness at a nearby store, Chief Frank Arnoldy of the Crestwood Police Department said.
Since the thieves were long gone by the time police responded, detectives have few leads to go on, he added.
"We're good, but we're not quite that good," he said.
The theft is the second high-profile crime in Crestwood in recent weeks, which is unusual for the city. Two men were charged last month with two attempted carjackings at the Crestwood Kohl's store, also on the city's Watson Road business corridor.
"Stuff happens — we'd like it to not happen but it does," Arnoldy said. "We like to keep our people as safe as we can, our residents as safe as we can. But sometimes people from elsewhere like to come out and help themselves to our stuff."
The gun shop theft in Crestwood is the latest in a series of gun shop thefts in the area dating back over the last month.
The St. Louis County Police Department, the Jefferson County Sheriff's Department, the FBI and other agencies are examining whether the thefts are related. Gun shops in Affton and Valley Park were burglarized earlier this month.
The "general consensus" among law enforcement is that the Crestwood theft is related to one at a gun shop in High Ridge minutes earlier, Arnoldy said. The descriptions of the thefts 15 minutes apart are strikingly similar — three masked thieves, in and out, guns taken.
Southern Armory is Crestwood's only gun store. As Arnoldy describes it, three masked and gloved thieves threw rocks they brought with them through a window at the shop, breaking the glass even though it was reinforced. The thieves hit the far left side of the window, a section of the storefront almost invisible to the street due to a large column right next to that area.
In record time, the thieves also broke through a security gate Southern Armory had set up to protect its guns from theft. The robbers made off with an undisclosed number of long guns, rifles and shotguns after less than a minute inside the store, Arnoldy said.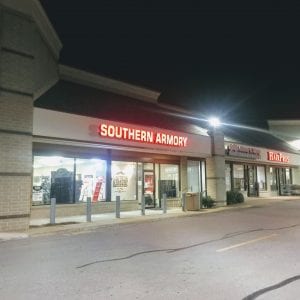 A few storefronts down in the shopping center, one of the employees at Harbor Freight Tools peered out a window at the thieves' getaway. Seeing what was happening, one of the thieves fired four shots at the witness, who ducked and was not injured, Arnoldy said.
The employees inside Harbor Freight were in the middle of calling police when they were shot at, he added.
Windows at Harbor Freight were also boarded up Monday night.
After firing the shots, the gang jumped in a silver four-door "foreign car" and sped away before police could arrive.
Police have not dug up any helpful surveillance videos at this time, the chief said.
The Crestwood gun theft is different than the others in the area because there was a witness, but that is only so helpful to solving the crime, Arnoldy said.
"They were all gloved and masked, so when the guy's looking out the window at them all he's seeing is guys in gloves and masks," the chief said.
He doesn't see any reason why the thieves would have targeted Southern Armory other than the fact that it is a gun store.
"They used to ask bank robbers why do you rob banks and they'd say that's where the money's at," Arnoldy said. "Why do you rob a gun store? Because that's where the guns are. But why they picked ours over somewhere else, I'd have no idea."
It appears that Southern Armory had security on par with other gun shops, including the strengthened glass and the gate they bring down over the guns at night, Arnoldy said.
"From what I understand, they've done all the right things," the chief said. "I just don't know whether they'd been in there looking around and figured out, 'OK, this is that kind of gate and you do this,' or whether they're just that good at it, or whether they're just lucky."
Arnoldy is also not sure why the thieves chose to take long guns in particular, but said he has been fielding that question quite a bit.
"That seems to be the $64,000 question," he said. "If I could figure that out, I'd buy lottery tickets on my way home."