Crestwood family's Teddy Bear Christmas Land featured on TV's 'Christmas Light Fight'
Old-school elegant display will get national attention
The classic holiday light display "Teddy Bear Christmas Land" has been a fixture on Laurel Hill Drive in Crestwood for decades, but this year it is getting national recognition.
Jay and Susan Trevisano and their son, Christopher, were set to be featured on the season premiere of the TV show "The Great Christmas Light Fight" at 7 p.m. Central time Wednesday, Dec. 9 on ABC. The show features "over the top, unique, themed or jaw-dropping" displays from across the country battling each other to win that night's trophy.
The Trevisanos can't reveal whether they won, but they said they enjoyed participating in the show, which filmed before Thanksgiving in 2019. The television appearance coincides with an upgrade in the number of lights and displays at Teddy Bear Christmas Land. The corner of Laurel Hill and Pardee now features more than 100,000 LED lights, more than double from just a few years ago. New displays include more trees, sleds, Santas and polar bears.
Typical competitors on "Light Fight" battle it out with computerized spectaculars, but Teddy Bear Christmas Land intentionally references the more classic era of displays in department store windows that captivated Jay when his mother took him on a bus to the Famous-Barr in downtown St. Louis. That's a thing of the past in St. Louis, but today's children can find that magic on Laurel Hill.
"It's kind of like you can imagine if you're 5 years old, when I was going downtown to Famous and Barr, to me it's so amazing because it has a pure spirit about itself because you're just seeing all this magic," said Jay.
The teddy bear displays date back 30 years, but the family custom-built their Crestwood home to better show off the bears that are the centerpiece of Teddy Bear Christmas Land. Susan said Jay is "just your normal neighborhood teddy bear guy," who started the tradition when he bought a teddy bear for one of their children and arranged it in a window with lights at their house in St. Louis. The window drew gawkers, and the rest is history.
"We were just fortunate that we were able to custom design our house … and make those teddy bears display the way they should be displayed," said Jay Trevisano.
The Trevisanos are proud that the display even has a "beauty and an elegance" during the daytime, long before the lights are turned on. The family has collected money for good causes for decades, and over the last 17 years the family has raised more than $87,000 for St. Patrick Center, which offers services for the homeless.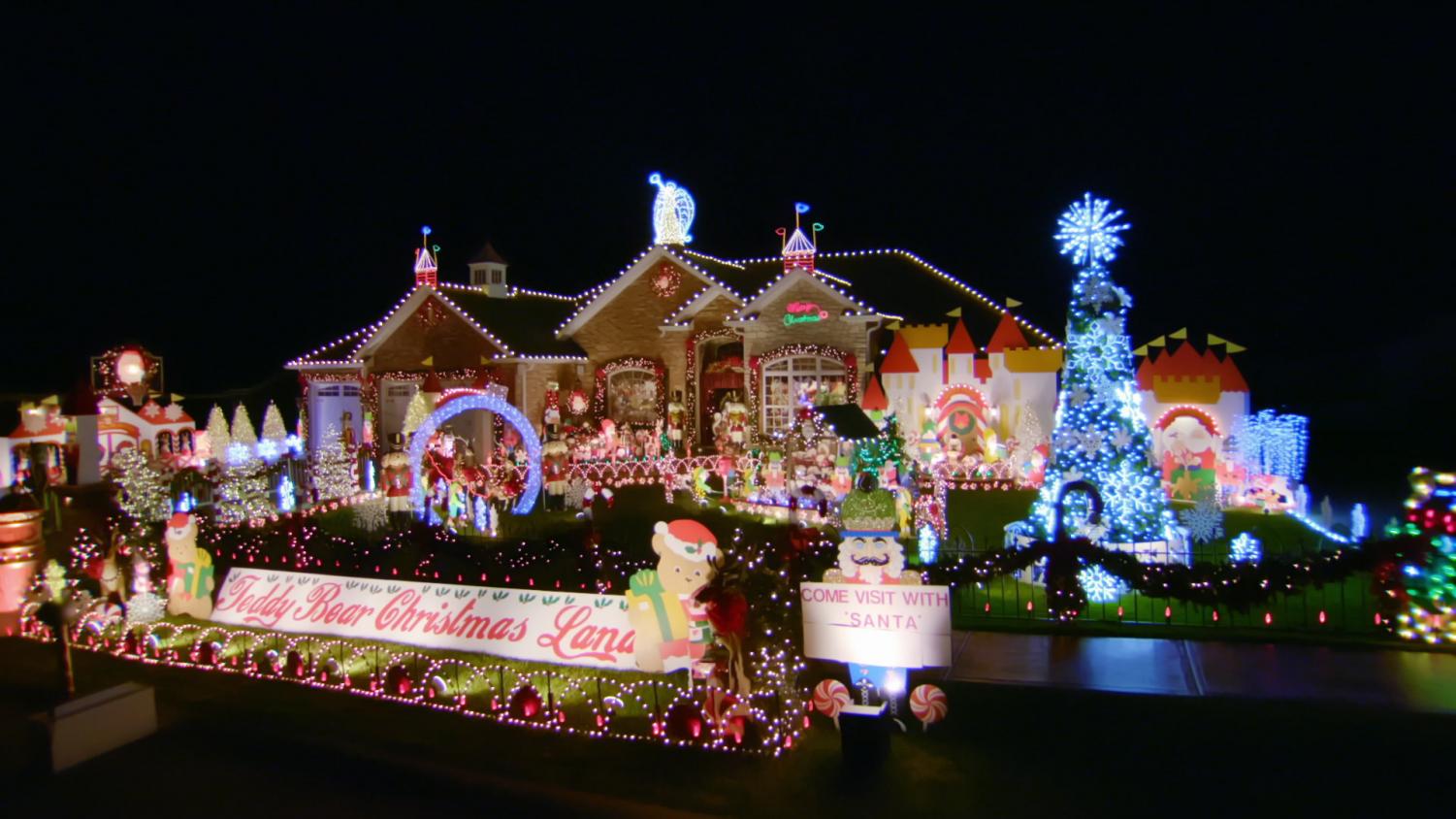 The family hopes to "pay it forward" in more ways than one, through both the donations and the children who will see their display and grow up to create their own someday, perpetuating the cycle of holiday season magic.
"I'm not fighting cancer, I'm not fighting illnesses, I work with my hands … if God's put me in a spot to do his will, then that's what we're doing," Jay Trevisano said. "People who decorate and do big displays, they don't do it for themselves, they do it for others. It's a kindness and generosity that I can't explain, but it's there. … The simple things that don't cost anything, that's really what we're about."
Susan Trevisano noted that during a pandemic when social distancing is encouraged and many holiday traditions are shut down, families can still enjoy Teddy Bear Christmas Land together and even tune in to music and the stories behind the displays on "Elf Radio," radio station 90.1.
"Driving around in the car looking at lights can bring the Christmas spirit for everyone, young and old," she said.
The display has more eyes on it this year due to the holiday drive-thru lights at Grant's Farm, which is sending hundreds of cars past the house each night, even before the old-school "meticulous and elegant" display is showcased on TV.
To the amusement of the Trevisanos, one family even told their children that the Trevisanos' house belonged to Santa, who keeps his reindeer nearby at Grant's Farm.
Although they hope to reach as many people as possible every year, it came as a surprise when producers approached them to appear on the show. But as hard workers themselves, they appreciated how much behind-the-scenes work, passion and energy goes into the show.
Jay designs and assembles the displays with Christopher. They had already preordered more lights even before the show.
"You're usually not national news for a display that you just have a passion for, so I feel like we're blessed to be part of it," said Jay Trevisano. "We were up a lot of late hours, but it was worth it."
Susan, meanwhile, packs away everything in January. Somehow, it all fits into their garage on site.