Crestwood budget focuses on public assets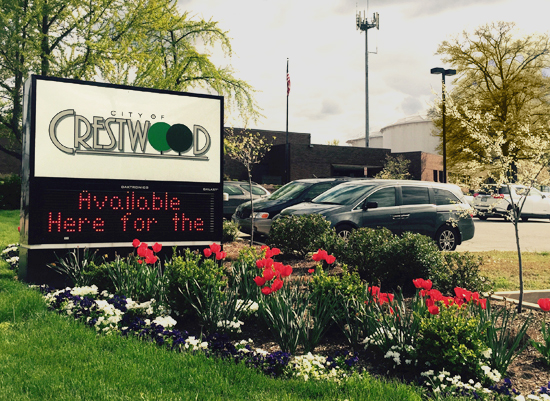 The Crestwood Board of Aldermen voted 7-0 to approve the city's 2022 budget Nov. 23. Notable expenditures include park improvements and money set aside for the city's 75th anniversary celebration. Ward 4 Alderman Tony Kennedy was absent.
The budget features total revenues of $15,181,403 and total expenditures of $16,796,686 across the general, capital improvement, park and stormwater and sewer lateral funds.
City Administrator Kris Simpson said the budget is "ambitious" and is anchored by spending on public assets. 
The general fund is bolstered by $1.13 million in American Rescue Plan Act funding, which "will impact every service area of the city." Included in public asset spending is $75,000 for the city's anniversary in 2022, funding for the grant-supported quarry, pavilion and restroom project, rebuilding of basketball courts at Whitecliff Park, funding the new Whitecliff bridge and lighting at the park, funding for a Parks and Recreation 10-year master plan, improvements to Sanders Park and repairs at the aquatic center. Simpson said one new employee is being added at park maintenance as well.
Joining Crestwood's own improvements to public assets are improvements from Dierbergs in the former Crestwood Court area. Aldermen approved Dierbergs' plan for the site Nov. 16, and it features over $1.5 million in direct public asset spending. Improvements include the bridge connecting the site to Grant's Trail, gathering spaces totaling around 10,000 square feet, a commitment of $625,000 to improve Watson Road with landscaping and decorative lights, the installation and improvements of traffic signals mentioned in the site plan.
These changes are set to be completed in Phase 1A of the development.
There is $1.8 million set aside for concrete slab replacements in the city, $600,000 in mill and overlay work, $250,000 for sidewalk construction, $75,000 for sidewalk maintenance, $400,000 for a new fire truck chassis and $300,000 to renovate the police department. 
"Even with all of these significant planned expenditures, we are forecasting to end next year with a healthy fund balance in all of our major funds," Simpson said. 
The budget predicts the general fund will end the year with over $7.1 million, capital improvement will end with $360,164, park and stormwater will end with $777,558 and sewer lateral with $343,592, totalling at an ending fund balance of $8,585,105.
For revenues, sales tax is expected to bring in the bulk of the funds at around $7 million, followed by around $4.5 million from utility, property and intergovernmental taxes combined. The city has also planned to receive over $1.6 million in grants.