Crestwood and Sunset Hills will swap property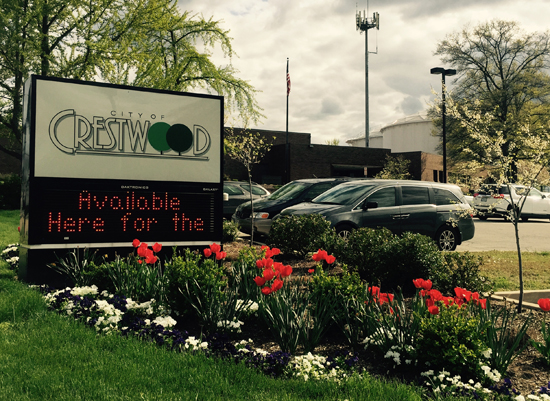 Crestwood and Sunset Hills will swap land with each other after it was discovered that a sliver of the former Johnny Mac's property slated to become the new Sunset Hills Subaru dealership lies within Crestwood city limits.
At the Feb. 11 Board of Aldermen meeting, City Administrator Kris Simpson told the board that the city will get a tiny bit smaller and cede the part of Crestwood that is on the Johnny Mac's site to Sunset Hills in the coming months. The sliver of Crestwood is the part of the site that would house dumpsters for the new dealership.
Sunset Hills will also cede part of its own city to Crestwood on another site that spans the borders, the Mercy Clinic in Crestwood.
To complicate matters, some residents' houses span the borders of both cities.
The former Johnny Mac's location on Watson Road is mostly located on the eastern border of Sunset Hills, but part is across the western border of Crestwood. Last fall, Sunset Hills approved a plat consolidation and development plan for the Webster Groves Subaru dealership to move to the site of the former sporting goods store, along with demolishing the shuttered Smugula's Pizza for parking lot space.
"As they were going through it, we all realized that the partial Crestwood aspect of that might present some sort of a problem," Simpson said of Sunset Hills and Crestwood officials. "We explored some options, and it's actually less complicated than I feared."
Simpson told the board that by a simple ordinance enacted by the Board of Aldermen, the city could "true up our boundary" and cede the sliver of the Johnny Mac's site to Sunset Hills. The boundary will be adjusted so that it is along the property line and not overlapping into the property.
"The portion in Crestwood would have been a dumpster and some parking lot, and we've got enough dumpsters and parking lots in Crestwood," said Simpson. "If we kept it, there were questions about whether or not the dealership would need to go through two planning and zoning processes, would need two business licenses, it's a question of how that would impact taxation, so this would simplify things greatly. It doesn't require a lot of bureaucratic hoops to jump through."
Simpson added that Crestwood would not lose out on any potential sales tax, because sales tax is determined by the location of the cash registers. In this case, the cash registers would be in the Sunset Hills portion of the property.
"For anyone that's wondering if we're giving up any rights to any sales tax or anything, we pretty quickly determined that the sales tax rights are based on where the cash registers are located, and I doubt they're going to have the cash register in the dumpster or the parking lot," said Simpson. "It's not like we had any right to any transactions or anything that would have been there. I think this is just a simple example of municipal cooperation."
While reviewing the Johnny Mac's site, another business along Watson, Mercy Clinic Internal Medicine-Crestwood, was also found to have an overlapping property line between Crestwood and Sunset Hills' city boundaries. That boundary will also be corrected so the entire Mercy Clinic will be in Crestwood since it is primarily a Crestwood business.
But the issue of residents who live along the border is more complicated. Technically their houses are located in both cities, which share a school district in Lindbergh Schools.
"Most of our boundaries are defined well and they match parcel boundaries, and that's true on our northern boundary, our entire southern boundary, most of our eastern boundary. Now on the west, beyond the Johnny Mac's site, there are a handful of residents actually split in half between Crestwood and Sunset Hills," said Mayor Grant Mabie. "That will be a more delicate conversation, but there may be some momentum there to sit down with Sunset Hills and those affected residents and tweak the border slightly so we have the border track parcel lines better."
There are similar boundary issues with some residents between the Crestwood and Webster Groves city limits in the northeastern portion of the city.
"That's more of a long-term project but once this Johnny Mac's issue came to light we studied all of the municipal boundaries carefully… That's probably something we'll work on later this year, probably next," said Mabie.
"Those resident-impacting boundary disputes would have to go to the Boundary Commission and a vote, so it's not as simple," added Simpson.
The board will look at an ordinance to cede the Johnny Mac's property to Sunset Hills in the coming months.
You can reach Erin at eachenbach@callnewspapers.com or at 314-843-0102.