Crestwood aldermen to consider Robinson's choice for new city administrator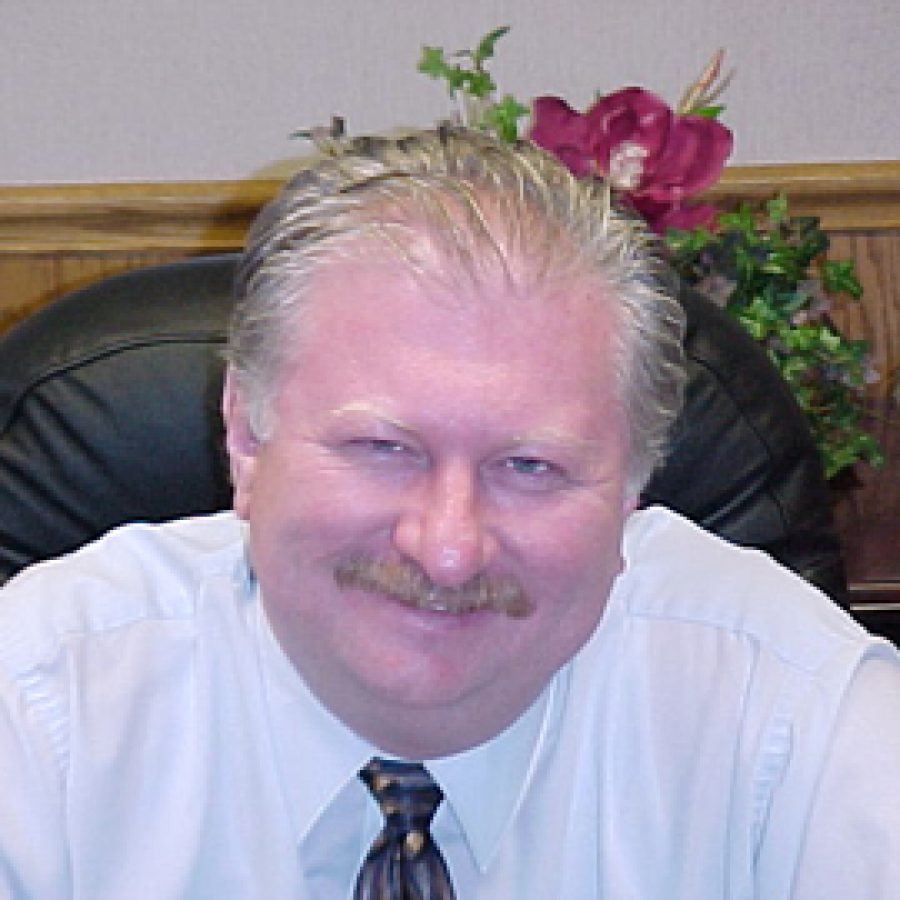 Mayor Roy Robinson is recommending that Frank L. Myers serve as Crestwood's new city administrator.
The Board of Aldermen was scheduled to consider the mayor's recommendation of Myers for the city administrator's post Tuesday night — after the Call went to press.
If approved, Myers would succeed Don Greer, who has been serving as both city administrator and police chief since December 2002.
Aldermen voted in August to approve Greer's returning to his full-time duties as police chief and discontinuing his city administrator duties when a new city administrator is hired and begins work.
Myers, who has 22 years of experience in local government, told the Call that serving as Crestwood city administrator is an exciting opportunity. His experience in local government includes 17 years of ser-vice as either a city manager or administrator.
"My family and I have lived in the St. Louis area before. We really enjoyed it in St. Louis," Myers said. "Crestwood is a community with a very positive reputation for quality local government, local government services, and now that I'm looking selectively at some local government jobs, my family and I would very much like to get back to the St. Louis area. And, in particular, Crestwood is a very exciting op-portunity."
Regarding Myers, Robinson told the Call, "I've provided the board with all the information concerning this gentleman and all the information I know about him, and I've answered their questions in executive meetings. And I brought him in from Illinois to meet with them … So everybody had the opportunity to meet him, talk to him one on one. I'm just anxious to get it completed."
Myers was in the top five candidates recommended by the City Administrator Hiring Review Panel, the mayor noted.
"From what I've seen, he's had a good track record with the public and the news media and everything … He has a good background in redevelopment, which I'm interested in, and he's got an excellent background of helping cities recover from financial difficulties," Robinson said. "Based on his credentials, I think we're pretty fortunate to be able to get him."
Myers, 46, currently serves as vice president of marketing and local government services for the Kilduff Co., a retail development and consulting firm in Mequon, Wis. He holds a bachelor's degree in or-ganization development Ottawa Univer-sity and a master's degree in public administration from the University of Kansas.
His first city manager position was in St. John, where he was successful in gaining voter approval of a major tax initiative by a 3-to-1 margin despite organized opposition, according to information Myers provided to the Call. He also served as the first town manager of West Warwick, R.I., where he stabilized the town's financial condition and strengthened management control of departmental operations, resulting in the restoration of the town's bond rating to investment grade.
Robinson cited Myers' background in re-tail development and redevelopment as a plus for the city of Crestwood.
Myers served as city manager of Trot-wood, Ohio, where he worked closely with elected officials, staff, the business community, and county, state and federal officials to begin the process of transforming an 88-acre dying shopping mall into a more than $70 million redevelopment project called The Landmark.
More recently Myers served as village administrator in Matteson, Ill., where a split board last summer voted to terminate his contract after he served nine months in the post.
Noting that Matteson is "a community growing through a lot of change," Myers told the Call, "I was recruited from Trot-wood, where I served for 6½ years, by a professional head-hunter to go to Matte-son. They did a nationwide search and I was hired there. The community is undergoing a lot of change, both racially as well as growth — just phenomenal growth — and there were some governance issues.
"The board was split over governance issues and I became a casualty of that. Two months later, the acting administrator was removed. So they've had three administrators in a period of about four to five months — unfortunately undergoing a lot of instability right now and I was a casualty of that," he added.
The city administrator candidate told the Call he is aware of some of the problems facing Crestwood, including the city's well-publicized financial woes and a division among elected officials, but his background and experience have prepared him to deal with such issues.
"Well, I've stepped into communities be-fore that have had serious financial challenges … Hopefully, once I'm hired I be-lieve I have the techniques that can pull people together. That certainly didn't work in Matteson, where there were some sharp divisions between the village president and the board, (but) I'm not a stranger to stepping into tough assignments," he said.
Myers recently has been a finalist for city manager posts in Clawson, Mich., and Marquette, Mich., but believes Crestwood is a good fit for him and his wife, Carolyn, a college professor.
Their son Mark is a honors student at Michigan State University, where he is in the James Madison School of Public Pol-icy.
"I've been married for 25 years to my wife, Carolyn, who holds a Ph.D. in political science and is a college professor. There are a couple of opportunities open in the St. Louis area that fit her very well and that's another reason why Crestwood is so appealing," Myers said.