'Creeping Critters' draws 500 people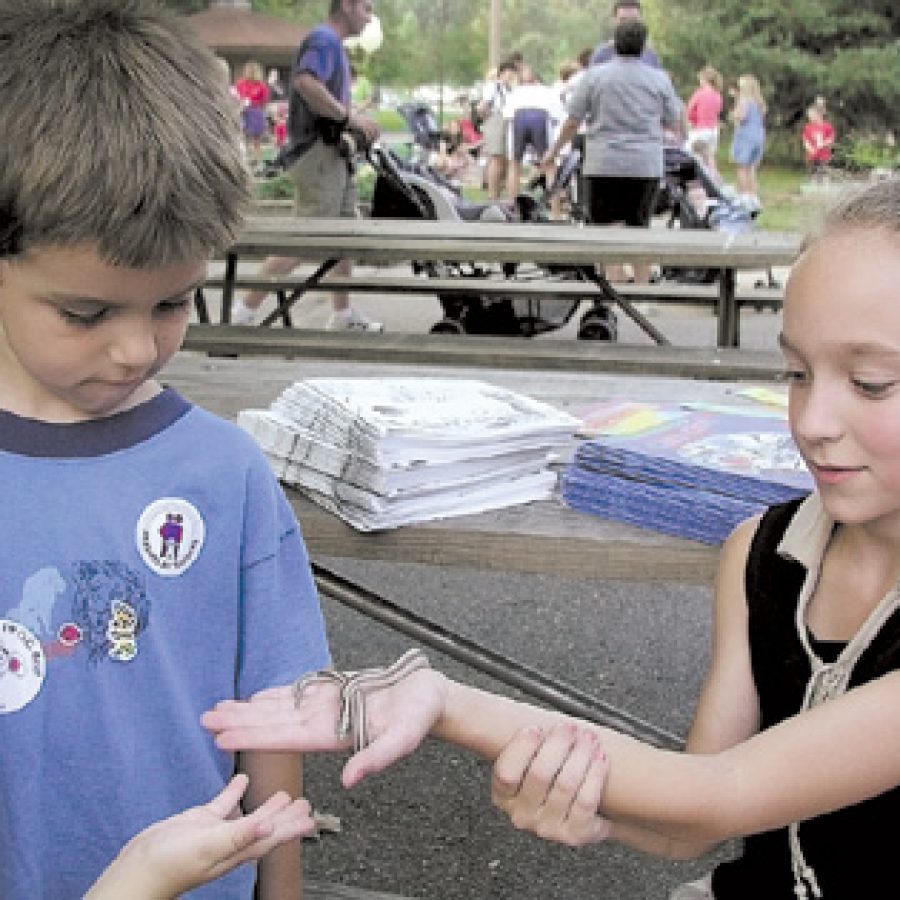 Parents and grandparents packed up their minivans, broke out the strollers and spent an evening at Sylvan Springs Park to allow their little ones a rare opportunity to explore nature.
The final count showed that about 500 people attended the Mehlville Parents As Teachers' "Creeping Critters" event, according to a Mehlville School District news release.
Two-year-old Sean Stotler and his 5-year-old sister Katie couldn't wait to pet the Australian Blue Tongue Skink that 11-year-old Kaleigh Sagitto was holding.
Mehlville Fire Protection District firefighter Jason Hendricks provided 2-year-old Abeselom Weldemichael with a thrill, letting him sit in the driver's seat of a fire truck.
Other activities available for the Parents As Teachers families and friends attending the event included developmental art projects, a nature hike, an interactive story time featuring frog puppets and bicycle safety helmet fittings provided by St. Anthony's Medical Center experts. Also taking part in the event were representatives from St. Louis Children's Hospital and the St. Louis County Police Department.
Parents As Teachers Coordinator Barb Ehlen plans a back-to-school kickoff event of this type each year.
"This group meeting provides age-appropriate activities that encourages parent/child interaction, while at the same time giving parents ideas about activities they can do with their children at home," Ehlen stated in the release. "In addition to being fun, these activities help develop social skills, gross motor skills and language skills for children from birth through kindergarten age."
The Mehlville Parents As Teachers program served more than 1,200 families in the district last year.
The Mehlville Parents As Teachers program is a free service to school district residents. Open enrollment is under way for this school year. For additional information, contact the Mehlville Parents As Teachers Office at 467-5304.