County voters could weigh a pair of smoking bans in November election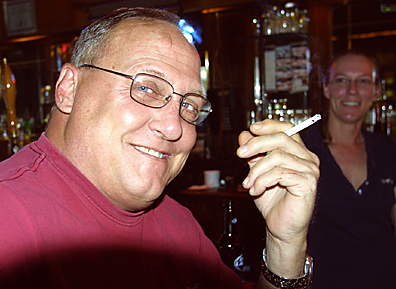 File photo: Concord resident Dan Logger opposed a 2009 smoking ban in public places because he believed it would affect businesses operated by many of his friends. 'I'm against it,' he said at the time. Also pictured is Schottzie's Bar and Grill bartender Lana Sugg. Photo by Bill Milligan.
By Gloria Lloyd
News Editor
glorialloyd@callnewspapers.com
A more expansive countywide indoor smoking ban will be on St. Louis County voters' ballots in the November election.
Election authorities last week certified that a petition drive backed by the American Heart Association's Committee for a Healthy Community gathered more than 30,000 signatures, which places the full ban on the Nov. 6 ballot. A second petition drive backed by the new River City Casino owner, Penn National Gaming, would still allow smoking at casinos and bars. That petition had not yet been certified at the time the Call went to press.
The County Council enacted an indoor smoking ban in 2011 that banned all smoking indoors at businesses and workplaces but carved out exceptions for bars, casinos and cigar bars.
The idea of a full ban has been dangled ever since. Former council Chairman Mike O'Mara, D-Florissant, kept a possible ordinance for a full smoking ban on the council agenda for years, but never could gain enough support to advance the bill.
The current council Chairman, Sam Page, D-Creve Coeur, is a physician and said he supports the full ban.
"It's good for St. Louis County," Page said.
Both ballot measures are county Charter amendments, adding to the growing list of Charter-related items that voters will consider on their November ballot. That includes four possible new Charter amendments in addition to the two smoking ones, and the once-every-10-years request for a Charter Commission to convene.
And this year, the American Heart Association made it a priority to fight for a full smoking ban, twinned with a similar effort in St. Charles County. The Committee for a Healthy Community has spent nearly $900,000 on the petition drives so far, according to campaign filings. The rival casino-backed committee, Citizens to Protect Tax Revenues and Jobs, received $515,000 so far from Penn National Gaming.
If the twin bans pass, a third clause would kick in for St. Lous city that would ban smoking at its downtown casino, Lumiere Place.
But the St. Charles County measure has run into opposition, with the election director there barring the full ban from the ballot and the council approving a watered-down version for voters to consider instead.
Opponents of the full ban say that it will cause fewer people to gamble, costing the area money and jobs, and that it goes against the free market by telling private businesses what to do on their property.
But health advocates say the watered-down partial ban doesn't protect casino workers, visitors and others who can't avoid secondhand smoke, which has been shown in studies in the last few years to be even more damaging than health experts previously believed.