County permits delay Mehlville's summer projects, new bleachers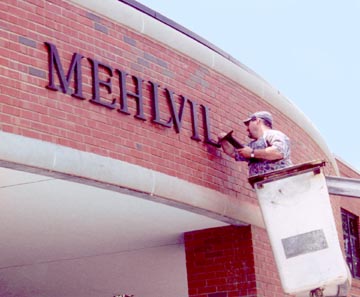 By Erin Achenbach
Staff Reporter
eachenbach@callnewspapers.com 
Mehlville High School might not be able to play its first home football game at home after difficulties with St. Louis County permits and old sprinkler pipes led to a delay for the replacement of the school's new football stadium bleachers.
At the Mehlville Board of Education meeting Aug. 15, Director of Facilities Mike Gegg said that the project had been delayed due to a hold-up in receiving the proper permit from the county, in addition to the construction crew coming across abandoned sprinkler lines and sewer lines from the stadium's concession stand.
However, Gegg is optimistic that the project will be completed before Mehlville's first home football game against De Soto Sept. 6.
"They had a couple minor issues that they worked around. It's been quite the project. They got the progress going now. We're seeing a lot of concrete coming," said Gegg, who told the board the bleachers would be fully installed by Sept. 3 or Sept. 4. "It's been quite the project…I think once it's all done, it's going to look nice."
However, Superintendent Chris Gaines is not so sure that the project will be wrapped up by the Sept. 6 game.
"I'm not as confident we'll be done with the bleachers as everybody else," Gaines told The Call. "I keep pushing them, 'We have to have a Plan B.'"
Plan B could be to play a Saturday game at Oakville High School. Mehlville's second home game is not until Oct. 4 against Northwest High School, and Gaines is a bit more sure that the bleachers will be completed by then.
"If we don't make the first one, the second one is not a problem," said Gaines. "We'll be done by the second one, easy. I'm just not as optimistic (about the first)."
The bleachers were not the only summer facilities project slowed by the county permitting process. The fence installation around the district's transportation department was also delayed, but is scheduled to be finished by the end of this week.
Additionally, the gym ceiling replacement at Mehlville High School will not be finished until next June. Half was completed this summer, but replacement was slowed when it was discovered that the old ceiling was made of a soft, messy material rather than a hard material, making the replacement process more difficult.
"It's quite the improvement," said board member Jean Pretto about the gym ceiling. "It really looks good."
Mehlville also finished a number of other projects around the district this summer funded by the 49-cent tax-rate increase Proposition R as well as a dedicated HVAC facilities tax, Proposition AC.
Asphalt maintenance was taken care of at seven schools, along with sealing and restriping parking lots. Stair treads were also replaced districtwide.
"I walked the district, and all the other stair treads are in pretty good shape," said Gegg. "So I think we're good for a few years on stair tread."
Oakville High School and Bierbaum Elementary both had roof replacements.
Elevator modernization was completed at OHS and Wohlwend Elementary.
Asbestos abatement and ceiling replacement was done in eight MHS classrooms.
The windows in Mosaic Elementary, the former St. John's school, were entirely replaced, and a new HVAC system installed.
"We ran into a couple of small issues, some extra asbestos we had to abate… but overall the windows came on looking nice. It looks almost like a new school," said Gegg, who also pointed out that the HVAC replacement at Mosaic would also save the district money in terms of energy usage: "Our energy savings is going to be huge."