County executive goes door to door with Affton firefighters, offers safety tips to beat heat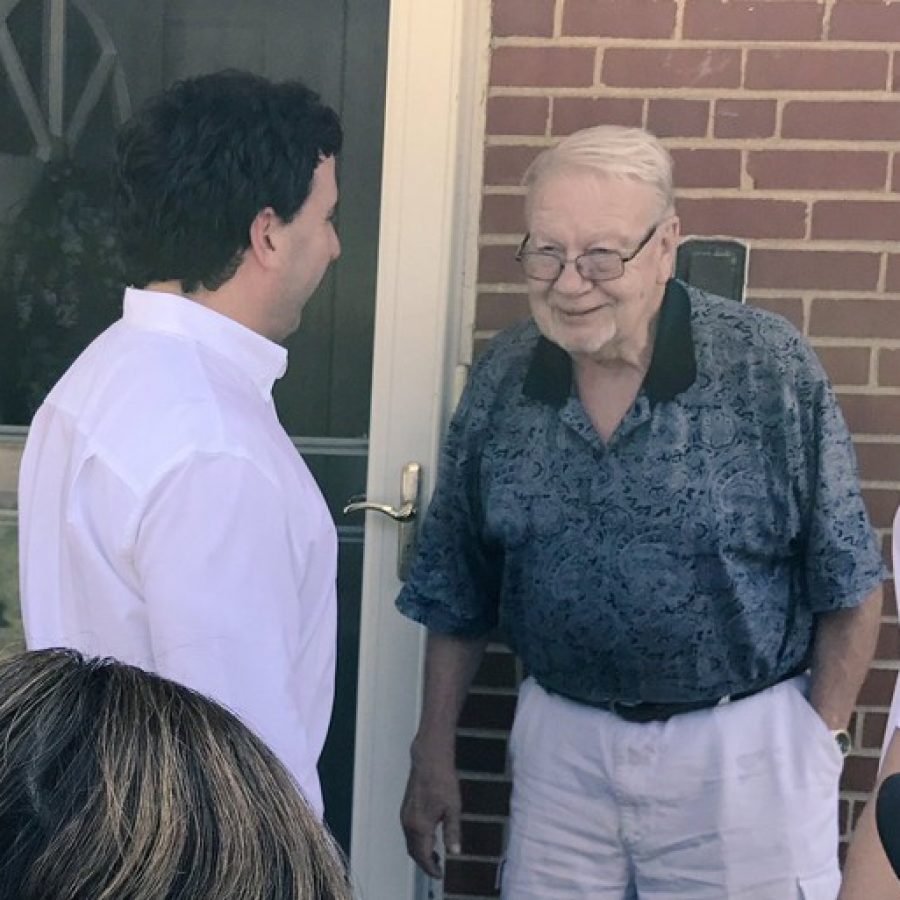 As the heat index climbs to 110 degrees and an excessive heat warning continues through Saturday night, county officials are publicizing how to keep cool and asking people to check on their neighbors and the elderly.
The county is operating a cooling center with the Salvation Army on an emergency basis in Webster Groves with the consent of the County Council, along with cooling centers in two county park rec centers in south and north county, The Pavilion at Lemay and the North County Recreation Center — see below for details.
County Executive Steve Stenger joined firefighters and Chief Nick Fahs of the Affton Fire Department Thursday afternoon to go door to door and visit elderly residents in Affton who could be most impacted by the heat.
"Clearly, this is dangerous heat. Every year we see fatalities as a direct result of these excessive temperatures," Stenger said in a news release. "It's vital we all check on vulnerable neighbors and get them the help they need."
Senior citizens are among those vulnerable to heat-related illnesses, but young children, outdoor workers, those with chronic illnesses and pets can be especially susceptible. Everyone needs to take steps to stay hydrated and cool, the news release stated.
To provide additional assistance for those who need it, two county park locations — in south county and north county — will be open daily as cooling centers, and the county has partnered with the Salvation Army to open a 24-hour cooling shelter at Salvation Army Family Haven in Webster Groves. Other cooling shelters are open at The Pavilion at Lemay community center in Jefferson Barracks Park in south county and the North County Recreation Center.
"I commend the county executive for opening these cooling shelters and checking on residents with us," Fahs said in the news release. "With temperatures over 100 degrees, we need to ensure people are safe."
St. Louis County and the Salvation Army have partnered to provide expanded cooling shelter services this summer.


10740 Page Ave., Webster Groves.
24 hours a day, 7 days a week from July 12 to Sept. 15.
305 Gregg Road, Lemay.
Hours:  Open seven days a week
                Monday through Thursday:  6:30 a.m. to 8:30 p.m.
                 Friday:  6:30 a.m. to 5:30 p.m.
                 Saturday:  7 a.m. to 7 p.m.
                 Sunday:  noon to 6 p.m.
2577 Redman Rd., St. Louis, Mo. 63136
Hours:  Open seven days a week
                Monday through Friday:  8 a.. to 9 p.m.
                 Saturday:  8 a.m. to 5 p.m.
                 Sunday: noon to 5 p.m.
Besides the cooling centers, Stenger allocated $150,000 in federal grant funds this summer to Cool Down St. Louis to establish a utility assistance fund. For more information on utility assistance, visit
.
When temperatures rise above 95 degrees, the county Department of Public Health recommends the following:
• Wear loose-fitting, lightweight, light-colored clothing.
• Spend as little time as possible in the sun and keep activity levels to a minimum.
• Drink plenty of cool, non-alcoholic beverages, especially those without sugar or caffeine.
• Take regular breaks in the shade or in an air-conditioned room.
• Eat light, easily digested foods, avoiding hot, heavy or greasy meals.
• Be sure not to leave food unrefrigerated for long – food spoils rapidly in the heat.
• Take care of those who might not be aware of the danger or able to react accordingly, especially young children and the elderly. Check on your neighbors and relatives if they may be vulnerable or do not have air conditioning.
• Use air conditioning when in a vehicle or roll down the windows if there is no air conditioning. Never leave a child or a pet in a parked car without air conditioning!
• Know the signs of heat exhaustion. If someone becomes dizzy, nauseated, or sweats heavily, find a cooler location for him or her immediately.
• Know the signs of heat stroke. Heat stroke is much more serious than heat exhaustion.  The symptoms are similar to heat exhaustion, but also include hot, flushed skin, and normally sweating stops. If heat stroke is a possibility, call 911 immediately. Heat stroke is life threatening!
Residents are also urged to consider pets whenever temperatures rise. To protect pets in extreme heat, citizens should:
• Regularly check a pet's water to make sure it is clean and fresh. Ample drinking water is vital to animals during hot and humid conditions. Make sure to adjust the drinking quantity for the size and number of pets in the area. You can also spray your pet with water to cool them off.
• Provide a shady spot for pets. A pen near trees will work or you can fasten a sunroom screen to the sides and top of the pen to provide shade too.
• Never leave your pet unattended in a hot vehicle. Internal vehicle temperatures can reach 150 degrees.
For more information, please visit the county's heat safety tips webpage at: