Concord resident named county's director of elections
Fey a 2002 graduate of Lindbergh High School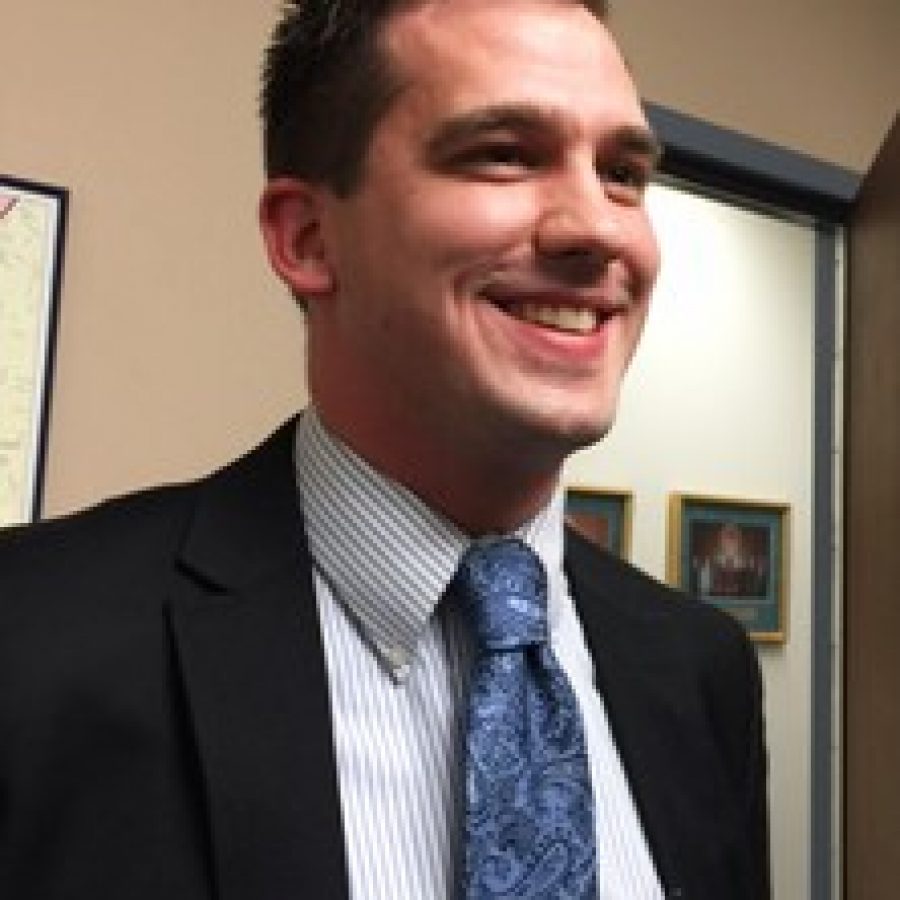 Concord resident Eric Fey is now one of the most powerful election officials in the state, after being tapped last week by the St. Louis County Board of Election Commissioners as the county's director of elections.
In a unanimous vote last week by the election board, Fey was chosen to replace former Sen. Rita Days, who helmed county elections for the last four years after being appointed under former County Executive Charlie Dooley, with the support of Gov. Jay Nixon. The election board is a four-member board split between Republicans and Democrats, all appointed by the governor.
The Jan. 20 move was effective immediately, so Fey just finished his first week on the job, during which he said he has focused on improving collaboration among staff members in the elections office.
"I've instituted staff meetings here — those hadn't been happening before — and other good office practices," he said. "I'm just trying to get the staff working together and talking."
The unprecedented mid-term departure of north county resident Days, who was the first African-American to hold the position of director of elections in the state's most populous county, outraged black politicians aligned with the former senator, including Sen. Maria Chappelle-Nadal, D-University City. Chappelle-Nadal held a press conference in Jefferson City alleging that new County Executive Steve Stenger, who took office Jan. 1, had arranged for Days to be ousted from her position as "political payback" for Days' support of former County Executive Charlie Dooley, who Stenger defeated in the Democratic primary in August.
In an interview the day of the announcement, Stenger denied that he played any role behind the scenes to engineer the ouster of Days.
"I respect her service to the public," he said. "At the same time, there's no secret that there were issues."
Although after her dismissal Days was praised by her allies in the Missouri Legislature for running elections fairly, she came under fire during her tenure for mismanaging a primary election that had to be held again due to ballot irregularities, giving out inaccurate information to reporters on voter registration in Ferguson and, most recently, not providing enough paper ballots to some polling stations during last November's election.
"They've had some issues recently, and I hope to address those, and I hope to move forward in a positive way," Fey said. "Frankly, voters expect for there to be enough ballots at their polling place, and the election board needs to do that."
Black legislators in Jefferson City lamented the loss of black representation in a prominent county position and noted that four years ago, Days and Dooley disrupted the status quo of white labor representatives holding the position four years ago. But Fey promised to be fair in his application of voting procedures around the county.
"I can say this: I can't change the color of my skin, but what I can do is promise all the voters of St. Louis County, including African-American voters, that I'll do my absolute utmost to ensure that they have equal access to voting in St. Louis County, adequate paper ballots, adequate polling places, adequate absentee voting procedures, and so on," he said. "And that's all I can promise them."
Chappelle-Nadal said she had been told that Fey was a "young person from labor who has no history, zero history, in elections policy," but Fey said election management has long been a focus of his, including several years of full-time work for the Board of Elections.
Along with a bachelor's degree from Webster University in political science, Fey holds a master's degree in public administration from the University of Missouri-St. Louis with a specialty in election management and has served as a foreign election observer in a range of countries, from the now Russian-occupied territory in Ukraine to Belarus to Kazakhstan to Macedonia.
Fey and his wife, Lilo Whitener-Fey, live in Concord and have a son, Oskar, who was — appropriately — born on municipal election day last year, April 8.
The son of Marsha and Ken Fey of Concord, Fey is a 2002 graduate of Lindbergh High School. Ken Fey served nine years on the Lindbergh Board of Education, retiring in 2012 after serving as board president for three years.
For the past four years, Fey served as the legislative assistant to current County Council Chairman Pat Dolan, D-Richmond Heights, who represents the 5th District. When Dolan was sworn in for his second term earlier this month, he gave all the credit to Fey for his re-election in November.
"There are two of us in this job," Dolan said.
Chappelle-Nadal represents Ferguson and has been a vociferous critic of Nixon for what she says was his nonexistent response to the unrest there. However, she offered rare praise of Nixon last week for trying to work behind the scenes on a compromise where Days might be able to keep the position or be reappointed to it by Nixon at some point in the future, even though those efforts turned out to be futile in light of the unanimous vote for Fey over Days.