Compton to succeed Arnoldy as Crestwood police chief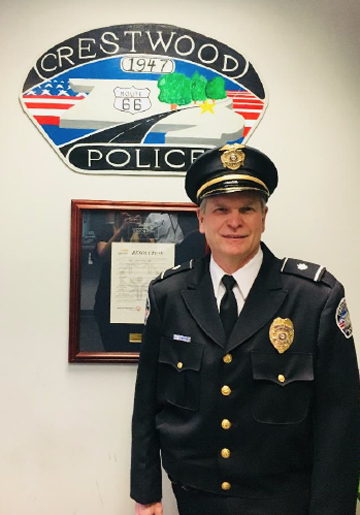 The Crestwood Board of Aldermen voted Tuesday night to adopt an ordinance confirming Deputy Chief Ronald Compton's promotion to chief of police, effective Feb. 2.
Compton will succeed Chief Frank Arnoldy, who is retiring after serving the city for 45 years.
"I am honored to be selected as the chief of police for the city of Crestwood," Compton stated in a news release. "The community has shown incredible support for our department and I want to continue to provide the professional and personable police services that the residents here deserve."
Compton, a 1977 Lindbergh High School graduate, has served in the city's Police Department since 1989, and has been deputy chief since August 2014.
He is a graduate of the School of Police Staff and Command at Northwestern University in Chicago and is a member of the Missouri Police Chiefs Association.
As a career investigator, Compton served as a senior detective, detective sergeant and support services commander for the city, as well as a member of the Major Case Squad of Greater St. Louis for more than 20 years.
Thankful for his predecessors' leadership, Compton is ready to continue to carry out the mission of the department.
"The department has been fortunate to have great leadership with the past chiefs I have served under, Chief (Michael) Paillou and Chief Arnoldy," Compton stated. "I look forward to the mission of leading this outstanding group of men and women of the Crestwood Police Department and will support their efforts to make Crestwood a safe and beautiful community."
Besides his work, Compton enjoys spending time with his family, including his wife, Nancee, of 32.5 years, their three adult children and one grandchild.