Community mourns loss of Oakville Marine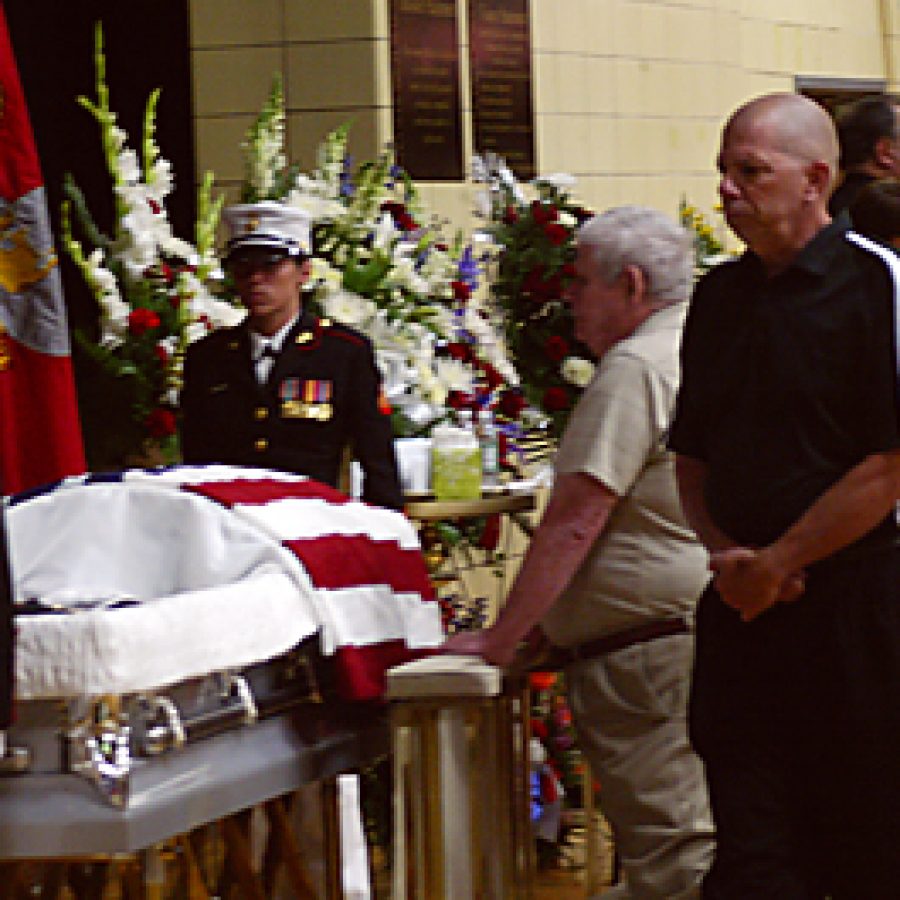 Staff report
Funeral services were scheduled earlier this week for an Oakville Marine who died on June 6 while serving in support of Operation Enduring Freedom in Afghanistan.
Cpl. Donald Matthew Marler, 22, was one of three Marines killed in a single-vehicle crash during combat operations in Afghanistan's Helmand province.
Also killed were Sgt. Brandon C. Bury, 26, of Kingwood, Texas, and Lance Cpl. Derek Hernandez, 20, of Edinburg, Texas.
The three were assigned to 3rd Battalion, 1st Marine Regiment, 1st Marine Division, I Marine Expeditionary Force, Camp Pendleton, Calif.
Cpl. Marler, son of David Marler Sr. and Susan (nee Florian) Marler, was a 2006 graduate of Oakville Senior High School.
He chose to miss high school graduation to enter early into the Marine Corps. He served in the Presidential Security detail at Camp David, guarding President George W. Bush and President Barack Obama.
Cpl. Marler requested specifically to enter Marine Corps Unit 3/1 so he could serve his country in Afghanistan. He was deployed in April.
His awards and decorations include the Navy Unit Commendation, Navy Meritorious Unit Commendation, Marine Corps Good Conduct Medal, National Defense Service Medal, Afghanistan Campaign Medal, Global War on Terrorism Service Medal, Meritorious Mast and the Presidential Service Badge.
Mehlville School District Deputy Superintendent Eric Knost, who was principal three of the four years Cpl. Marler attended Oakville High, recalled him as an "exceptional" young man.
"He really was. Oakville High School's a huge school and when you're the principal of Oakville High School, you try very hard to get to know kids and there's the old cliché that you only get to know the bad kids," Knost said. "And that's not true, you get to know a lot of kids and in Don's case because he was an exceptional kid.
"He had a really big personality. He was full of life and I would say Don was the kind of kid to get to know not only because of his friends, but he is the reason we know who he was because he made himself known to the administrators and all the teachers. He was very active, very involved.
"He was very involved in a lot of sports. He was just a very likable kid with a big personality," he said.
In high school, Cpl. Marler set his sights on serving in the Marines Corps and never looked back, according to Knost.
"He was a Marine before he became a Marine, and he made that known … He was a Marine through and through," he said. "On behalf of the district, we extend our condolences to the family. It's a tragic loss anytime we lose a student and we feel for the parents.
"But we also just feel that Don was doing what he loved and what he felt he was meant to do, and I don't know that that makes it any easier … At least he was, I think, living his dream."
Besides his parents, Cpl. Marler is survived by his sister, Jennifer Marler Pupillo (Mike); brothers David Marler Jr. and Lance Cpl. Jacob Marler; niece, Mia Pupillo; and grandparents, Vallie and Donald Marler and Edward Florian (USN Ret.).
He also is survived by his girlfriend Joelle Kearns.
Visitation was Monday at Oakville High School and funeral services were set Tuesday — after the Call went to press — at Saint Francis of Assisi Catholic Church. Interment was at Jefferson Barracks National Cemetery with full military honors.
In lieu of flowers, Cpl. Marler's family asks that donations be made to Fisher House Foundation Inc. or Cardinals Care.