Community mourns loss of former Mehlville School District Superintendent 'Bob' Rogers
Dr. Rogers' association with Mehlville goes back to 1950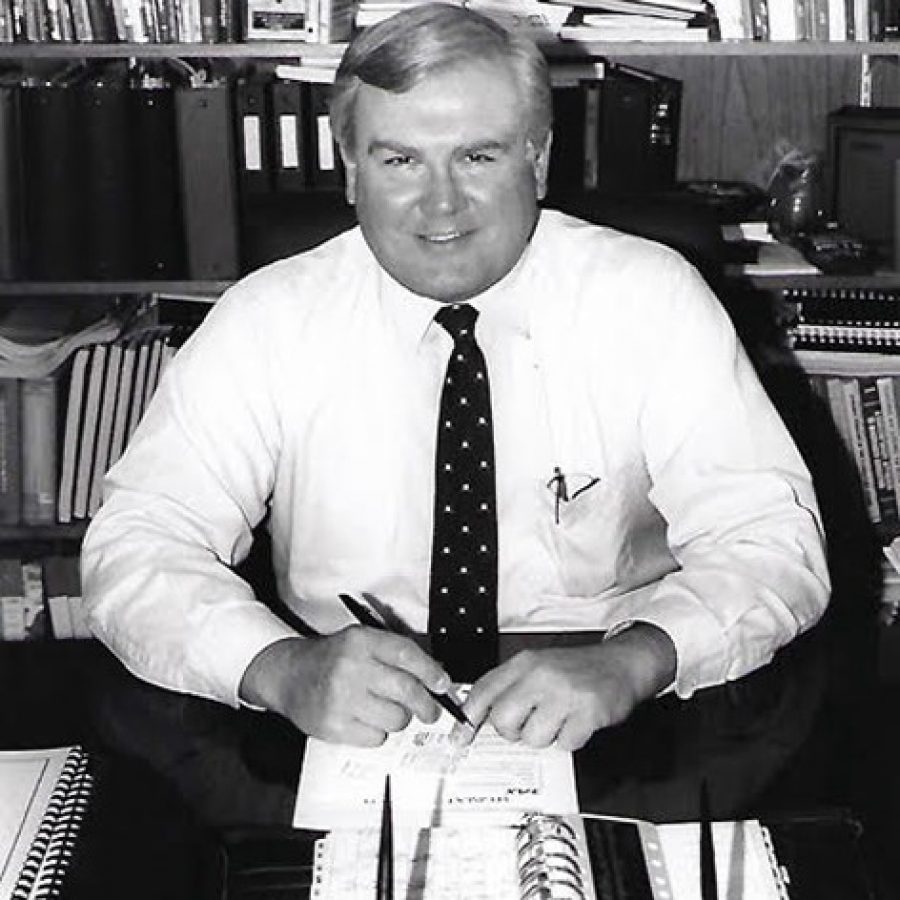 The Mehlville School District community is mourning the loss of former Superintendent Robert E. "Bob" Rogers, who died Friday, Sept. 1, in Kiel, Germany.
Dr. Rogers, who retired as Mehlville superintendent in June 1996, resided in St. Petersburg, Fla., with his wife, Dixie, who survives. He devoted his entire 33-year career in education to the Mehlville School District, including serving seven years as superintendent.
Rogers Elementary School, which opened to students Sept. 5, 1991, was named in Dr. Rogers' honor.
"Bob Rogers graduated from Mehlville High School in 1959 and went on to become a giant in our school district," said former Board of Education President Dan Fowler. "As superintendent, he guided the district through some of our more difficult financial times. Bob was well-known in the Mehlville community as someone who had great presence, very charming and attended nearly all school events and community activities.
"He was a very smart man who had a memory second to none. You could ask him anything about Mehlville's history and he had the answer. He was very proud that Rogers Elementary was named after him and kept up with the school's activities over the years. His wisdom and great sense of humor will be greatly missed."
Dr. Rogers' involvement with the Mehlville School District began in 1950 when he and his parents, the late Rev. Edward and Helen Rogers, moved here from the Hancock Place School District.
His father was pastor of the Carondelet Baptist Church for 31 years and was well-known throughout the community.
Dr. Rogers began attending Forder Elementary School as a fourth-grader and was part of the district's first band program, playing the trombone.
After graduating from Mehlville High, he attended William Jewel College in Liberty, where he earned his bachelor's degree in education in 1963.
That same year, Dr. Rogers returned to Mehlville as a physical education teacher at Forder Elementary and Oakville Elementary. Three years later, he began teaching sixth grade at Forder.
After that, Dr. Rogers became an assistant principal at Bernard Elementary and Bierbaum Elementary, beginning his climb through the administrative ranks at Mehlville that ultimately would lead him to the superintendent's post.
During a 1996 interview with the Call, he said that one of his proudest and most enjoyable accomplishments was serving as principal at Wohlwend Elementary School when it opened in the fall of 1969 with 525 students.
As principal, Dr. Rogers hired and trained 25 teachers and other staff for the new school.
As superintendent, he oversaw seven school construction projects, including Rogers Elementary, created a facilities study for all Mehlville schools to establish priorities for construction or renovation, implemented an elementary school art enrichment program and initiated a new seventh-grade health program.
Though Dr. Rogers and his wife resided in Florida, he stayed connected to Rogers Elementary and the people who worked there.
"His sense of pride continued long after leaving the Mehlville School District," current Assistant Superintendent and former Rogers Principal Jeff Bresler stated in a district news release. "Through the opportunities I had to interact with Bob, it was evident that he was a leader that truly believed in collaborative leadership.
"He would always tell me that the best approach to leadership was to involve your stakeholders."
Current Rogers Elementary Principal Patrick Keenoy stated in the release, "Bob was one of the first people to congratulate me when I started working at Rogers.
"Over the years, he has gone out of his way to keep in touch. He was a true gentleman who loved his family, the Mehlville School District and Rogers Elementary School. He was a mentor and a friend — I am very grateful for his support."
In the 1996 interview, Dr. Rogers said he enjoyed his time in Mehlville.
"I have no regrets," he said. "I'm happy I came to Mehlville."
Funeral arrangements for Dr. Rogers had not been made at the Call's press time.