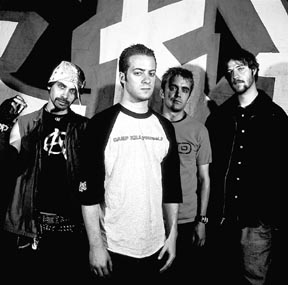 By ALAN SCULLEY
For the Call
If you're CKY, having your band associated with a word like "jackass" hasn't been such a bad thing.
The band has become somewhat synonymous with "Jackass," the hit MTV show and movie – which features Johnny Knox-ville and other cast members subjecting themselves to various forms of self-abuse and gross behavior for comic effect – by having its music prominently featured as the soundtrack to the various stunts.
CKY's drummer, Jess Margera, is also the brother of Bam Margera, a pro skateborder, filmmaker and one of Knoxville's featured sidekicks both on the show and in the movie.
Bassist Vern Zaborowski doesn't deny that "Jackass" has done a lot to introduce CKY, which also includes guitarist/singer Deron Miller and guitarist Chad Ginsburg – to a large audience. But he'd just as soon see CKY's "Jackass" era come to an end.
"We get people thinking we're riding the coattails of Bam and everything, and that's just not the case," he said. "I mean, we work with Bam (who films the group's videos), but everybody's saying Knoxville and everything. We don't have anything to do with Knoxville or any of those guys. I barely know them … The 'Jackass' thing is just something, it's Bam's deal and everything. Those guys are all right, but CKY, we're a band and we need to do our own thing."
CKY came into the world of "Jackass" through a series of fortuitous events tied directly to the skateboarding scene.
Formed in Philadelphia in 1998 by Miller, Jess Margera and Ginsburg, CKY already had begun making music when Bam Mar-gera started making videos featuring skateboard stunts – and in what would be a precursor to the "Jackass" phenomenon – a variety of crude, but funny pranks.
Music for the videos was provided, naturally enough, by CKY. Two of the films, "Landspeed" and "CKY2K," became huge hits in the skateboard community, while the band's debut CD, "CKY: Volume 1" and a second release of outtakes, "CKY: Volume 2," were picked up for release by Volcom Entertainment.
Eventually, Margera ended up joining the "Jackass" crew in time for the debut of the MTV series in October 2000, and again, CKY became a natural source for the show's music. The exposure, of course, attracted several major labels and CKY ended up signing with Island/Def Jam, which re-released the "Volume 1" CD in 2001.
But the release last fall of "Infiltrate * De-stroy * Rebuild," marks CKY's real coming-out party as a major-label band. Zab-orowski, who replaced the group's original bassist, Ryan Bruni, before the 2000 Warped tour, believes "Infiltrate * Destroy * Rebuild" is a more coherent and musically developed CD than "CKY: Volume 1."
As the CD title suggests, "Infiltrate * De-stroy * Rebuild" represents a statement from CKY about the state of rock music.
Zaborowski said the CD, which was produced by Ginsburg with no involvement from Island, is meant as a reaction against what the band sees as bland copy-cat music that now occupies mainstream airwaves.
The CD features a mix of gritty melodic hard rock that's not that far removed from the music of popular bands like Staind or Creed.
That's not to say there aren't fresh touches. For one thing, the CD has plenty of sonic treats, such as the fuzzy guitar tones used on "Escape From Hellview" and the keyboard fills on "Frenetic Amnesic." And on the whole, the passion in the band's performances seems genuine enough.
Zaborowski points to the stylistic range of the songs and some unconventional song arrangements as elements that make CKY considerably different from most of today's bands.
"The songs themselves just range from different aspects of like metal and a little bit of like a disco (beat) for 'Plastic Plan.' It's just all these things that each one of us likes and it all meshes together," he said. "(Also) you don't really hear too many songs where the lead guitar, the lead riff is the thing that drives the song. And that's what CKY had from the very beginning, from (the early tune) '96 Quite Bitter Beans.' That little hook, it grabbed everybody without any major chorus or anything. It was just the riff. And that's hard to do for some bands.
"Deron just had this fluidity in his writing and in his playing where he just makes the riff, like (the new tune) 'Flesh Into Gear,' that's a great riff. It just keeps (go-ing). It's a cool riff itself."
CKY plays today – March 27 – at the Galaxy, 1227 Washington. Tickets for the show, which also includes Atreyu and Me-mento cost $12. Doors open at 7 p.m.