CKY members tout originality of their music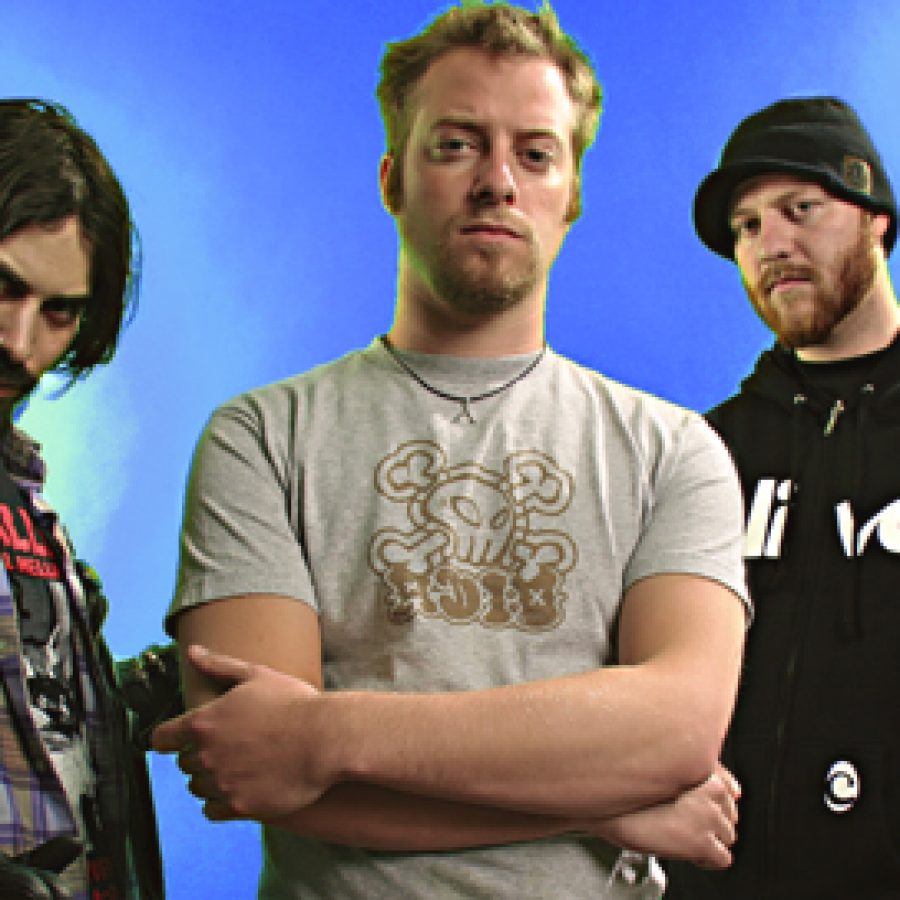 One thing that bothers CKY drummer Jess Margera to no end is the lack of originality in rock 'n' roll.
"It seems like the formula now is you get a band, they sell a lot of records, and the labels go out and scramble and try to find 30 or 40 bands that sound exactly like that," Margera said. "It makes rock so boring."
"Originality should be looked at as awesome, rather than looked down upon," he said.
Margera can make those statements be-cause CKY isn't one of rock's sound-alike bands. Credit for that goes to the band's guitar sound — a buzzing, fuzzy tone that sounds like an effect-laden marriage of guitar and synthesizer compressed together.
That unique sonic signature has made the band's four CDs instantly identifiable as the work of CKY.
What the tone hasn't done, though, is won the group universal approval for their music. More than a few publications have been unimpressed by CKY's albums — with Rolling Stone magazine being among the highest profile critics.
The magazine gave the group's 2002 CD, "Infiltrate, Destroy, Rebuild" a two-star rating, and greeted the new CKY CD, "An Answer Can Be Found," with an even more severe thrashing, bestowing a one-star rating on the CD.
Fortunately for members of CKY, their fans don't share that sort of low opinion.
The band boasts a fan club, the CKY Alliance, that is 250,000 members strong. Their loyalty has enabled CKY to sell more than 500,000 copies combined of their four CDs and to become a band that can reliably fill large clubs and theaters on tour.
There are those, however, who believe CKY has built that audience more through association than musical quality.
Margera is the brother of Bam Margera, the highly popular skateboarder and sidekick of Johnny Knoxville on the latter's "Jackass" television series and movie.
CKY's music has been featured in Bam Margera's skateboarding videos, as well as on "Jackass," prompting critics to say the band's audience would be far smaller if it weren't for the Bam Margera connection.
Jess Margera, obviously, believes CKY has plenty of musical merit, and spent a good part of this phone interview describing the effort and dedication that he and his CKY bandmates — singer/guitarist Deron Miller and guitarist Chad I. Ginsburg, put into their music.
The group, Margera said, challenged it-self more than ever in the writing and recording of "An Answer Can Be Found," and tried to raise the level of complexity and sophistication of their songs while still making the music inviting.
Margera, though, isn't sure that fans have yet embraced the virtues of the new CD.
"It seems like it's gotten a mixed reaction," Margera said. "I think it takes it a little bit longer (to like). You're not going to get the whole thing on the first couple of listens. You need to let it sink in a bit.
"Because the guitar tone has the same, all the effects on it and stuff like that, I could see how some people are like, the guitar sounds the same on every song," he said.
Margera's characterization of "An An-swer Can Be Found" is pretty accurate. At first glance, it does seem almost numbingly homogenous, with most of the songs oc-cupying the same middle ground between metal and pop-tinged rock, with a similar steady mid-tempo beat and, of course, the familiar fuzzed up and effect-laden guitar sound.
Further listens, though, begin to reveal contrasts in the material. The chugging rhythm of "Familiar Realm" and the driving pace of "Dressed in Decay" help to separate those songs from the pack. "All Power to Slaves" and "Tripled Manic State" prove to be more multi-dimensional than most CKY songs, as the group smoothly integrates changing tempos within the songs.
The emerging contrasts don't turn "An Answer Can Be Found" into an eclectic work by any stretch of the imagination, but at least over time the CD does reveal a few melodic hooks and instrumental twists that help give the songs some definition.
The distinctive sound of "An Answer Can Be Found" can be credited to Ginsburg, who has been CKY's producer since the group formed in the late 1990s.
"It's so easy to hire the producer of the moment, and he just uses all of his same formulas and he makes you sound like every other band he's worked on," Margera said. "And that's (boring) as hell. So it's pretty righteous to have the guy who can produce your stuff and make it sound exactly like you want it to be without having to try to sound like Korn or whatever band is happening right now."
CKY plays Friday, Aug. 26, at Pop's, 1403 Mississippi Ave., Sauget. Tickets for the 8 p.m. show, which also features Fire-ball Ministry and the Knives, cost $15.