Cities vow to mount legal challenge to new countywide police standards
Sunset Hills' law firm says new standards are a 'dangerous overreach'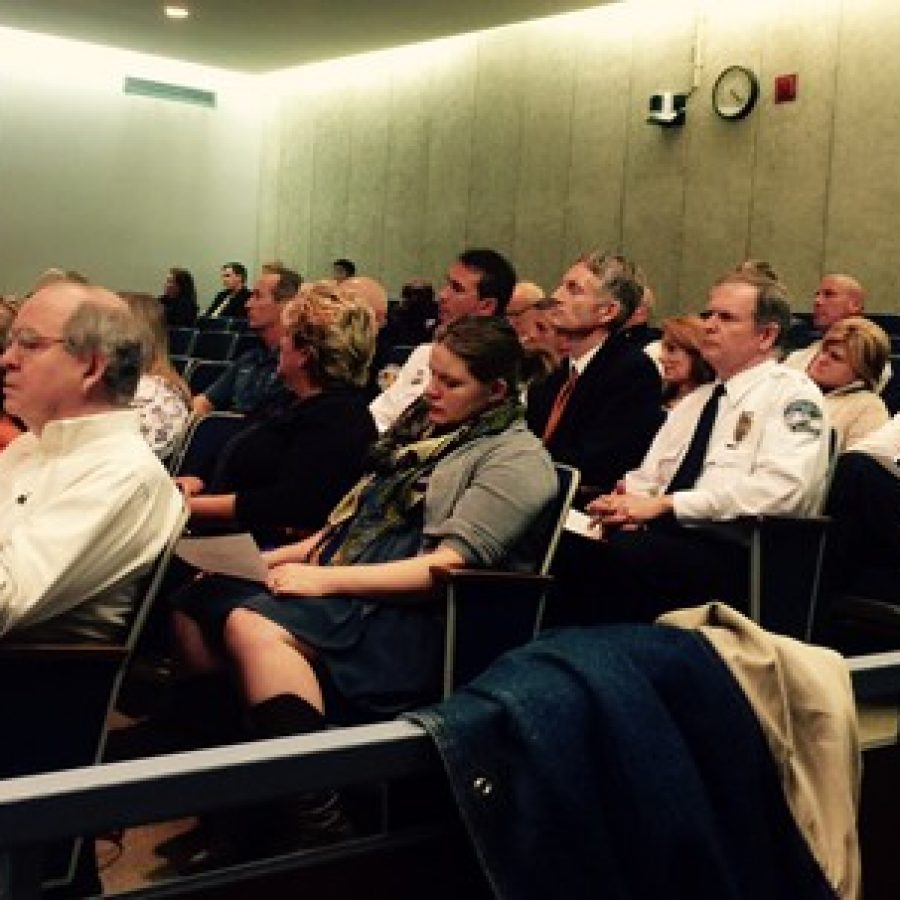 If the County Council approves new countywide police standards next week, attorneys for Sunset Hills and other cities across the county vow to file lawsuits to stop the new requirements that they consider an unconstitutional, "draconian" intrusion into city business.
The police standards could be up for final approval when the County Council meets at 6 p.m. Tuesday, Nov. 24, at the Administration Building, 41 S. Central Ave., Clayton.
County Executive Steve Stenger is spearheading the new standards in a bid to address some of the deficiencies of municipal police departments exposed last year in the wake of Ferguson — especially the small departments in north county, although Stenger declines to say that the standards are aimed at a specific region.
"While Sunset Hills is privileged to have a city Police Department that meets or exceeds all of the standards, it just seems like an incursion into the rights of municipalities to govern themselves," Sunset Hills City Attorney Robert E. Jones told the city's Board of Aldermen last week.
The Crestwood Police Department meets nearly all of the 14 proposed standards, but officials differ on whether it currently meets all of them. Of the 57 police departments in St. Louis County, Municipal League Executive Director Pat Kelly told the County Council last week that Crestwood is one of six agencies that would be out of compliance with the new law because it does not drug test applicants.
The other departments that do not currently comply are Pagedale, Velda City, Bel Ridge, Northwoods and Overland.
Crestwood Mayor Gregg Roby told the Call that the city's Police Department is in compliance because it conducts ongoing random drug screening of employees, along with psychological evaluations, and that he contacted the Municipal League about Kelly's assertion.
However, Police Chief Frank Arnoldy, who is also serving as interim city administrator, told the Call that the confusion arises because Crestwood does not currently drug screen new applicants, but obviously would if the county standards go into effect.
"We don't drug screen new employees, so that would be the only piece of the county's standards that we don't currently meet," Arnoldy said. "We do run them through a physical, we run them past a sight doctor, but we don't draw their blood at the time that we hire them. We have a random drug-test policy in our civil service."
Stenger was unavailable for comment last week, but has said he wants minimum standards so that every county resident will have access to quality police services.
Roby noted that Crestwood residents "absolutely love" their Police Department, which knows the names of citizens, has fast response times and watches school crossings when children are let out of school.
"They know our citizens. They know our community. They respond. They know where the problem spots are," he said. "Our residents are totally satisfied with our police."
Arnoldy said, "It seems to be me that it's an unnecessary layer of government, but the county sees it another way."
One aspect officials and attorneys say they will challenge in court is the legal justification that applies the bill to the entire county, rather than typical county legislation that only applies to unincorporated areas. The county Charter only allows the county to legislate within cities on matters of public health, but County Counselor Peter Krane contends police services are a health issue.
At the Nov. 10 committee hearing, Department of Public Health Director Faisal Khan said there is a "critical link between public health and the quality and standards of police training."
Just as with the prevention of poverty and violence, Khan said, "Trust between police departments and the residents they serve has direct public health benefits. Safe communities are healthy communities."
In front of a room full of police chiefs, including Sunset Hills Chief William LaGrand and Crestwood Deputy Chief Ron Compton, Khan said police officers play a frontline role in public health and compared them to an emergency-room triage team.
Leland "Lee" Curtis, a partner in Jones' Clayton-based law firm Curtis, Heinz, Garrett & O'Keefe, said their firm represents 25 county municipalities, all of which will stand together against the bill since the firm's attorneys consider the premise of the bill illegal under state law because police services do not meet the public health exemption.
"I find it to be a draconian and dangerous overreach," Curtis said. "It is unconstitutional in several ways. Whether a city is providing deficient police services is to be determined solely by the county executive, who also has the sole authority to fine or jail a mayor or city council member. The word 'draconian' is an apt description. We respectfully ask the council to reject this unlawful bill in its entirety."
The Municipal League, the St. Louis County Police Chiefs Association and the North County Police Chiefs Association are among the organizations that publicly oppose the standards.
Kelly said the Muni League, police chiefs and county residents in municipalities had no input on the bill. However, county Policy Director Jeff Wagener said he met with 39 police chiefs who declined to form a committee to give feedback because it might impact their eventual lawsuit against the standards.
Just as the rental license the council approved last month fines or jails landlords for actions taken by their tenants, the police standards hold mayors, aldermen, city administrators and other officials accountable if their police departments are not in compliance. The bill gives them six months to meet the standards.
Roby said he's not sure how county officials will enforce and pay for a vague clause that grants them the power to force cities to use the county Police Department instead of their own — a concern he relayed to Stenger.
"I'm not sure what gives them the authority to dictate to the municipalities how they're going to run the cities," Roby said.
Besides the concerns of overreach, the county standards would duplicate a new state law, Curtis said.
County police departments are already operating under a six-year deadline to get accredited after the Legislature passed Senate Bill 5, which was sponsored by Sen. Eric Schmitt, R-Glendale.
In anticipation of the laws's mandates, Crestwood and Sunset Hills have both already begun the costly and lengthy process of accreditation through the Missouri Police Chiefs Association.
Crestwood's proposed 2016 budget includes $100,000 to fund a new lieutenant-level position that will have to oversee the accreditation process in the next few years and then, after Crestwood is accredited, spend half his or her time on paperwork to keep the accreditation up-to-date, Roby said.